Knock, knock.
(Who's there?)
The sound designer because the practical doorbell doesn't work.
(and that is the most wholesome joke that I could come up with – don't let anyone tell you that people who work in Sound aren't funny)
So anyway…
My name is Candice Weaver and I am student at RADA studying towards a postgraduate degree in Sound Design for Theatre.
Prior to my current degree, I also completed an Undergraduate Bachelors in Commercial Music at the University of Westminster, where I really discovered sound design and started working in theatre. Since then I have been fortunate enough to work with the English National Opera, Secret Cinema, and casual at the Royal Opera House among others (Sleep? Never heard of it).
Having realised that I definitely didn't possess the skills to really get into theatre yet, naturally I thought 'Well hey! Drama school sounds good!', but little did I know that it was this exhausting, this time-consuming, and often just a little bit ridiculous.
It is also, however, ridiculously rewarding and without a doubt the best thing I have ever done.
At RADA (or, the Royal Academy of Dramatic Art as we are sometimes known), we really run as a mini-rep production house and we have three theatres:
– the Jerwood Vanbrugh Theatre
– the George Bernard Shaw Theatre (The GBS for short)
– and, the John Gielgud Theatre
They each vary in size and can have stagings in any variation. For instance the Vanbrugh Theatre is traditionally a proscenium arch, however we have a musical opening this February which will be staged in-the-round.
Every six weeks we turn around three new shows in each of our theatres (excepting twice a year when we do a Film/Radio production block), and we can easily get through hundreds of shows/productions and events/film screenings/galas throughout the academic year. Every student coming into RADA has the opportunity to work on these shows, which are all staffed by students in every role – from third year actors to sound/LX designers, scenic artists, construction, flymen/women, technical management and stage management). They're also directed by external directors, and for the majority are Designed (costume/set) by external professionals, too. What's better is that the public can actively come and see our productions (which each run for a couple of weeks after opening, after which we tear them down and start all over again).
I've now worked in all three of our theatres as both Production Sound Engineer and Sound Designer, and the next project is the musical A Little Night Music staged in-the-round, in our Vanbrugh Theatre. I will be the Associate Sound Designer for this production – for a musical, which we only stage once a year, we tend to get in industry Sound/Lighting Designers simply because the musical is usually quite a momentous task; this naturally still means that I'll be dealing with the rig plans, budget, organising system diagrams, attending rehearsals, and passing on any relevant information to my PSE's and Sound No. 1/Sound No. 2's/Operators.
The show roles are generally given out based on what our next step of learning might be, as well as what our personal goals are – for instance in my first year of RADA, I only did a couple of sound designs because I needed to focus on my Production Sound and practical skills.
I've also just finished a Film block where I was the Sound Assistant/Boom Operator – we filmed three films across a few weeks, all on locations found by my fellow students. In my first year I completed a Radio block which also involved studio recordings of three plays in RADA's main studio in the Sound Department, editing them together, adding sound design, and eventually taking them to be mastered in a professional studio.
I've certainly had plenty to keep me busy since starting RADA in September 2015, from production roles to projects, and I really am looking forward to getting our next shows up and running. It's incredibly rewarding to be able to have something for audiences to come and see, and be able to understand where sound design sits in the larger scale of productions.
Please enjoy this highly unflattering photo of me, sadly not DJ'ing, but on the reverb hunt for a show during summer 2016
I'll also look forward to sharing some of the things that I've been up to with you, and my experiences as I complete my final year of drama school (darling).
(I'll definitely be bringing more jokes with me)
*Photo credits for 1/2/3/4/5/6/7 belong to Linda Carter for RADA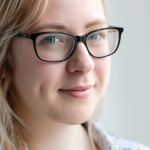 Candice Weaver | Sound Designer
Candice is a current student of the Royal Academy of Dramatic Art, where she is studying towards a postgraduate diploma in Sound Design for Theatre where she has sound designed and production engineered for all 3 of RADA's theatres. Exterior work includes Secret Cinema, the Royal Opera House, and the Southwark Playhouse and Candice also holds a degree in Commercial Music from the University of Westminster.
---