If you've ever helped a child learn to read then you will understand the agony and sheer determination that is required to succeed. As adults we often forget what is required to undergo the 'learning process' and place too high expectations on ourselves. Often we pick new ideas up as we go along without giving much thought to how we got there.
This month we've been lucky enough to welcome the Arabic mega star Mohammed Abdou to the Opera House.
Mohammed Abdou was born in Saudi Arabia in 1948. He had a rough start to life. Six of his siblings and his father died of small pox, meaning that him, his mother and two other siblings had to live in a hostel for orphaned families. At the time, Crown Prince Faisal funded schools for orphaned children and it was there that he has said that he, 'learned how to live and depend on himself'.
At the end of his schooling he took any work that he could find, starting by selling sweets and nuts in the local market. Eventually he earned enough money to join a vocational institute. By the time he left he was able to support the family and they moved into a new house. It was in this new location that Mohammed met a neighbour who was an expert 'danat' singer. Danat is a type of Arabic song that comes from central Saudi Arabia. During a 'Sama'aie party' (A classical Arabic music gathering) Mohammed sang one of the songs he had learnt from his neighbour. He was heard by a singer called Omar Kardras who took him to a recording studio in Jeddah to record his first three songs.
In his 40 year career Mohammed Abdou has produced over 200 albums, his style influencing generations of Arabic music and reaching far across the globe.
And so, the two concerts at the Opera House sold out within weeks of release. An extra night was added to help meet demand. For us as a sound and broadcast department, it was certainly one of the largest Arabic bands that we had seen. Starting with 82 inputs this was increased to 87 during rehearsals as more backing singers were added.
As with a typical Arabic concert set up, soloists including an oud, qanoon, nay and accordion were placed central stage with a violin section to the left and a percussion section to the right. Two keyboard players also played solo sections. Behind the soloists were a typical woodwind and brass section, drummer, bass, guitar and backing vocals.
Given that we were in our 'concert setting'  we tried to limit the number of wedges onstage and use IEM's as much as possible. We used a combination of wireless (Shure and Sennheiser) belt packs as well as 4 Behringer Powerplay units for the percussion section and Sound Device MM-1 units for the bass, drummer and guitar. The violin section, backing vocals and woodwind and brass all had Meyer UPM or UPJ monitoring and Mohammed Abdou, 2 MJF's. An additional UPM was added for the Maestro.
In addition to our in built acoustic treatment of the room, we also used clear acoustic panels between the percussion and soloists. Extra attention needed to be paid to aesthetics as Oman TV filmed all three nights!
If Abdou can teach us anything, it is that no matter our beginnings, hard work and determination will eventually pay off. The battles we overcome today will become part of a much larger picture.  Once again, we are left in the wake of this concert feeling that the learning that we gathered in previous challenges produces greater knowledge and success moving forwards.
---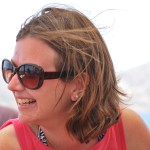 Clare Hibberd: Clare is a Senior Sound and Broadcast Technician at the Royal Opera House, Muscat. Her blog will focus on resilience and adaptation as a woman in the sound industry including past and present challenges with working abroad.
About Clare: Clare gained her first class bachelors degree at Royal Central School of Speech and Drama. Her career has taken her all over the world, working on some of the most successful (and not so successful) musical theatre productions to come out of the West-End. With the added bonus of recently completing a post graduate teaching certificate, she is now looking to implement teaching and learning programmes for Omani technical trainees as part of a wider Omanisation strategy.