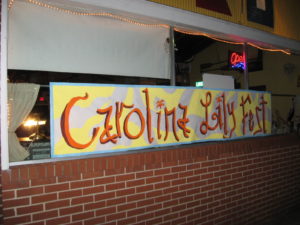 Not often does a small southern town host a women's event that stretches beyond wedding expos or Ladies' Nights, so when I heard about the Carolina Lily Festival, I was intrigued.  Boasting an all-female line-up, the Festival serves as a fundraiser for the local non-profit women's shelter (Coastal Women's Shelter) in New Bern, NC.
The Coastal Women's Shelter's focus is on those who have suffered from domestic abuse.  As outlined on their website: "During the fiscal year 2015-16, we served 550 individuals in Craven, Jones, and Pamlico counties. One hundred women and 46 children lived in the safe house for an average stay of two months. We can house up to 19 individuals at any one time.
The Carolina Lily Festival is celebrating its third year.  This year The Brown Pelican, a nautical-themed bar, is the venue.  On stage is Gabrielle Christie, playing guitar and singing a mix of covers and originals with a creamy voice that fills the room.  And the place is bursting at the seams with people of all ages and genders.  In the back is the raffle table where I find Bailey Evans and Grant Golden, key members in GEM productions, an event company hosting the festival.  They are the festival's event coordinators.  I reached out to these three to find out why they chose to get involved.
Nicole Kirch (NK):  What is the Carolina Lily Festival and why is it important?
Gabrielle Christie (GC):  The Carolina Lily Fest is an event to raise money for the Coastal Women's Shelter while supporting and celebrating local female artists. It's important for several reasons. One, we need to continue raising awareness for CWS so that any woman in need knows that services exist and knows how to access them. Two, as a community we need to help financially support organizations like this. I think it's our duty to make sure places like the CWS can continue operating. And three, I will always jump on the chance to support and cheer on local artists.
Bailey Evans (BE):  Coastal Women's Shelter works to end domestic violence by providing women in our area with the skills, support, and confidence to live better lives.   It felt in keeping with the spirit of the organization to spotlight and support female artists during this event.  It's been important to us to empower all artists to take the stage and follow their dreams, but Carolina Lily Fest is a celebration of women because empowering women is the reason we gather for this particular event.  Small towns like ours benefit from festivals dedicated to women for a number of reasons.  First and foremost, this specific festival highlights an organization that actively improves the lives of local women.  It reminds us of the challenges many women still face but also allows us to be part of the solution.  Additionally, it's no secret that the entertainment industry is and has been rife with sexual harassment, so it's important to give women some extra and exclusive opportunities to shine safely.
NK:  Is this your first time performing at the festival and why did you want to perform?
GC:  No, I had the honor of performing last year. I'll always be happy to get involved. I think it is a cause worthy of our time and our donations.
NK:  What were your reasons behind a full female line-up?
BE:  We struggled with committing to the concept of an all-female line-up when we began planning the first Lily Fest.  We weren't sure if that was the best way to develop an inclusive community-minded vibe.  However, we decided that there's nothing problematic about celebrating a particular group and having an all-inclusive event.  This event focuses on women, but it welcomes everyone and invites all people to be involved in supporting a vital community organization.  This night is about encouraging the potential of women in our community, so it feels fitting to incorporate that concept into our line-up as well.
Grant Golden (GG):  We had a hard time deciding if we should do a full female lineup. Do we need to have an all-women lineup to empower female musicians, does it feel patronizing to make it feel like an entirely separate event? Ultimately we decided that an all-female lineup is the best way to ensure that the most female voices are heard, highlighted and praised. This seemed to be the best way to show that Carolina Lily Fest is here to serve as a safe-space for all attendees and a day to honor the strong women in our lives.
NK:  Have you ever performed in an all-female line-up before, what is your impression of it?
GC:  No actually, last year when I performed I did a solo set then got my band Bearfoot Monty to play as well which has male members. But I am so stoked for this year's all female line up.
NK:  What made you interested in music and performance?
GC:  I've always loved music. And it's been a long journey to performer. I was lucky to be brought up in a home where lots of different music was played. My sister bought me the album "Lungs" by Florence and the Machine when I was about 13, and from then on I knew I wanted to be a songwriter and performer. But I wasn't until I was a junior in high school when I met an amazing music teacher did I get the push to pursue it. He made me learn the guitar so I could back myself up on stage. He told me I don't ever want to have to rely on someone else for my music and I need to be able to do it myself. So I did. And over the years I just continuously get inspired by people and music and get encouraged to go further and further.
NK:  Define female empowerment.
GC:  Female empowerment… I think it's the ability for a woman to be in charge of herself and not feel ashamed. It's tough to truly get there though. I know I get put down a lot or condescended to and it can make you feel like you're less. But being empowered means pushing past that and knowing your worth.
BE:  Encouraging women to determine their paths, assert their boundaries, and define themselves free from stereotypes or cultural expectations.  It's such a hard thing for me to define eloquently because it includes so many concepts.  I just want everyone of all genders to be allowed to follow their paths and be treated as whole human beings on their journey.  Gender shouldn't be allowed to define one's personhood, limit one's potential, or determine one's role in the world.  In many places and for many people, being a woman still comes with restrictions and constraints that are unacceptable.  Female empowerment is encouraging women to break free from what they are told a woman is and become whatever they want to be.
GG:  As a male, I likely will have a slightly skewed definition of this, since it's not necessarily a battle I have to fight on a regular basis, but to me, female empowerment is the act of empowering women to be the fearless leaders they indeed are. There's always been an implicit disadvantage that women face in society, whether it be lower pay in the workforce, undermining of their thoughts and opinions in both career and social settings, or the constant sexual harassment they're subject to. Female empowerment is how we can help to push past these struggles and work towards a mutual goal of development and sustainability for females in their communities.
NK:  Why is it important to have a festival dedicated to women and why should small town America have a festival dedicated to women?
GC:  I love that this small town is doing something that even some big cities aren't. It just shows how much character this town has. It's important because we are a tight-knit community and we need to be here for one another. Support is everything.
GG:  The music industry itself has always been somewhat of a boy's club. Females in the industry always seem to have to push a little harder and speak a little louder to gain some traction in their scene, and if you have the power to help change that then you 100% should be doing that. Small towns can sometimes exist within an echo chamber, and while by and large New Bern seems to do a great job of elevating women in the community to positions of power, there is always room for improvement and GEM Productions wants to further help the development of gender equality amongst our town.
NK:   How has the festival changed in it's three years and where would you like to see it go?
BE:  Lily Fest, like most of our events, is always an evolving concept.  Our ultimate goal is raising money for the Coastal Women's Shelter, so we've made adjustments   It went from a ticketed event to a free one.  Each year we've tweaked our raffle and auction idea to better serve our audience and see greater returns.  It's also beginning to make itself known as an annual event, so we are gathering regular supporters and volunteers.  I'd like to see that support and participation continue to grow because it's those connections that allow us to grow the event and reach new donation levels.  I'd love to see it grow into a more significant, full-day event with more interactive aspects like panels, creative workshops, and the like, that raises more and more money each year.
GG:  Carolina Lily Fest is an ever-changing event. We've moved venues since our first year and changed it from a ticketed event to a free night of music at The Brown Pelican. While we had a larger production scale for our first year, it seemed to be a bit more pomp than it needed to be. We've minimized our overhead costs, and almost all of the artists are donating their time and talents to the cause, which is a fantastic contribution that we can't be thankful enough for. As for where we'd like to see it go, I think having more community involvement would be fantastic, more visual artists and businesses being highlighted and contributing their goods is a great way to show how much our community truly appreciates the females in our scene and our lives in general.
NK:  How is this year different than previous years for the festival?
BE: This year we've seen far more interest in the event in the weeks leading up to the festival.  People remember it or they've heard about it and have reached out about getting involved or helped spread the word.  The buzz is a bit bigger, and hopefully, that means the crowd and donations will be as well.  Our raffle prizes and silent auction items are more numerous than in previous years.  Overall the spirit and intentions of the festival are the same as they've been since the beginning, but our skill set has grown each year, and this year we've hit our stride and feel much more confident about being able to achieve or exceed our goals.
GG:  This year features our biggest headlining act yet, Laura Reed, which is someone we've wanted to bring to town for years now. Laura serves as a beacon of light amongst the North Carolina music scene in terms of female empowerment. She's worked with Grammy winning producers, has performed the national anthem at several national sporting events, and has toured internationally with some immensely talented artists. Laura is without a doubt one of the most accomplished artists we've brought to New Bern and having her on board to help support this great cause is nothing short of fantastic.
We've also forgone the traditional array of "vendors" that we have at events and are instead having people donate their supplies so that all money raised goes straight to CWS.
NK:  Any closing thoughts.
GG:  Carolina Lily Fest is our most significant fundraiser throughout the year, and it's continued to grow along with GEM Productions. We're always thrilled to see the feedback and reaction from Lily Fest because so many of these folks may not be familiar with the breadth of local talent our community contains. We're lucky to be a part of such a supportive and inviting community, and we can't wait to share another evening of fantastic local art with New Bern!
BE:  It's a privilege to answer these questions and share my opinion with you, thank you for the opportunity.  This area has an incredible network of women in the music industry, and it's an honor to be a part of it.
---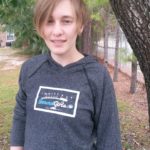 Nicole Kirch is a North Carolina based recording engineer and musician.  In her short career, she has worked on location sound, post-production, stage crew, and electronics.  Her love of sound stretches to almost every niche.  Nicole holds a BA in Sound Design from Michigan Tech (the first female to graduate from the program) and a BS in Electrical Engineering Tech from Austin Peay State University.   She believes in female empowerment and independent music.