This past fall, I took part in a panel put together by SoundGirls, and hosted by Sony Studios, called Career Paths in Film and TV Sound. SoundGirls, if you haven't heard of them, is an amazing non-profit organization whose mission is to inspire and empower the next generation of women in audio. Furthermore, they strive to create a supportive community for women in audio and music production, providing the tools, knowledge, and support to further their careers. Despite their women-focused mission, SoundGirls is not only for women. In fact, their membership is open to anyone with a desire and drive to succeed in professional audio, and their membership is currently 65% women and 35% men. They put on a lot of really amazing events, so no matter who you are, you should check them out.
Before I tell you all of the awesomeness that happened during this panel, let me get something out of the way. I know that the internet is a dark place where unanswered questions sometimes fester. So, I'm going to tell you all of the things that this panel wasn't—just so we're all clear. It wasn't a gripe-fest about all of the trials and tribulations that we faced while being part of the 5% of the audio workforce which is comprised of women. It wasn't a "safe space" to get really girly and gab about our kids, boyfriends, or spouses. It absolutely WAS NOT a chance to prop up some ladies who are at the top of their lady-game, but not quite cutting it out there in the real world of pro audio.
No, this was a kickass panel with audio professionals from all different backgrounds, with all different backstories and insights, who are at the top of their game. We talked about what drew us to the sound profession in the first place. We talked about working our way up with unerring drive and determination from the machine room, the tape vault, the intern desk. We talked about staying all night to observe mixers and read manuals. This was a panel about tenacity. And it just happened to be led by women.
The Panelists
Let me introduce you to the audio professionals involved.
During the panel, Onnalee told her personal story of being a professional ballerina with the New York City Ballet. She was injured and had to turn to a new career. She brought the same tenacity of spirit that took her to the top of the ballet world to her career in sound. She began assisting Rick Ruben, moved on to work with Johnny Cash and Danny Elfman, and she is currently a re-recording mixer at Formosa. She has mixed Girls, Black Sails, and Game of Thrones. She has won five CAS Awards and four Emmys, not to mention her countless other nominations.
Karol was legally blind as a child, until the age of five, when she underwent an operation to correct her vision. While her sight was impaired, sound was a huge part of how she identified the world around her. She spoke about being a young sound-focused student in the south, who got her start in front of house. She went on to undergraduate school for post-production sound. Karol is the re-recording mixer for Grey's Anatomy, New Girl, Scandal, among numerous other television series and films. Shortly after this panel, she was elected as the President of the Cinema Audio Society.
April is truly a "Jill of all trades" as the moderator, Anne Marie Slack, pointed out. She currently works as a supervising sound editor, re-recording mixer, foley mixer, ADR mixer, and music editor. April thought that she wanted to be a classical violinist, but soon realized that she was more passionate when behind the console as a scoring mixer. After receiving her master's degree, April moved to LA and posted Craig's List ad to meet other audio professionals, and those connections have brought her contractor work in every facet of the industry of post-production sound. She has worked as the re-recording mixer on The Bachelor, music editor on Transparent, and ADR mixer on Conspiracy.
My passions as a student were clarinet, math, and physics. When planning my future, I assumed I would have to choose between my interests. But, then I was inspired by a fellow student who went to college for sound recording technology. As soon as I found out that I could get a bachelor of science degree in sound from within a music conservatory, I was hooked. After college, I moved to LA and never looked back. As you all know, I now own Boom Box Post with Jeff and work as a supervising sound editor and re-recording mixer on several animated television series.
Just in case you're more of a podcast person, check out the panel on Tonebenders. This edited-down version starts with a special interview with April Tucker who gives context to the conversation by first discussing all of the amazing things that the SoundGirls organization has on its docket.
---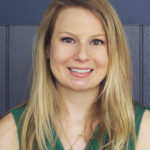 Kate Finan: After receiving a Bachelor of Science in Sound Recording Technology, Kate began her career as a post-production sound effects editor. Over the next several years, she worked her way up to being a supervising sound editor at Warner Bros. and then left to start her own studio, Boom Box Post, with business partner and fellow supervising sound editor, Jeff Shiffman. Together, they lead post-production sound crews for animated television series.  In addition, Kate also acts as the re-recording mixer on several series. Recently, Kate and Jeff have launched an additional venture, Boom Box Library, which creates custom sound effect libraries as well as software to aid in the sound design process.  Over the course of her career, Kate has been nominated for MPSE Golden Reel Awards, Music + Sound Awards, and a Daytime Emmy. You can read more about her company and enjoy additional blog posts at www.boomboxpost.com.