A COLLABORATIVE POST BY TESS FOURNIER – SUPERVISING SOUND EDITOR, BOOM BOX POST
As a sound editor, having a well-rounded library is very important. Some of you might be lucky enough to have a library provided to you by your company and others might be wondering where the heck you even start. There are plenty of great libraries out there on the web that you can purchase or download for free with no effort of recording at all but there are also going to be things that you will need to record yourself. A good place to start is by recording small handheld props. Recently we came across needing these types of recordings for a new series. Check out some helpful tips below!
For this blog, I'd like to specifically use the veggies/fruits I recorded as our focus. The main benefit of recording food is being able to snack while you're doing it. Am I right?
You can't tell me that picture doesn't make you a little hungry! Alright, let's break these recordings down into four primary points:
Recording Quality
There are many things to take into consideration when recording sound effects such as your meters, how far you are from the microphone, the noises happening in the room you are recording, etc. To get an in-depth look on some tips for recording, please check out this blog Jacob did! In my case, it was really hot the day I recorded these veggies, but I turned my A/C off for the sake of the recording! I also unplugged my refrigerator because it was making too much noise. Maybe sweating while recording will make you feel like you are working harder too!
Variety
Make sure you have a good amount of variety with whatever you're recording. You don't want to get to the editing stage of the records and wish that you had more variations and have to go back to step one and record again. For these veggie records, not only did I get a lot of different foods to prep, I also tried to make sure how I cut them was varied; short, long, sawing motion, ripping, etc.
Save the Extras
I didn't intend on recording and labeling knife-downs and carrots dropping, but they were a by-product of my main recording. Rather than just deleting them, I cleaned and labeled those as well because you never know when they'll come in handy!
Clean and Properly Label
Lucky for you, Jacob loves to write blogs about recording sound effects! So, check out this blog he did to see how to edit these files. If you are too lazy to click the link, I will give you a short rundown:
Clean up the recordings as best you can by getting rid of background noise/etc. Cut out any excess you don't need (like me picking up a new potato to record or coughing, etc between takes). Put like sounds together (sawing cuts should be one file, ripping, another, etc). Label properly – for these I labeled them with the type of food, how they were handled/cut (cut, rip, saw, etc).
Recording sound effects can be both fun and stressful at times. My best advice is to make sure you are having a good time and come into it prepared. Start brainstorming ideas and make a list of things to record and then get at them all at once! I'd say it is better to record too much than not enough. Make sure to record PLENTY of food….so you won't be hungry for the other recordings.
You can read the original blog and more from Boom Box Post Here
---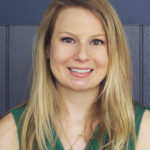 Kate Finan and Boom Box Post: After receiving a Bachelor of Science in Sound Recording Technology, Kate began her career as a post-production sound effects editor. Over the next several years, she worked her way up to being a supervising sound editor at Warner Bros. and then left to start her own studio, Boom Box Post, with business partner and fellow supervising sound editor, Jeff Shiffman. Together, they lead post-production sound crews for animated television series.  In addition, Kate also acts as the re-recording mixer on several series. Recently, Kate and Jeff have launched an additional venture, Boom Box Library, which creates custom sound effect libraries as well as software to aid in the sound design process.  Over the course of her career, Kate has been nominated for MPSE Golden Reel Awards, Music + Sound Awards, and a Daytime Emmy. You can read more about her company and enjoy additional blog posts at www.boomboxpost.com.