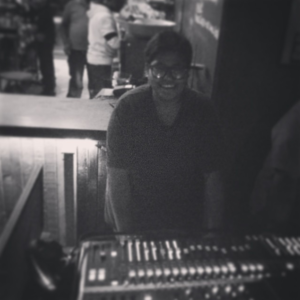 Brinda Sreenivas is a Freelance Sound Engineer from India. Born in Bangalore – India, her early life was filled with music, teaching herself to play piano by ear but this fell off when her parents were unable to send her to piano lessons. Her passion for the music industry never died even though she knew she was never going be a musician.
Raised to be a strong woman her parents were very supportive in whatever she wanted to do with her life, which is different to the traditional ways of India. Her mother in particular never told her that she couldn't do the same stuff that guys could do, and encouraged her. She understood that Brinda might not get the same opportunities, but explained to her that she should never give up – always aim for whatever she wanted to do. Growing up, she watched plenty of music videos, and parts of these videos showed the engineer at work while the artist was recording in the studio. Brinda decided that this was her path, she wanted to be the one using the large mixers she saw in the videos – she thought they were just so cool.
When she turned 18 she decided to follow her dream and enrolled in Audiolife, where she gained a diploma in Sound Audio Engineering. Brinda was the only woman in that class and after she graduated, she soon found an opportunity to work as a studio engineer. Reality set in and after a while she realised that sitting in a room for more than twenty minutes was just not her. She had a friend who ran a theatre production company and luckily for her, they needed an engineer. Her friend asked her to do sound for the show that night and when it was finished, she realized that she felt happier doing sound for a live show rather than being at the studio. She immediately resigned from the studio work and applied for an internship at a few local venues.
Brinda got her start in live sound by interning at the venue where she ended up becoming the in-house engineer. In this role she would set up the stage, patch channels and pack up everything at the end of the night. Occasionally she was left to handle the console on nights a DJ played before she was gradually able to move on to open mic nights where she learned a great deal about live sound mixing.
Brinda has now been doing live sound for three years – mostly as the in-house engineer at an independent music venue – The Humming Tree. Her specialty is FOH although most of the gigs she also runs the monitors from FOH.  She is in charge of all the sound production at the venue – handling inventory, stage setup, maintaining the equipment, and running sound.
She has done some small tours as FOH engineer. Brinda likes touring saying "it's always fun to go work at different venues, in different cities". While touring the band doesn't carry any gear except instruments and there is no crew, it's only her and the band flying from one city to another so Brinda also takes care of the advance work. She usually gives the engineer/vendor a call for each venue, and organizes the gig and requirements with them. They need to be prepared for anything as things like the backline are substituted based on the venue's or the promoter's budgets. Most of the gigs are in venues where the venue's engineer has the stage setup and ready to go and all the band had to do was plug in their instruments. She is eager to learn and touring satisfies this need in many ways as she is able to work with different consoles and crew saying "It's all a challenge, but that's the most fun part of it". Her least favourite part of touring – lack of sleep!
Being a female working in this industry in India I asked Brinda how her family felt about her job. Brinda says "My family is okay with me working, they're a bit proud of it too. But they still don't understand what exactly it is that I do, they pretend to though, my mum just tells everyone I'm a DJ" They are not really concerned about her touring – as long as it's with people she knows.
Recently Brinda has stepped out on her own to work as a freelance FOH engineer. Right now, in India there is huge growth in the independent music industry. There aren't a lot of women (artists or crew members), but there is serious potential for women to grow in this field. Brinda feels this is the right time for her to become an independent operator while there is a growing acceptance of women who do sound.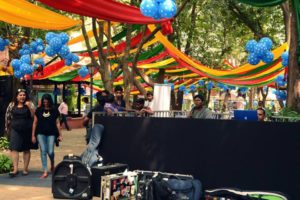 While the acceptance of women in the field is growing, and the majority of work is small tours with only bands and sound engineers traveling, she is finding the bookers can get kind of awkward about touring with a woman. Brinda has experienced her share of obstacles and barriers saying "I've never been taken seriously. I feel like some men here still can't deal with the fact that a woman might know what she's talking about it. I've been asked if the there's another FOH engineer at the venue. Normally, a woman has to prove herself twice to be taken seriously, but here it's 'prove yourself ten times, and then we'll talk kind of a situation. But I've been a bit lucky because the people I work with now are not those who'd care if it were a woman or a man mixing". Since she started freelancing, there have been times when she has been booked for a few dates and then they back out immediately when they find a male sound engineer available for those same dates. She has figured out now which bookings she can take seriously, and which ones might be a bit dodgy. There is no way for Brinda to check if she is getting paid the same rate for the same job as a guy, but if she is unsure, she check's with her mentor, Rahul Ranganath, for advice.
In India there is a culture of mixing very, very loud. Brinda has spoken to a few other engineers about this trend but has found that they either don't realise or don't care about how loud it gets. The potential damage to the audience's hearing doesn't seem to concern them either. In her travels, Brinda hasn't come across an engineer or venue where they display SPL meters, and states that she didn't do this herself until recently. She is hopeful that other engineers will start doing this and become more aware of when it is getting too loud. Whenever she is not at the desk mixing, she wears her own earplugs.
Brinda has found that there can be a lack of knowledge concerning production, such as large shows with no delay stacks or fills resulting in people at the back not being able to hear and the organiser asking her to push the PA levels up. Not one for confrontation, Brinda has developed strategies on how to handle artists and organisers who just don't get it. She will usually listen to what they have to say and reassure them that she will keep in mind whatever they have suggested and then do the best she can in any given situation.
Long term Brinda would like to continue doing FOH and eventually would like to build her own sound systems, mixers, mics, and synths etc., and continue doing FOH. Her favourite gear is the Sennheiser HD215 ii and any Soundcraft mixer.
Brinda has great advice for other women and young women who wish to enter the field saying "Do it, don't let anyone stop you, and there are always people who will help you out. Just make sure that this is actually what you want to do". She finds that apart from technical skills, some of the other must have skills are networking. It took her a while to learn the art of networking, and says she is still learning.
Her best tip? Develop the ability to stay calm when things go wrong – this will take you a long way in the industry.
Brinda's final words of advice are: "There will be times when it gets frustrating when people will not listen to what you say, even though you may have the knowledge and the abilities. You'll meet artists who come in thinking that there will be a man doing your job; it might be a huge shock for them to see a woman. You need to be able to do a good job with artists and crew that do not want to listen to you. Just pull through it, and if you do a good job I swear, the artist or crew will never doubt your abilities again. Don't get offended by any of these things; it just shows that there is going to be more acceptance for women in this field.
---
Profile by: Toni Venditti
Toni Venditti is the director of G.V. Productions that provides PA and Lighting equipment and is based in Sydney, Australia. She also is a senior industry writer for the CX Network and a contributor to SoundGirls.Org. Toni has worked in audio and lighting for over 25 years.