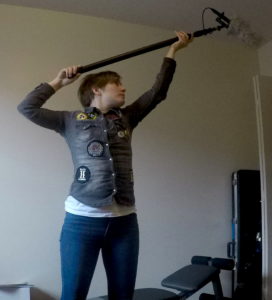 There are many articles that cover technical gear of location sound, but I want to focus on the skills and personal touches that will make a Boom Operator more efficient on set.  While the majority of these guidelines come from my own experiences, I also draw from Richard Patton's Sound Man:  An Introduction to the Art, Science, and Business of Location Sound.  Richard Patton is a film Sound Mixer with 40 years experience and over 70 credits.  Patton describes the job of a Boom Operator as the "placing of all microphones." including the boom mic, lapel mics, and other miscellaneous mics planted for the scene.  It is important to note that sometimes there is only one location sound person on set, and therefore they become the Mixer, Recordist and Boom Operator.



Set etiquette
A hierarchy on set exists that determines who is in command of whom.  The two main groups are divided into "Above the Line" and "Below the Line."  This refers to how the budget is arranged but is a smart way to think about interactions with others on set. The Sound Department's domain is audio, and so even if the crew consists of two other people, a Boom Operator's job is never to direct the actor. Therefore do not interfere with eye-lines.  Direct interaction occurs only when wiring an actor, or when someone Above-the-Line initiates conversation.  Getting a repeat contract depends on respecting these rules.  Speaking of wiring talent, be professional.  Respect boundaries and let the actor be in charge of how much help they need.  When wiring younger actors, have their guardians present and walk them through the process.
Head
Not every set is a temperature controlled warehouse.  There will be sun, cold, and extreme heat from halogen lights.  I keep a hat, sunglasses, sunscreen, and a bandana with my kit no matter the season.  Other creature comforts include headphone covers (they make a huge difference), and a towel.  I have depended on towels for drying hands, puddles, tears, and cables.  They are the true answer to life, the universe, and everything.
During a take, a Boom Operator must capture the dialog.  They have to know who is talking and direct the mic to them.  Even during a monolog, the boom operator is thinking of more than just the script. Is the actor on or off axis?  Loud noises like airplanes or dogs barking will require more takes, but sometimes now is not the time to cut the current take.  Patton gives an anecdote in his book about caramel keeping loud pups occupied.  There is also the housekeeping of collecting room tone and making track notes.
Eyes
While sound is the medium of the Boom Operator, the camera is king on set.  It is crucial to watch the camera's movements and to get a feel for different lenses and focal points.  The last thing any director wants is the perfect take ruined by the boom.  Often the Boom Operator dances a duet with the camera crew.  This can be complicated by a wire tether (recording audio to camera) or an intricate long take.  If the choreography was not complicated enough, the mic must be just out of shot and not visible via shadows or reflections.  Whenever possible rehearse the scene.  And while each crew is different, learn to communicate with the camera team; a good relationship can facilitate recording.
Arms
A tense body is one that fatigues faster.  Keep hand and arms relaxed. The hand closest to the mic should act as a shelf to hold the boom, while the other is a counterweight that controls mic direction.  The boom is steadier when hands are further apart.  There are several arm positions that rely on the skeleton rather than muscles to support weight. Therefore these are the most natural positions to hold.  The first is the arms straight up.  This is the stereotypical boom position. Second is elbows at the sides with the hands straight out and facing upwards.  Often one hand is staggered higher to get the boom above the camera.  Third is arms completely down.  This one is used for when the boom is below the actors.  Other positions can be used but at the expense of the Boom Operator's energy.
Body
Actors are meant to be seen; crew are meant to be invisible.  This means wearing black clothing with quiet fabrics.  Long sleeves are better than short sleeves, but it is not a hard rule.  Make sure to dress for the weather.  Merino wool is an excellent place to start, and Army Surplus stores always have good deals.  Fingerless gloves are useful for keeping hands warm while maintaining dexterity.  Make sure they do not have tacky (and therefore noisy) grip enhancers.
The secret to surviving long set days is core strength.  Good posture includes keeping the stomach sucked to the spine, relaxing shoulders and having a wide leg stance.  Wide stances are more stable, especially when standing on a step stool.  To not fall, one's center of gravity should be kept between one's feet.  It is better to lunge than lean. Locked knees is a recipe for disaster as it restricts blood flow and can lead to fainting.  Cue half of all America's Funniest Home Videos.
Feet
Twelve hour days last an eternity if one does not have proper footwear.  Boots are often required or requested for safety, but that does not mean fit has to be compromised.  I know that several respected brands have models that are custom built for women instead of "smaller men's" boots.  It is essential to break in boots before working in them for a full day, and there is no shame in swapping for a more comfortable insole.  During the colder months make sure that boots accommodate thicker socks.  Boots that are either too tight or too loose cause blisters.  And keep in mind that although athletic socks are okay, merino wool is better.  I suggest keeping an extra pair in with the gear.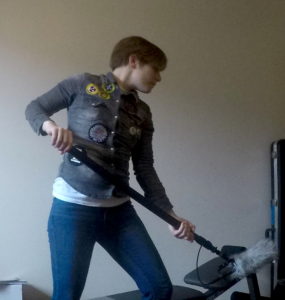 Sometimes a scene is relatively stationary, but not to the point of requiring a stand.  A rubber mat works well as a foot silencer, but also to make concrete floors more forgiving. And if a boom operator is short, like me, then an apple crate can be used as a step stool. Apple crates deserve more than a few sentences but note that film apple crates can hold weight, the local grocery store's probably won't.
As I mentioned before:  boom operators dance with the cinematographers. Therefore one should traverse like a dancer. Someone who is light on their feet will fall less often.  When walking backward the weight should be on the balls of the feet, and the body should lean ever so slightly forward.  Falling forwards means a bloody nose, but falling backward means a concussion.
Film crews can be like family, and by using these tips, I hope that future boom operators are seen as assets rather than glorified Production Assistants.
---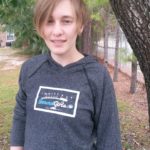 Nicole Kirch is a North Carolina based recording engineer and musician.  In her short career, she has worked on location sound, post-production, stage crew, and electronics.  Her love of sound stretches to almost every niche.  Nicole holds a BA in Sound Design from Michigan Tech (the first female to graduate from the program) and a BS in Electrical Engineering Tech from Austin Peay State University.   She believes in female empowerment and independent music.