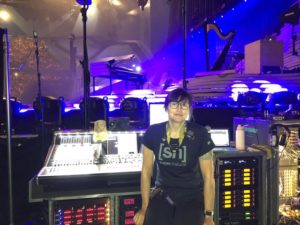 Annette Guilfoyle is a freelance monitor engineer. She has been working in the industry for over 23 years and is currently on tour as the monitor engineer for Florence and The Machine. She has worked for several sound companies, including Canegreen which became part of  SSE Audio.
Annette had initially been a town planner and as many engineers have, came to live sound in a roundabout way. In her spare time, she was always going to gigs and wrote for fanzines. She would often wonder about the varying sound quality at concerts and signed up for a part-time live sound course. The stars would align as Annette explains " It was around this time that the current contract of work I was on was due to finish.  I had been applying for other positions but decided to give Live Sound a go. I took over from a friend who did publicity for a Melbourne venue, and this, combined with my course introduced me to a whole new world!"
It was during this time, that she would meet a great mentor, " Whilst out mixing a band that I was also booking gigs for, I met a guy mixing a band on the same bill, and  he saw that I was struggling and he asked if I really wanted to learn how to do this?" She would say yes, and he took over the role of teaching her everything he knew. Annette would work gigs with him, and started to really learn the basics; how to roll cables, set up a stage, etc.  He also owned a mid-size PA and would do a lot of shows around town so she asked if I could assist on these. "This was all voluntary on my part, but it got to the point where he was paying me and I could set up and run his system and would often mix monitors. He was a fabulous mentor and now one of my closest friends."
Annette would move onto the limited touring within Australia by working for local bands and travel the interstate with them for the one to two shows they had. Occasionally flying to Perth. Her first real touring gig was with an Australian Gypsy/Blue Grass band called the Blue Grassy Knoll.  They wrote and performed soundtracks to various Buster Keaton silent films. She mixed FOH and Monitors (monitors being mixed off the house board) and toured the world. Annette learned a lot while having fun "it was such fun, such great musicians and a fantastic show. It taught me a lot, especially about mixing non-traditional instruments and having "space" in a mix."
Annette would eventually relocate to the U.K. in 2000 and toured mainly as a monitor tech, and occasionally as PA/Systems Tech for various sound companies. It was from this work that she was offered the monitor position for Paul Weller. Her work with Paul Weller led to working with other artists such as Ocean Colour Scene, Editors, Goldfrapp, Spiritualized and Marina and the Diamonds to name a few.  She also mixes FOH at the Southbank Centre in London where she works for the PA supplier; this is a good source of work for her between tours. Annette occasionally picks up FOH Gigs from her Australian contacts and has led to tours with the Go-Betweens and Mick Harvey (ex-Bad Seeds) when they've come to the UK/Europe.
Annette feels it is essential to give back and help the next generation of women in audio. She recently volunteered with Girls Rock Camp Brisbane teaching a workshop on sound, and she graciously allowed SoundGirls Members to shadow her Florence and The Machine European Dates.
Annette's long-term goals are to keep getting better at her work and to keep learning. "And to be open to any opportunity. I certainly did not envisage I'd be doing what I'm doing today.  I don't know where this will take me, but I am looking forward to finding out. I feel I've been lucky as I've mostly worked with hugely supportive people, be they my bosses, fellow crew, or band members.  Everyone has been/is willing to help the other out. The common goal of putting on a good show/event is fundamental to this over egos, and who's right or wrong. Working towards that common goal, with a team as a whole, I find it very satisfying."
What do you like best about touring?
Financially, the stability of steady income!  Socially, meeting new people, be it on the crew you are touring with, or at the venues, you are going to or the places you are visiting in general – and reconnecting with those people at later points.
From a mixing point of view, it also gives you the ability to really hone your craft/mixes. And learning to deal with the challenges of different rooms and venues, and the problems that they can create.  Oh, and of course getting to see so many places around the world I may never get to see working 9 to 5! Okay, so that's quite a few things I like about touring.
What do you like least?
The repetition and the hours.  And living out of a suitcase.
What is your favorite day off activity?
Cycling.  I find that keeping very physically active when on tour helps me find an even keel.  I used to tour with a folding bike, or else I find a bike to hire – find a destination (preferably with cake) and set out.  It's a great way to sightsee and burn energy. It makes me feel like I've had a real day off, and I'm all set to go back to work the next day.
What if any obstacles or barriers have you faced?
The biggest obstacles I've faced, to be honest, have all been self-imposed.  Lack of self-confidence, fear of failure. I'm my own worst enemy at times. But you learn to get over this and keep on going.
How have you dealt with them?
I put my head down and work hard.  Keep going. If I was not busy work-wise, I would get in contact with anyone/companies, looking for work.  I would do whatever training was available. Read up on equipment, techniques, etc. Anything to keep going – and stop dwelling on what is not happening, but what could happen.
Advice you have for other women and young women who wish to enter the field?
Be prepared to work hard and always ask questions.  If you are not sure about something, ask!! And listen and learn from those around you.  Even as you gain experience, there is ALWAYS more to learn. Be open to new ways of doing things.  And of course, keep believing in yourself.
Must have skills?
Being able to get along/work with other people – and this also means being able to compromise and to respect all those around you.
Favorite gear?
A DiGiCo console.  I love their desks, so flexible and they sound great. But the pieces of equipment I never leave home without Whirlwind Q box, Rat sniffer/sender (both essential for troubleshooting), sharpies, leatherman, my IEM's and/or headphones.