By: Michelle Sabolchick Pettinato
Stupid Digital
Oh digital console, how do I dislike you? Let me count the ways.
I'm an old school analog girl, always have been. I prefer real books to a kindle, an old fashioned land line to my cell, Vinyl to MP3s, and a good old half ton analog sound console over a carry under my arm digital board any day. Oh, and I still use my ears to tune the PA rather than a computer.
I'm quite capable of mixing ondigital consoles and have unwillingly done my share of it but will never be convinced it's a better way to go (for me). In fact I am quite sad about the impending demise of the analog sound board and seriously contemplating purchasing my own XL4 before they all become extinct so I'll be sure to always have one available to mix on.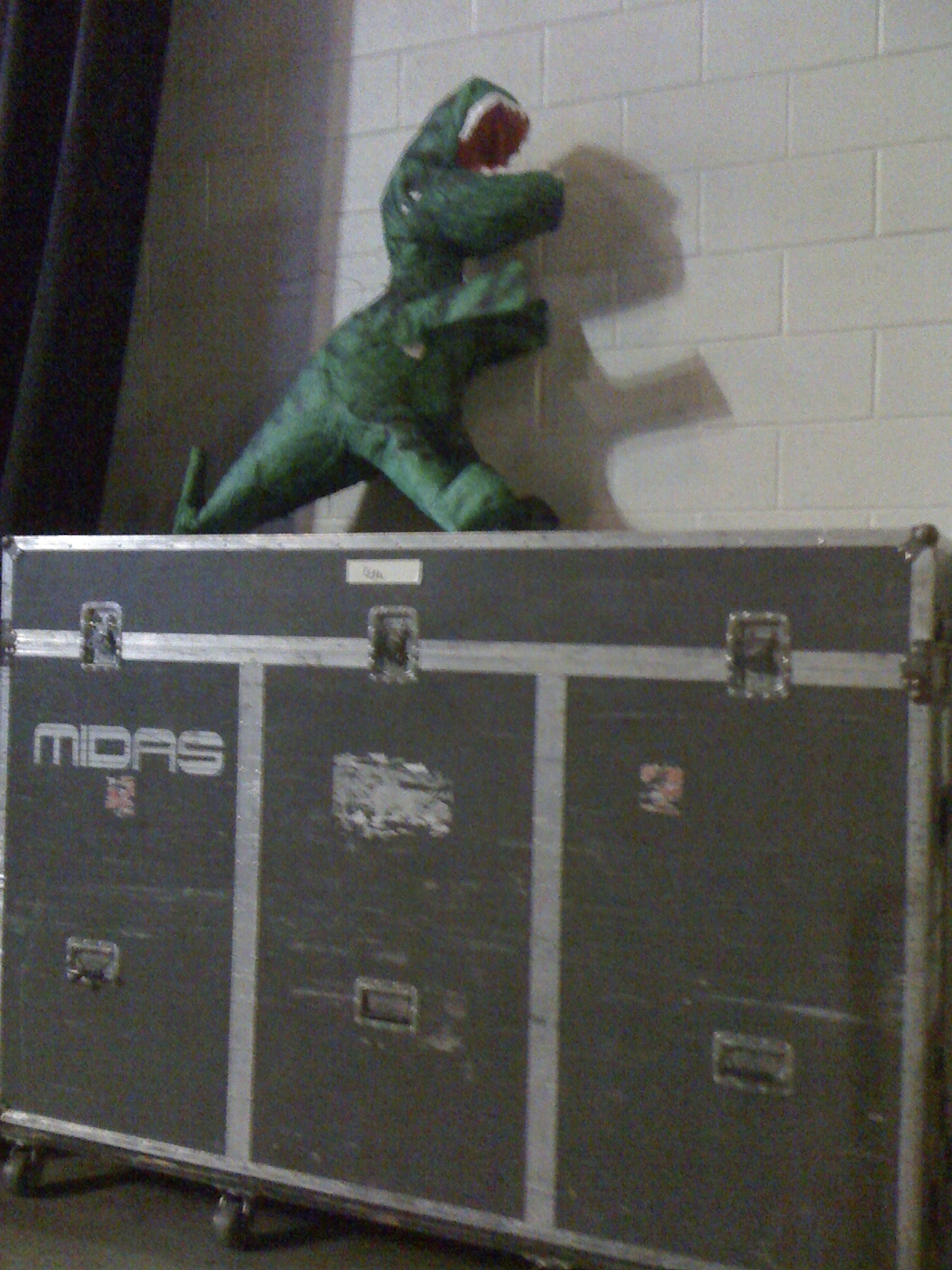 Reason # 1 Analog just sounds better
Reason # 2 I mix with both hands
Reason # 3 The learning curve and lack of consistency between operating platforms
Reason # 4 When it goes down it can bring a show to a quick and painful end
Reason # 5 Trouble shooting takes longer
Having said all that, there I was in early June wrapping my head around the operating system of the Midas Pro 6 which I would be taking on my upcoming tour. This will be the second time, and I cringe as I say this, that I have voluntarily taken a digital console on tour. I have used them on tour when I had no choice in the matter but up until last year when I took the Studer Vista 5 on the boy band pop tour I was mixing, I have fought vehemently for analog at FOH whenever possible. I would take almost anything analog over digital, almost anything. The decision to take the Studer last year came partly from the fact that production demanded the FOH audio footprint be as small as humanly possible due to all of the other extraneous components of the show (confetti canons, video cameras that for some silly reason couldn't go in the normal video camera location and such) that they were trying to squeeze into the mix position every day AND partly from me seeing the opportunity to really sink my teeth into the digital world on a tour where no one really cared about the sound. Let's face it in a sea of thousands of screaming 8-14 year olds not one of them was going to come up and comment on the bass tone or ask what vocal mic was being used. Even if their parents, who accompanied them, had musical taste they would have had a tough time discerning the nuances of the snare sound through the 115db of non-stop screaming girls. Whatever compromise there was of audio quality would be lost on the average patron of this show.
As for the decision to take the Pro 6; For reasons I won't get into, I had the option of carrying a Pro 6 or using local production. Having worked with this artist in the past both carrying full production and using local production, I know very well that they are easy enough to do with local production. It's a four piece band, pretty straight forward, no tracks, and only 32 inputs. Couldn't be easier to mix or to dial in from scratch every day. But I also know that as most of the venues we are doing have in house systems -nine times out of ten I will be getting one of the two digital desks that I like the least and neither promoter or artist is going to want to pay for the outside rental of an analog desk and the outboard gear to go with it. When presented with these options I figured it would be a good time to check out the Midas Pro 6. I had only used it two times before and both on one off situations, one being a festival and neither providing an environment for me to really formulate an opinion about it other than I felt like I had no idea what I was doing. I have a few friends who were die hard analog fans like myself but recently switched to the Pro 6 and Pro 9 swearing that it sounds as good as an XL4. So with that in mind and with my option being a Pro 6 or bouncing back and forth on the two digi boards that I hate, I chose the Pro 6. We arranged for Midas to send a tech to rehearsals to train me on the console since there would not be a tech on tour with us. I also spent a day at Clair Bros. in Lititz, PA (thank you Dave Lester) getting my head around the board and it's operating system so I could go into rehearsals prepared with a plan of how I wanted things laid out or in this case grouped.
Dave did a great job of explaining the basics and getting me in a position to start a file and Frank Heinrich from Midas took me the rest of the way in rehearsals getting into the ins and outs of the theory behind the console. I have to admit I was really feeling a bit apprehensive about taking this console out on my own without a dedicated tech but once it's explained to you in a structured manner it's really quite easy to grasp. Again I have Dave and Frank to thank for that.
At rehearsals I am set up in a separate room from the band with a pair of Texas headphones to listen through. Frank and I spent most of the first day diving into the features of the console, the filing system, GUI and diagnostics so I didn't really start dealing with inputs until day two. I have to admit that once I began dialing things in
it sounded pretty good…for digital.
The tour gets underway and my FOH set up consists of an EZ tipper and the Pro 6, no FOH rack, no work box, no nothing. It takes me under five minutes from lid off to being completely set at FOH everyday. I plug in my AC, my Fiber cable and hand my outputs to the house guy….Done. It's the same thing for load out. The powering down procedure takes longer than the packing up. It's easy to see how engineers can get quickly sold on digital with it being such a quick and easy set up and tear down but at the cost of audio quality is it worth it? I had a conversation with a fellow engineer just the other day about that exact topic. After years of touring with a big, heavy analog desk he finally gave in and went digital, mainly for ease of use. His outlook was that the audience, with the exception of a few audiophiles, really doesn't notice the difference in quality between digital and analog and while we engineers do, it's just not that important in the big picture. While I agree the average patron wouldn't be able to tell if he was listening to a mix through a Midas XL4 or a Yamaha PM5D we should still give them the best quality we can. Yes, there are times when the difference between analog and digital doesn't really matter, and yes you can mix a good sounding show on a digital console but I've always been one for using the right tool for the right job and some acts just need to be analog. Granted while most of the younger generation growing up on MP3s have no idea what vinyl even is and have never listened to an amazing sounding record recorded in a good old fashioned studio on a big fat analog console like a Neve or API, how can they know what they're missing? But for those of us who grew up with great music recorded in an old fashioned studio on an old fashioned console rather than someones garage or basement on their pro tools rig, we remember what great records sounded like.
I've finished the first leg of the tour and here are my thoughts on the Pro 6: It does sound much better than most of the digital consoles out there, the EQ is very responsive and feels much like the XL4. I still don't like the fact that I can't mix with two hands like on analog. While the layout of the board becomes intuitive I still have to look at the console much more than I would like (as with any digital console) to make sure I have selected the input that I want to adjust. I've gotten used to the pop groups and VCA groups rather quickly but what I don't like is that the inputs never show up in the same place. So if my lead vocal is assigned to two different pop groups and a VCA it shows up in a different channel strip with each selected group according to the ascending order of the other inputs assigned to that group. All of this just makes for less efficient mixing if you ask me. And like every other digital console I have used it has that unnatural top end that becomes quite pronounced on the vocal mics. I've never been a fan of vocal mics that add an inherent boost in the 5-8k range and more often than not spend more time EQing that out to get a more natural sounding vocal. It becomes even harder with a digital console. I'm not a fan of the built in effects or delay and for any future use will be bringing an outboard rack with my old standards which sound much better. Lastly while it does sound a lot better than many of the other digital boards, and can sound absolutely beautiful when mixing a song with a well crafted arrangement and plenty of space for all the instruments, I find it still gets mushy when the band kicks in to a full blown rock song just like every other digital board I've used.
Fast forward to my next and current gig where for I am filling in for the bands regular FOH guy. I'm spending about six weeks on a tour that's already been in full swing for most of the year. Needless to say, since I am just subbing I'm walking into a production already in place and it is unfortunately on of my least liked digital consoles at FOH. I've only got a week left on this tour and while it's been a great gig and everyone has been happy with the mix I can't help but think how much better this band would sound on an analog desk.
In the midst of my this tour I'm doing a spec for my next tour which will be a UK run with a rock band in mid sized venues some large rock clubs and some theaters. My original inclination is to spec a Midas Heritage 3000, the music is so suited for analog but the band has been on digital consoles at both ends of the snake for years so I figure the PM is going to want things to remain as is. I ask about the possibility of me going analog and he tells me he's got no problem with that. Hurray! Back to the way things should be. I obtain a copy of the input list and quickly realize that the 50 inputs are going to require the large frame H3000 and a small mixer for effects returns AND several racks to house all of the outboard gear I am going to need. I take a look at the itinerary and know that it's going to be a pain in the ass lugging all this heavy gear into some of these gigs. It's Europe which means there are going to be stairs involved in some of them. Also noting Nottingham Rock City as one of the dates, I haven't been there in over a decade but have vivid memories of how small and cramped it is, I start rethinking my decision to take analog and find myself in a dilemma of principle.
Do I take the easy road and go with digital for no other reason than because it would be easier? Or do I go with what will sound best and take the H3000 and all the outboard gear that goes with it and deal with difficult load ins and trying to squeeze it into the allotted FOH space every day. As I mention this to my husband who is himself a Production Manager he reminds me that all of the gigs I will be doing have been around since long before the days of digital and have seen their share of XL3s, XL4s, PM4Ks etc… So I shouldn't worry about it.
I ponder my dilemma for a few days and find myself leaning toward digital for no other reason than to make it easy. I envision the labor needed to carry a large frame H3000 and three large Clair bros. racks in and out of some of these gigs as well as squeezing it all into the space that has been allocated to a small frame digital console for the past ten years. I'm mad at myself because I'm not lazy but this is definitely making me feel lazy. I find myself struggling to want to use the right tool for the right job, and being true to my love for analog versus being practical and not making this any harder than it has to be.
It's decision time and after a lot of thought and the reality that it's only 8 shows, I email a spec to the PM requesting the Studer Vista 5, opting for the easy way out. I know, I'm lame. Immediately after I hit send on my email I am second guessing myself and feeling shame. My thought was the Studer is one of the better sounding digi consoles by far so if I am not going to take analog at least I'll take a really good sounding digi board. But I still feel shame. I've never been one to opt for the easy way instead of the right way. Soon after I receive a response from the PM telling me to dream on, the Studer is not in the budget. I am somewhat relieved and immediately reply "No problem I'll take the H3000". Which is what I should have spec'd in the first place.
I realize now the last tour I did with an analog consoles was a month in Japan and SE Asia back in early 2011. Since then I've either been using local production which has been digital 9 times out of ten or on a tour that demanded I use a digital console for one reason or another. Honestly for some of what I've been mixing it didn't really matter sonically.
In obvious situations, I can certainly understand and appreciate the desire to use a digital console; theatrical shows, large productions with an enormous amount of channels, electronica or track acts that aren't looking for a fat warm analog sound.
In monitor world they can be a god send for bands with lots of cues, or if you're doing fly dates or local production and don't have the time or desire to dial up a ton of mixes on the fly. But for me I would much prefer a blank slate XL4 or Heritage for a throw and go than a USB slot. For all of you next generation mixers who are growing up on Pro Tools- if you want a real treat get yourselves behind an XL4, XL3, Heritage 3000, Soundcraft Series 5, ATI Paragon, Gamble or Ramsa if you can find one and prepare yourself for a wonderful sonic surprise.
One final note, an interesting thing happened a few years back. I was doing a theater tour with a big old Midas XL4 which required a team of no less than 8 stage hands to carry it into place. Many of these stage hands were the same guys that gave me endless amounts of grief when I insisted on bringing in a huge, heavy XL4 in the early years of digital consoles. I would hear comments like; 'you know they make these nice, small, new digital boards that only need two guys to set it up' from the stage hands who didn't want to do the heavy lifting. Only now 10 or so years later the same stage hands who complained endlessly about having to move the enormous XL4 were very happy to see one. They've worked a lot of shows over the years and having heard countless performances were more than happy to admit that nothing sounds as good as an old analog console and more than happy enough to carry that beast into the FOH mix position for me.
It's clearly a case of adjusting expectations- we've all done it, back in the old days on club tours where we carried no production and had to use whatever pile of crap they had at the venue and make it sound the best we could. At the end of the day after performing all kinds of voodoo on the system to get everything out of it that it would give you're shaking your head in the hopes that no one would remember that gig and right after that the club owner tells you that the PA never sounded so good. So you think ok well maybe it wasn't so bad, and after the third day of shit PA and low budget gear you start to lower your expectations in the hopes that you can just get enough head room out of the system to get the whole band in the mix and that makes for a good night. For me it's the same with digital consoles. Having spent the better part of the past two years mixing on digital I have found my expectations have adjusted. Yes digital can sound good, yes I can mix a great sounding show on this stupid digital console but I also know the same show through an analog board would sound incredibly better.