I've been a part of the sound industry since 2000, and I have been working professionally since 2005.  The industry was different back then, at least for me. I didn't have any women as role models. I didn't even have many women as contemporaries, so my experience at the beginning was pretty daunting.  That's not true. At first, I had no worries. I was confident in my chosen degree program in Commercial Music. I was learning how to combine my first true love, music, with my newly found interest, sound.
I remember my very first moment of recognition that being a woman in the sound industry was not the norm. I was working in the recital halls at my university as a sound technician and live recording technician.  It was my regular practice to discuss the logistics of the concert with the artist before we began so that I would know what to expect for the day. A particularly high profile artist was invited to give a concert at my college one year, and I was the lead technician on that show.  I approached his manager to ask my regular questions, and he just stared at me like I had nine heads. I thought to myself, "I'm only 19 years old, he must be freaked out because I'm so young." To break the awkward silence, I asked one more question, and his response was, "Who's in charge here?"  As the lead technician, I was in charge, so I told him I would be leading this event. Again, we stood in silence, staring at each other, until he finally decided to respond. I will never forget his words. "Just go get your boss, sweetheart, and I'll tell him everything he needs to know." That's when I knew that it wasn't just my age that would make things difficult; it was my gender.  I was mortified. I honestly did not know how to respond. Everything after that is mostly a fury-fueled blur, but I think, in my agitation, I just quietly walked away and did my job the best way I knew how.
Women in this industry still struggle with situations like mine every single day.  The thing that is different now is the steadily growing show of support and representation.  I wanted to know how young women breaking into the sound industry were feeling about it all, so I went straight to the source.  For this month's blog, I decided to interview my current 9-month intern, Kate Russell, and one of my two-year conservatory students, Lilly Martinez.  Here's what they had to say:
What is your name, age, and employment/education status?
KR: Kate Russell, 20, Assistant Sound Design Intern at PCPA-Pacific Conservatory Theatre
LM: I am Lilly Martinez. I am an 18-year-old full-time student.
When did you first become interested in sound?
KR: We were doing a production of Annie at my middle school when I was in the 7th grade, and I wanted to be the one to play the music and work with the mics.
LM: That's a tricky question… I suppose my first interest in sound sparked in high school theatre. My interest deepened toward the end of high school when I began dating a musician who was an involved member of my hometown's local music community, however, my first serious interest in sound was more recent in my academic endeavors when I actually was able to get my hands on some of the tech used in sound.
What are your career goals?
KR: I want to be a post-production sound engineer for film and television.
LM: I think my career goals focus more on involvement.  I want to work in dynamic areas that challenge skill and set-up. In my career, I want most to help promote culture and diversity. As a Hispanic woman raised in Southern California, I grew up in a heavily diverse community that fostered much of my own culture. I also had the privilege of studying ASL and interacting with the Deaf community. They inspired me to look into Deaf theatre and performances.  I hope that I can help amplify the voices and experiences of those lesser heard or known, regardless of company or title.
What does it mean to you to be a woman in sound?
KR:  To me being a woman in sound means that I am helping to bring about a change in the demographic of an entire industry. Just as theatre is for everyone, the realms of production behind the scenes should not, and cannot be exclusive.
LM:  To be a woman in sound is to be an artist that perseveres in expression regardless of surrounding social stagnancy.
Who are your role models?
KR:  My teachers and mentors:  Elisabeth Weidner (PCPA Sound Director), Abby Hogan (PCPA Scenic Charge), Zoia Wiseman (PCPA Staff Stage Manager), as well as Marisha Ray (Creative Director of Critical Role).
LM:  My role models are the dedicated and passionate artists who constantly show me the limitations others and myself create, are false. This includes Sound Designer Elisabeth Weidner for all her inspiring work, and Sound Designer and Engineer Talitha G. Blackwell.
Do you feel the weight of being underrepresented as a woman in sound?  
KR:  I have been fortunate early in my career to have teachers and mentors who are women, so it hasn't really hit me yet, but I'm sure the more I travel and gain experience, that weight will become heavier.
LM:  In my experience, the majority of people I have had conversations about sound with have been white men. In high school, a male drama teacher and arts coordinator were the only people I had to rely on and ask questions regarding sound. Past students in my position were boys as well. It wasn't until I began my studies at PCPA-Pacific Conservatory Theatre that I met women and people of color in sound. I never felt like I could connect or relate to the people around me who would get excited about sound until I met another woman in this field. This is probably the reason it took me so long to take a serious interest in it. There is a silent added pressure to be outstanding and firm as a woman in sound. Sound already tends to be swept aside in conversations about technical theatre. Voices of women have an added fight to be both heard and accepted.
How would you like to see the industry change?
KR:  I would like to see more women in leadership roles in sound, such as department director or producer.
LM:  I would like to see outreach to diverse groups in younger ages. I was swept into sound much like Dorothy and Toto once I left home. If I'd had that same exposure, if I'd had the conversations about sound in my youth that I have in my adult life, It would have been life-changing.
Describe your proudest sound moment.
KR:  My proudest theatrical sound moment was getting to run sound for a show at the Edinburgh Fringe Festival.
LM:  Surprisingly, my proudest sound moment happened outside of theatre. I had struck up a conversation with a more distant friend of mine who is a musician, and as we talked, I realized just how much my knowledge had grown. I felt well-armed for this conversation.
What is the best piece of advice you've ever been given?
KR: "You miss 100% of the shots you don't take."  I grew up playing various sports, as well as involving myself in theatre, so this quote became very prevalent in my life at an early age.  It applies to almost every aspect of life and is a great motivator for me to just sit down and do the thing.
LM:  A smart person takes critique. A wise person knows when to listen to it.
What advice do you have for young women starting out in the sound industry?
KR:  Don't be afraid to fail.  Failure is how we learn and grow, both as artists and people. Failure can be intimidating, especially if you are the minority entering into a field, but don't let that stop you from pursuing your goals.  Let it fuel you to surpass those who would try to keep you down.
LM:  Believe in your capability to grow, and live for the moments when your work gives you goosebumps.
---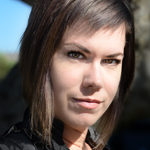 Elisabeth Weidner: Elisabeth is a sound designer, composer, and engineer based on California's Central Coast. She holds a degree in Commercial Music from Florida State University and has been working professionally in the live sound industry for over 15 years. She is currently the Sound Director and Resident Sound Designer/Composer for PCPA, Pacific Conservatory Theatre, where she started as the resident FOH Engineer. She has composed two full-length young audience musicals and is always working on the next one. Elisabeth also freelances as an audio/video technician at a local concert venue and as a West Coast sound designer for theatre. www.elisabethanneweidner.com