by Samantha Potter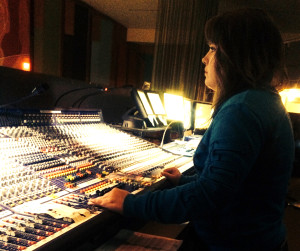 I meet a lot of engineers around my age (mid-20s or so) that strictly stick to audio and don't dare to touch anything else, whether it be to stay focused on audio, or to not get roped into something they don't particularly want to do. There isn't anything wrong with this. Laser-focusing on one discipline can yield some great results. I know that my passion lies in audio, live sound especially. I study it, read about it, train myself, and I find it most thrilling. As I've been working in this industry, I've began to notice a trend: nobody wants to pay an audio engineer properly. It's an endless undercutting massacre of our income. Something that I've done to make sure I get my value is to learn other aspects of event production. It's hard to justify any less pay when I'm able to do more than someone who only does sound. Again, I want to state that there is nothing wrong with sticking with and focusing on audio. Follow your passions.
So, I feel it's pretty established my main discipline is audio. I want to discuss some of the other things I do to supplement my audio work. I work with a band, Funk Syndicate, here in Kansas City. I'm a full-fledged member of the band, which is great. I'm their sound engineer, although I typically tell people I'm their Production Manager. Getting their sound dialed in is my #1 priority. But I do so much more. I'm their monitor engineer, their FOH engineer, their lighting designer, and I run their social media page.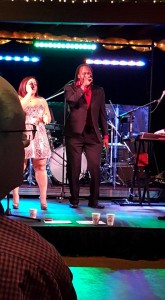 All 8 band members use IEMs, so getting their monitors correct is an on-going and delicate task. As much as it hurts me to admit it, the monitors are arguably more important than FOH (please don't throw anything at me). I have all gig to get the FOH dialed in. I need to get the monitors dialed in ASAP, and check-in throughout the gig (they often request changes throughout every set).
There are many, many times that I'm trying to fix something for FOH and one of the musicians needs an immediate change in their ears. I need to drop everything and fix that. When their monitors are precise, their performance is better, and it makes my FOH job easier. Musicians finding the 'pocket' can take a performance from okay to incredible.
Next, I design their lighting. I don't do anything crazy because I don't consider myself a lighting engineer. We've got LED bars and some other lights in the works, as well as DMX lighting software. I've bothered to learn all I can about the lights and the software so they can have as incredible of a show as possible. I want them to look great, and I enjoy seeing an entire show come together. I also know every song forwards and backwards, who is singing which parts, who's got solos, and how long each song is. I learn all this because it helps me with not only mixing FOH, but also which FX and lighting presets to use when. I have a real hoot with Uptown Funk (people go crazy for this song, it's ridiculous). So now my tasks are up to 3 different things at once, lighting, monitors, and FOH. I find it very thrilling to be doing so much at once.
Except then, I add in photos, videos, and social media. I'm not afraid to admit that I've been doing video work at the same time as the monitors, FOH, and lighting. I need to add the caveat that I make sure one thing is as perfect as it can be in a certain moment before moving on to the next thing. I don't give 4 mediocre performances. That's unacceptable. I give 4 fantastic performances only because I can stay calm and I know my technology as thoroughly as possible. Don't take on more tasks if you can't handle them, and don't sacrifice quality for ego. I see it way too often.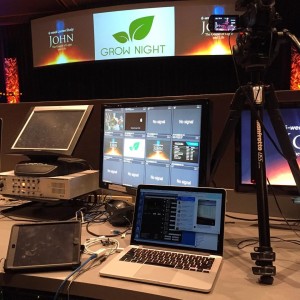 Outside of the band, I often do more than just audio. I'm an IT Media Supervisor for a large church and a graduate seminary. I take care of all their media-related needs like chapel production, videos, and large events. I'm my absolute happiest when I get to focus on audio, but I get a lot of fun from other disciplines. Actually, I'm most excited when I'm handling more than one thing because there isn't a single moment where there isn't something to be done. Then it becomes a challenge to wrangle every single thing in and see if you can make it all calm for a few precious moments. It's a game for me. For some of the simpler events, I can set up audio and keep referencing back to it, but then I also run graphics, and cameras, and the streaming switches. I often jokingly say, "Why do one thing, when I can do all of them?". I also have the luxury of working with the same musicians every week, and mostly the same people outside of the band. I know these people, and thanks to digital boards, my work gets saved for each event so that I'm not starting from scratch every time. Doing 4 things at once may be a little more complicated when it's total chaos with 3 different bands you just met 2 hours ago.
There isn't anything wrong with focusing on and sticking with audio. I'm an audio person, and if I needed to pick one thing to do for the rest of my life, it'd be audio. But I have made my value higher and made myself indispensable because I have the skills to do other things along with it that nobody else can do. If you love FOH, learn monitors. You'll have doubled your possible gigs. Vice-versa if you love monitors. If you love audio, learn how to do some graphics work. If you love lighting, learn some video work. Not only is it fun to learn about new things, but it can up your work value, which is really important. Why, when all other things are equal, would a company/client hire someone who can only do one thing, when they could hire someone that can do two? Or three? Or four?
Never stop learning. Never quit aspiring for more information and more experience. Never become stagnant. Always be moving, and always be striving.
---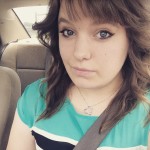 Samantha is an IT Media Supervisor and Audio Engineer for the largest Methodist Church in the US and a Production Manager for Funk Syndicate located in Kansas City. Working closely with IT, Producers, Coordinators, and Musicians, Samantha oversees audio and other media technology while mentoring and training women in STEM fields. Additionally, Samantha is the Chapter Head of the SoundGirls KC Chapter.