By: Michelle Sabolchick Pettinato
Day 3 of rehearsal
Came in early in the morning to try and program scenes (snapshots) for all the songs-  (which I have heard only once).  After spending several hours working out effects, various EQ changes, etc… 25 scenes later and one of the video guys shows up and asks me for a mix.  I patch a matrix mix to my stage rack so he can pick it up there.   Now I realize that it's only patched in my current scene.  Since this is the first time I've used any kind of automation on the Pro 9, I pull out the trusty manual and scan the pages trying to figure out how to globally paste this change to all of my 25 scenes.
As much as you try to plan for everything, there are always those unexpected things that pop up during a tour, and at the last minute, when there won't be time to update all of the scenes individually.  If it were analog it would be as simple as patch it once and it's there until you un-patch it.  Not so much with the Pro 9.
I email a few friends who are much more proficient on this console than I am, looking for advice on how to update all of my scenes at once. While I'm waiting for a response and unable to find anything in the manual, having tried a few things and failing, I decide to just do it the old fashioned way and update each scene individually.  It doesn't take terribly long but it's definitely something I won't be able to do during a show, on the fly.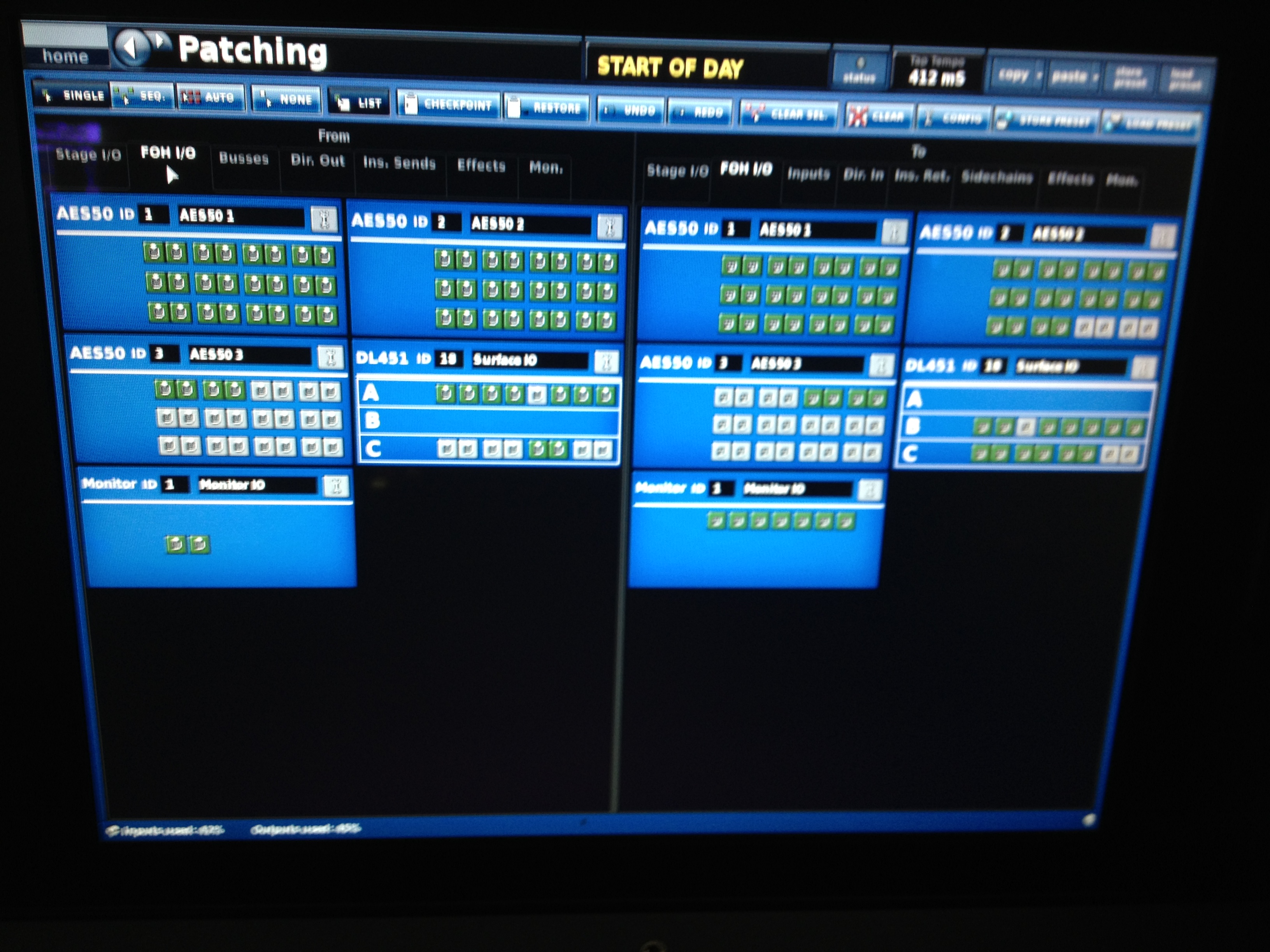 Here's the problem- After completing my patching on the Pro 9 patching page, I need to make some changes: re-assign a few of the direct outs, mix busses, and add a couple inputs.  There doesn't seem to be any way to do this globally in all scenes at once, which is incredibly frustrating. Why the patching is included in the recall automation to begin with seems illogical to me.   I can't think of a single instance where I ever have needed to change my input patch or output patch during a show (other than patching around a bad channel) from song to song. I don't understand Midas's thinking on this. The only way around this is to create and save a Preset of the current, correct patch and then load it in every single scene and store it to those scenes. The problem with this is; should a snake channel go bad during the show or something need to be re-patched for whatever reason, it must be done in each scene after it's recalled.  Not very efficient or ideal.
Show 1:  Not enough programming time.  Not enough rehearsal time. I'm glued to my console from the minute it gets uncovered until the show is over.  As I mentioned, the filing system and automation on this console leaves a lot to be desired. I've had to make a few changes to the Pro Tools routing for recording, we've had to patch around a bad snake line and John's acoustic 2 input is not showing up in the correct input.  All of this requires me to update every single scene, and I am utterly frustrated in finding a streamlined way of doing this. My first attempt is to save a "sound check" scene, after we've sound checked and  I've got things dialed in for the day.  Since I make some minor tweaks to various inputs daily, I need a way to update these settings into each scene.
We have 13 different acoustics for John and they are in 15 different tunings, requiring some EQ and gain  changes for each.  Thankfully, he usually plays the same guitar on the same song every night so I can save a preset for the channel and load it into the proper scene.  All of those acoustics come to me via two inputs in the snake.  One comes through an Evil Twin Tube DI and the other through a Europa pre amp which I keep at FOH.  The send to the Europa is down a line in the one analog NC14 snake we have, which also handles Com.  The path is into the Europa from the NC14, out of the Europa, into one of the inputs on my surface IO and assigned to channel 19 for John Acu 2.  There is also an Empirical Labs Distressor inserted on that channel.  Although the onboard compressors on the Pro 9 are fantastic and some of the best sounding and versatile comps found on a
digital console, the Distressor is artists request, and as I am a huge fan of Empirical Labs I have no objections.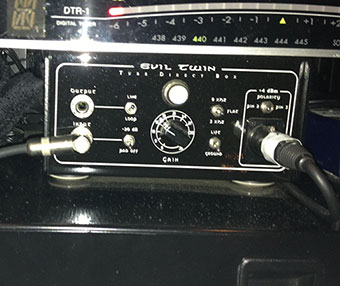 My hope is to be able to recall safe the drums and vocals after soundcheck, so that the tweaks I made during soundcheck stay put rather than each scene reverting back to the previously stored settings.  I run into a problem when we switch from the support act show file back to my show file and recall my scene.  Since the support act falls into inputs 1-16 (my drum channels), all the channels I had put into recall safe stayed unchanged from the support act channel settings.  Thank God that I had saved a backup soundcheck scene which I recall and bring back my channel settings.  I realize this is not the ideal way to achieve what I am trying to accomplish.  There has got to be a better way.  Another completely illogical thing about the file management on this console- why you would have recall safe be global among all show files but the patching  not be global among scenes? Makes no sense to me.
I don't like using snapshots/scenes, because you can easily get yourself in big trouble really fast if things aren't stored properly.  However, there is far too much going on in this show; between instrument changes, EQ, gain, and level changes, effects assigns and program changes…. there is no way I can do everything manually between songs.  I have not been able to do a run through of the set with the band playing to rehearse the scene changes and have only been able to do a visual check of everything from scene to scene.
Despite having gone through all of the scenes several times to make sure things are stored correctly, I'm not 100% sure that things are going to be as expected…  They're not.  We start the show and for some reason, probably because my brain was full, things that I was sure I had patched and stored are not coming up correctly in all of my scenes.  John's acoustic 2 line and one of the violins are not showing up, so I have to quickly create and store a preset for the patch page that needs to be loaded in each and every scene after I recall it.  I manage to get through the show without any other major hiccups and start designing a plan of attack for tomorrow.
Show 2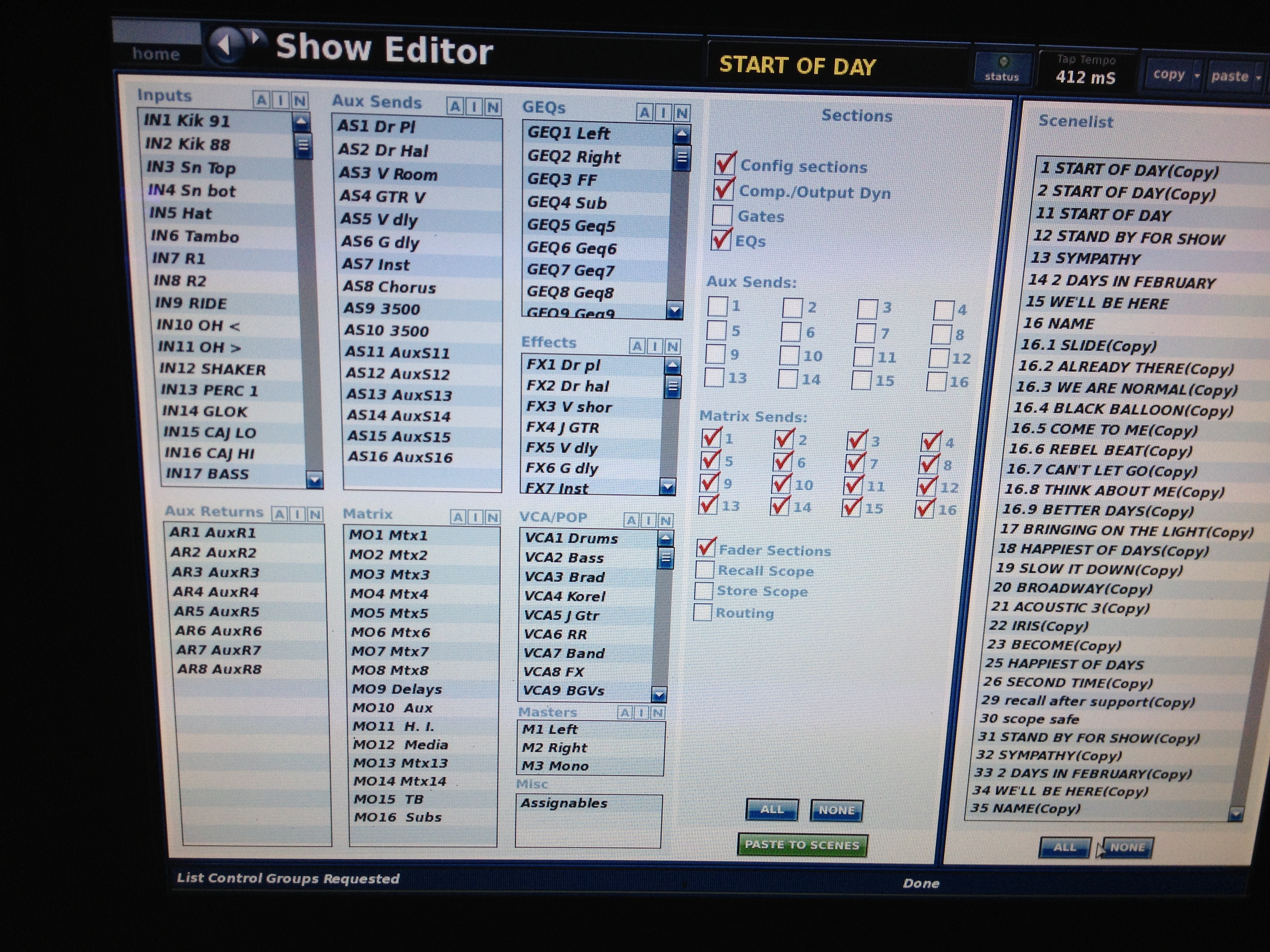 Once loaded in, I set up the Pro Tools rig to run a virtual soundcheck so I can continue dialing things in and checking the automation.  Several more hours of patching, programming, and storing to every single scene.  I finally figure out a way to efficiently update my daily EQ changes to all scenes.  Using the Show Editor I can select various inputs, effects GEQs, etc… and update to selected scenes.  It's still not ideal, too many steps to make it easy to do during the show, and it won't update the patching.
Tonight's show is a bit smoother.  Next thing I need to sort out is how to isolate channels that I make adjustments to, from reverting back to the saved settings in each scene.
Show 3
Another day chained to my console as I tweak effects for each song.  I also try using the Recall Scope in the automation to isolate several channels from scene changes.   The show starts with John (lead singer) doing a solo song on acoustic guitar.  Next song he is joined by Robby (bass player) and then the drummer on Cajon and percussion, our back up guitar player, and keyboard player on the third song.  5 songs into the set the drummer moves to his regular kit and a song or two after that, the other 6 musicians/BGVs start joining the show in various configurations for the rest of the night.
I am still finding a few things here and there in various scenes that are not stored correctly- mostly patching, which is incredibly frustrating as I know I've gone over every scene many times to make sure I've stored EVERYTHING.  Yes, I hate digital.
I do have to say, having just finished a month on the H3000 with it still fresh in my mind, the pro 9 sounds really, really good for a digital console.  The unsatisfactory audio quality is one of the biggest things that keeps me on analog.  I know there are hundreds of plug ins out there that can significantly improve the sound of the inferior consoles, but it just seems wrong to me that I should have to spend thousands of dollars on plug ins to improve the sonic quality of a professional touring level console.  And I shouldn't have to bring a rack full of pre amps or out board gear along to compensate for cheap or poorly designed digital pre amps.  I prefer to use the right tool for the job.  The Pro 9 sounds great but as far as file management goes, unless Midas dose some serious work on the automation end of things, it will not be my console of choice the next time I mix a show that requires scenes/snapshots.  It kind of defeats the purpose of using digital.
After we get three acoustic shows under our belt and just start to get into a groove, we go back to our 'rock' show for a day and with our substitute drummer. All goes well and the day is immensely easier for all of us. The next day we are back to the acoustic show with two drummers- the regular drummer and the sub sitting in on a song. After that we are back to another rock show with sub drummer and then rock show with regular drummer before going back to the acoustic show. It's three acoustic shows in a row to finally find our groove and then comes 3rd and Lindsley…