Last week the GCSE results were published in England. These qualifications mark the end of key stage 4 and are increasingly feeling like a relic left behind from old style O-levels which, in the past, marked the end of formal secondary education. In the future, England is looking to working towards a 'Baccalaureate' system which aims to draw together three features:
Core learning (A- levels -post 16 qualifications)
A personal project (accredited project or essay)
Personal development programme (physical, creative, cultural and community service activities).
What should assessment look like in 2025' AQA 2015?
By including 'personal development' it is recognised that this is a key element in the needs of future employment.
Why is this important to those of us working in the sound industry?
A hot topic on the SoundGirls Facebook page is the need (or not) for formal qualifications in our industry. Putting student debt aside, a large majority of those against formal qualifications would cite on the job training as a far more effective means of achievement. In fact, this is a well researched area. Carr (1999) says,
'It is possible for someone to have a mental grasp of procedural knowledge, but no ability to perform the given task'.
I'm sure many of us can recall a course or training programme we've attended where by the end of the day we have understood all of the procedures being demonstrated but have very little idea of how to apply it in a real life situation.
The issue that we recognise here is that we are being assessed on one topic and being expected to perform another. Therefore the assessment needs to reflect the practical nature of our industry.
When looking for a course it goes without saying that you need to be as thorough as possible when checking out the credentials. Importantly, check that the assessment opportunities being offered are intrinsically linked to the teaching.
Choose a course where the outcomes fit with your future plans. Even if these plans change, a good course will allow you to develop the skills to continue life long learning.
Student Debt
Going back to the issue of student debt, if you speak to any teacher about their students they will without fail at some point speak of inclusion.
Affordability of under-graduate courses in the UK ( and elsewhere) has shot through the roof in recent years. This has naturally increased the doubt surrounding if a course in sound is actually needed or not.
There is no straight forward answer to this other than to say that you need to seriously consider the opportunities that you will be afforded. Would you have the same networking opportunities if you didn't do the course? Will you receive a rich and rounded mentorship away from the structure of an institution? You are quite likely to find that there are as many professional sound engineers that followed an academic route as followed an amazing mentor or mentors within the industry. The decision of which route to take can only be decided by you.
Community Support
Living in a country which has seen an enormous leap in availability of public education, highlights the importance of grassroots support and encouragement for young people joining the workplace. Music is one area where traditionally, Oman is rich in heritage.
Whichever path you decide to take, ensure that you have taken every opportunity around you. The number one piece of advice I've always given to students wanting to get into sound is… get into sound! Find your local amateur dramatic society/ a band/ music venue/ recording studio and get involved as much as possible. If a group doesn't exist then create one.
In Muscat, there is a huge variety of musicians from different backgrounds and cultures. They are often brought together my 'open mic' nights. This is a fantastic opportunity for young people to showcase their skills but also to learn new insights. Look hard enough and there will always be a way forward and it doesn't have to involve spending any money.
Huddleston, Prue. "Http://Www.aqa.org.uk/about-Us/What-We-Do/Policy/the-Future-of-Assessment-2025-and-beyond/How-Should-We-Assess-Vocational-and-Practical-Learning." Http://Www.aqa.org.uk/, filestore.aqa.org.uk/content/about-us/AQA-THE-FUTURE-OF-ASSESSMENT.PDF.
---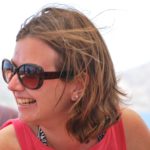 Clare Hibberd: Clare is a Senior Sound and Broadcast Technician at the Royal Opera House, Muscat. Her blog will focus on resilience and adaptation as a woman in the sound industry including past and present challenges with working abroad.
About Clare: Clare gained her first class bachelors degree at Royal Central School of Speech and Drama. Her career has taken her all over the world, working on some of the most successful (and not so successful) musical theatre productions to come out of the West-End. With the added bonus of recently completing a post graduate teaching certificate, she is now looking to implement teaching and learning programmes for Omani technical trainees as part of a wider Omanisation strategy.