And Zero Tolerance for Sexual Harassment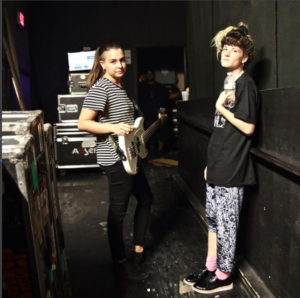 I recently embarked on my first tour ever. Yes, I'm 27, and yes I've been playing in bands and making my music for over a decade. I've done long drives and weekend "mini-tours," but I have never been on a real tour. And then this September, it happened!
Before I left, I was feeling grateful that I was going to go on tour this year and not last year, or the year before, or the year before. I had finally reached a point where I stopped caring about what other people thought of me. My anxiety about making an ass of myself in the years between absolute-and-total-beginner and goddess-of-pop-and-production-and-also-successful-film-composer—aka my ultimate dream—had pretty much diminished once I turned 27. I knew that this was going to be a very valuable asset on my first tour because my band was the opener for two other well-known bands, our budget was next to nothing, and at the end of the day, it was entirely possible that the headliners' fans wouldn't like us. The thick skin was a welcome change. My newfound penchant for not giving a shit, paired with years of work that had led to this moment was, without a doubt, feeling pretty good right about then.
Another reason I was glad to be touring later rather than sooner: I had worked in restaurants a lot, and my restaurant "skills" that I had previously seen as invaluable were suddenly feeling extremely valuable:

Get out of the way.

Make noise if you are walking behind someone, so they know you are there.

If someone is cranky, crack a joke. Even if you've never talked to them before.

The bitchiest people are the best allies.

Work extremely hard.

Make friends with the production manager (i.e., restaurant general manager).

Make friends with the tour manager (i.e., restaurant head chef).

Remember people's names.

A good attitude will keep you going.
But one of the things I had not foreseen was how much my live set design* affected the entire flow of my band's setup, our soundcheck, our show, and any challenges that came up along the way. My live setup was lightweight, looked good, and got the job done. At the onset of my first-ever national tour, my live set consisted of:

Drum World:
a live drum kit

an SPDX sampler with one-hits (i.e., samples that were short, percussive sounds that the drummer would play live, such as a electric cowbell sound, roto toms, reverb tambourine hit, etc.)

triggers on the kick and snare drums to trigger kick and snare samples that lived on the sampler (big electronic snares, snare and clap blends, etc.
Bass World:
live bass guitar with a compression pedal (read: no effects pedals)

backing vocals with light reverb and delay from the house
My World:
live electric guitar through a Fender Deluxe amplifier

main vocals, again with light reverb and delay from the house**, Ableton Live running backing tracks

a first generation Push controller to engage with audio clips, effects parameters, and tempo.
The music we were performing contained synth riffs and all sorts of expressive percussion sounds, as well as swells and other emotive drops that were integral to the songs. After tweaking frequencies and decibel levels according to the feedback of a number of trusted sources, I was proud of what I was going to be working with on stage every night, and I was excited about the live musicians I'd chosen to play with me.
However, midway through our tour I had to fire one of the musicians I'd been so excited about. The reason? Sexual harassment of underage fans.***
That this happened mere weeks before the Harvey Weinstein stor(ies) broke and dominated our news feeds. Of course this person tried to defend himself with comments about how "no physical harm was done" and how "the Internet isn't really real." (Yes, these are real quotes from a real adult who was a working professional. And no, they had no bearing on my decision to promptly remove this person from my tour.) By the time he got home our entire nation was fuming over sexual harassment scandals. Perhaps it's silly of me to think that he learned his lesson by reading the news? I'm still hopeful.
Anyway. My remaining bandmate and I were five shows deep into a ten show tour, and were suddenly faced with a huge task: play a set of (relatively complex) pop music for an audience of about 1,000 people in an expressive and engaging fashion, all while being short one musician.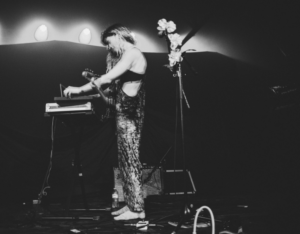 So how did My World and Bass World pull it off?
First of all, I was lucky. The Ableton project folder I had saved to my brand new, purchased-on-credit solid state laptop**** happened to include the Ableton session I had used months before for a couple of impromptu two-person shows. The day after we fired our rogue drummer, I fired up said session in the minivan and promptly began adding any bells and whistles I believed we were missing in his absence. This consisted mostly of drums tracks and one-hits that I had to mildly adjust: some pocket issues here, some EQ issues there. I made a decision to add a bitcrusher effect to any drum tracks that felt too "acoustic" to play on the house speakers. For those who don't already know, a bitcrusher is a rudimentary distortion that digitally alters resolution. It adds a bit of a prickly sound to sounds that don't have much prickle. Too much bitcrusher and things can easily get chaotic, but the right amount and things sound more interesting. Put another way: drum tracks that sounded too angelic were transformed into a sample that sounds something like the lo-fi quality of Sleigh Bells or Crystal Castles. (Side note: I still haven't decided if I am still a Crystal Castles fan after member Alice Glass' public statement about her prior bandmate's extremely abusive behavior toward her. Considering Crystal Castles is the work of both of them, is it more supportive to engage with her work, or to denounce his?)
After this brief editing, my bass player/backing vocalist (who herself is a talented producer and songwriter) and I rehearsed in our minivan while our photographer/tour manager drove us to our next show. Our rehearsal was my laptop, my Push, and us singing and playing air guitar and bass.
Our first show without a drummer I told the audience to "take care of each other." Our second one I told the audience "we used to have a drummer but they had to be sent home."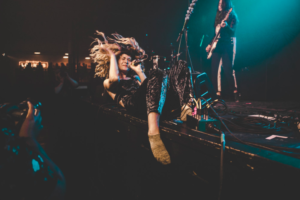 I was under the impression that something was wrong. But, as it turned out, I was the only person on the tour that had that impression. Myself, along with my team, had communicated with the tour team about what had happened, and we were scooted off with nothing but blessings and anecdotes from similarly sad experiences. For the remainder of our short but sweet tour, new fans poured their hearts out to us, took photos, purchased autographed posters and t-shirts, all without so much as a mention of the absence of a live drummer.
So what was at play when I pressed play each and every remaining night on that tour?
First: and foremost: songwriting. Before this tour I'd spent years working on singing styles, lyrics and character perspective concepts that (finally) seemed relevant and original to a wider audience.
Second: our live setup was simple, but it was also capable and flexible. I'd never anticipated needing to let a core player go in the middle of a tour, but I could when I needed to. My remaining bandmate and I were at a slight advantage because we had played a two-person set before (albeit to a much smaller and drunker audience), Also the fact that we were first of three acts meant that it was totally okay that our setup was simpler than the other bands'. But, we were also open to the objective criticism of what we would be missing without a live drummer, namely dynamics and the energy of another person on stage with us. So we made up for that with some lightweight native plugins and mad stage presence. We had so much stage all to ourselves now! So we used every square inch of it to keep energy high.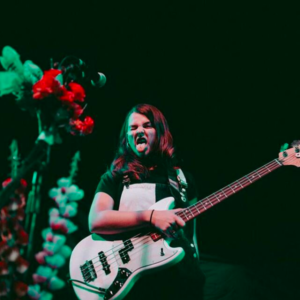 We did not see any decrease in merch sales or new fans. We did not need to field any questions about the absence of a drummer. Anyone who spoke to us about our music was excited and wanted to know when they could come support us again. Most surprisingly, myself and everyone on my team took it in stride. The weight of sexual harassment among our personnel had been dealt with swiftly and strictly. We had exercised morals we lived by, and now we had shows to play.
So. What's my point?
Sexual harassment is never tolerated, even when the harasser's role is theoretically indispensable. Make the most of what you already know. And most importantly, be prepared for anything. A good attitude will keep you going.
*Music Directing is the design of artists' live set ups and is a profession unto itself. I will be sure to devote a whole blog post to this topic soon.
**In the past I have played with having my own vocal rig. At one point I ran my vocals through Ableton Live because I anticipated the possibility of wanting to play with effects and looping in real time without having to purchase expensive pedals. At another point I invested in the TC Helicon VoiceLive Touch which afforded me amazing on-stage effects. However its signal flow also provided a great deal of noise and confusion, usually from front-of-house people. Ultimately it didn't do the job I wanted, so I sold it.
***Again, this story will eventually be a blog post unto itself.
****If you are going to use a computer on stage (especially one that you interact with while you are performing), it needs to be a solid state drive laptop. Traditional spinning drives can skip when they feel vibrations from drums, stage monitors, your own body accidentally knocking your computer over. And you don't want that!
Sign SoundGirls Open Letter to the Professional Audio Community & Music to Address Sexual Harassment
Find Information on Sexual Harassment in the Music Industry
---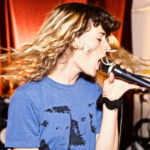 Elana Carroll is a songwriter, producer and performer who has been making original music for 15 years. She holds a BA in music and critical theory from Bard College at Simon's Rock.
Elana's interests as a writer/producer span from electronic and dance to pop and country, and she co-writes with other artists as well. Her current focus is on teaching (she will be teaching a Beats by Girlz class this fall), and her own project, Party Nails. She feels it is part of her purpose in this life to "normalize" non-males in the music business through performance, teaching, and mentoring. She is particularly fascinated with popular culture and music in the age of technology.