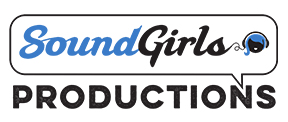 Women make up only 5% of the professional workforce in audio and music production.
SoundGirls Productions was established to provide real work experience to women and people starting out in audio, by sending them to work on live event productions alongside veteran audio engineers. SoundGirls Productions provides women and people the opportunity gain valuable experience. In addition, SoundGirls Productions employs women audio engineers.
SoundGirls Productions works alongside SoundGirls a non-profit dedicated to empowering and inspiring the next generation of women in audio. SoundGirls works to establish resources for career development, education and support for women in audio. SoundGirls Productions continues the mission of SoundGirls by providing our members access to internships and work experience.
SoundGirls Productions is seeking a PR, Social Media, and Marketing intern to join the team AS SOON AS POSSIBLE!!
A great intern opportunity that can turn into an entry position for the right person!!
10 – 20 hours per week (project based so could be more or less)
Work from your computer
Internship 3 – 6 months
Responsibilities:
To work on
Press Releases, Social Media and Branding.
Research and analyze competitor marketing and sales materials.
Assist in developing and contributing to blog, public relations and marketing activities.
Identify and Contact Live Event Spaces in Southern California Are
Internship currently unpaid
Intern will have access to their marketing campaign for their portfolio
Letter of recommendation
Networking opportunities
Possible paid work in the future
Please send resume and cover letter for consideration to
Include Intern SoundGirls Productions in the subject line