Ask the Experts – How to Produce a Podcast
There's a lot that goes into making a great podcast beyond pressing record and rambling for a while before hitting the upload button. From strategy and pre-production, how to record a podcast, and editing, through to distribution, our Ask the Experts webinar has you covered.
We're going to talk about choosing a name and artwork, planning your topics, getting the most out of your guests, creating a narrative and cleaning up the sound in the editing and post-production stages, how and where to host and distribute your podcast, and a lot more.
This is your opportunity to have your questions answered by Fela Davis, Larry Millburn, Beckie Campbell, and Chris Leonard.
Tuesday, March 30th at 6 PM EST / 3 PM PST
Moderated by Laura Clapp Davidson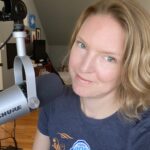 Laura Clapp Davidson heads up the retail market development team for Shure. She brings passion and knowledge of gear that comes from over 15 years in the MI industry. When she isn't talking about music equipment, she's singing or playing through it as a professional singer/songwriter. Laura lives in her hometown of Guilford, CT with her two daughters, two dogs, two rabbits, and one very patient husband.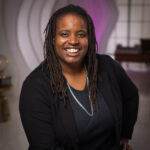 Fela is a graduate of Full Sail University with 20 years of experience in audio engineering and inducted into the University's Hall of Fame in 2020. Her mixing experience at front of the house position includes Ron Carter, Brian Blade, Jose Feliciano, Meshell Ndegeocello, Bilal, and almost a decade with 6-time Grammy Award winner Christian McBride, mixing sold-out shows across Asia, Europe, Canada, and America.
Currently, I co-own One of One Productions Studio and a writer for Pro Sound News and Podcast Pro Newsletter. With many of her studio clients needing home audio setup, we began selling one and two-person audio kits. One of One Audio Kits includes Focusrite interfaces, Lewitt Microphone, Wireworld Cable, AKG or CAD headphones, and a waterproof travel case! Check out One of One Audio Kits and more audio related gear at our One of One Shopify store!
Larry Millburn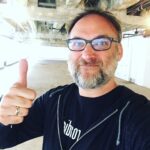 Larry Milburn, Producer: Award-winning filmmaker Larry Milburn has been involved as a producer/editor on several behind-the-scenes EPK's and DVD documentary projects for both film and commercial production studios as well as advertising agencies such as FOX, Columbia Pictures, BBDO Detroit, RSA, and BMW.
It was with great pleasure that he was asked to co-produce the film SWEET BLUES: A FILM ABOUT MIKE BLOOMFIELD, directed by Bob Sarles and part of the 2014 Sony Legacy Boxed set FROM HIS HEAD TO HIS HEART TO HIS HANDS. As a cousin of Michael Bloomfield's, this film helps to keep the memory of such a gifted guitar player relevant and alive. Along with film, music plays a large part of Larry's life, and when he finds the opportunity to marry the two he takes full advantage. Since 2016, Larry has been the host of the podcast ROADIE FREE RADIO, a weekly series on which he interviews the men and women behind the scenes of the music and film business. He has also produced podcasts for wide range of his commercial clients.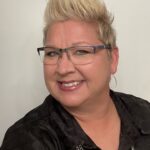 Beckie Campbell is a FOH, Mon Engineer, and Owner of B4Media Production. As a twenty-year veteran of the music business, Beckie has had the honor to help mentor and train teams for several theaters, live events, and houses of worship. All while touring as a FOH Engineer for major acts and still working local hometown gigs. Beckie has had the pleasure to work with major acts such as Indigo Girls, Altman Betts Band, The Commodores, Nicole Nordaman, Firehouse, Colt Ford, Ace Freely, Julian Marley, Gary Pucket and Union Gap, just to name a few. She has also mixed at the New Orleans Jazz Festival, 30A Songwriters Festival, and does the live and on-air mixes for the City of Orlando Christmas Tree and 4th of July Live Shows. Early in her career, she was a Technical Director/FOH Engineer for two Mega Churches in Florida.
During the pandemic,Beckie has continued to find work including Producing and Training at HOW, doing installs for streaming, online training, and is one of the hosts of the SoundGirls Podcast and the Orlando SoundGirls Chapter head.
Chris Leonard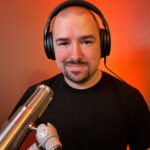 Chris Leonard has been in the professional live audio world for almost two decades, following in the footsteps of his father. As a monitor engineer with Maryland Sound International, he toured with artists like Tears for Fears, Don Henley, Disturbed,
Josh Groban, Anthony Hamilton and more.
Chris is currently Director of Audio at IMS Technology Services, where he has spent the last ten years overseeing and managing all aspects of audio for the Event Staging Division of the company. IMS is a full-scale production company providing audio, video, and lighting for special events, conferences, and conventions nationwide. A highlight while at IMS includes designing and mixing for the Philadelphia Eagles Super Bowl victory parade, with an estimated 800,000 + audience and the largest outdoor event in Philadelphia's history. He has also worked on the last four Presidential Inaugurations.
Chris is a co-host on the Signal To Noise Podcast presented by ProSoundWeb. The podcast has over 70 episodes and has been downloaded over 100,000 times. The show features conversations with people from all corners of the live sound industry, from FOH and monitor engineers, tour managers, Broadway sound designers, broadcast mixers, and more. Chris's current project, "How We Got Loud" begins with this podcast focusing on the stories of the people, technology, and passion that built the history of live sound, with many plans to grow and expand beyond the podcast in years to come.