Articles and Blogs
Trevor Waite – On Monitor Teching and Mixing Monitors for The Who
Kim Watson on Mixing and Teching Monitors
Monitor Team – Christina Moon and Eric McCallister
Kevin Glendinning on Mixing and Teching Monitors
Realizing Efficiencies in Monitorland
The Ultimate Guide to In-Ear Monitors, Straight from the World's Best Monitor Engineers
Techniques for System and Wedge EQ
Using psychoacoustics in IEM mixing and the technology that takes it to the next level
Noted monitor engineer and mentor/educator Karrie Keyes, in profile.
Road Warriors – Stories From The Touring Women Who Keep The Music Sounding Sweet
Women in Audio: Becky Pell, Monitor Engineer, Yoga Teacher and Writer
If You Want To Be Somewhere, You've Got To Occupy It': How Women Are Changing The Face Of Engineering And Producing
Meet The Woman Who's Been Pearl Jam's Sound Engineer For 24 Years
---
Consoles
---
Avid S6L Videos with Robert Scovill
Blogs
---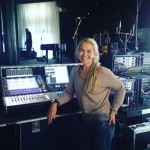 Becky Pell: Becky Pell is a monitor engineer with over 20 years experience in the live sound industry. Since 2012, Becky has been a registered yoga teacher and leads retreats and workshops when she's not on the road, as well as teaching the artists and musicians she tours with mixing monitors.
About Becky: Becky started her professional life as an apprentice at RG Jones Sound Engineering in London, where she swept a lot of floors, cleaned a lot of cables and loaded a lot of trucks, gradually working her way up to become an engineer. After going freelance in 2001, she toured as a monitor and RF tech with Black Crowes, Travis, and Kylie Minogue, before moving behind the desk to mix monitors for artists such as Aha, Muse, Westlife, Anastacia and Take That. She also runs monitors annually on the main stage at the world's largest festival, Glastonbury.
---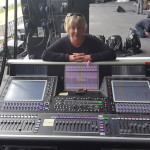 Karrie Keyes: Karrie's blog deals with her work as long term monitor engineer for Pearl Jam, issues facing women in the industry, and balancing being a single mom with touring. She is a co-founder and Executive Director of SoundGirls.
About Karrie: Karrie got her start 30 years ago when she met Dave Rat at a Black Flag show. She started working for Rat Sound loading trucks and setting up shows in clubs and theaters for $20. She worked for Rat Sound for 20 years and had worked with RHCP for ten years (1990-2000) and Pearl Jam for 26 years as their monitor engineer. She currently bumps between Pearl Jam and Eddie Vedder Solo tours.
Read Karrie's Blog | Other Articles by Karrie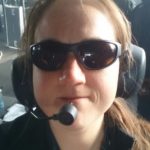 Beth O'Leary is a freelance live sound engineer and tech based in Sheffield, England. While studying for her degree in zoology, she got distracted working for her university's volunteer entertainments society, and ended up in the music industry instead of wildlife conservation. Over the last ten years she has done everything from pushing boxes in tiny clubs to touring arenas, and spends a lot of her life in muddy fields working on most of the major festivals in the UK. She has a particular passion for flying PA, the black magic that is RF, travel, and good coffee. 

---
All Things RF
---
RF Venue Blog Finding signal in the noise. RF Spectrum, wireless audio, and more.
Five Wireless Microphone Mistakes That Are as Common as They Are Avoidable
Common Sources of Interference
How to Take Control of Your Wireless Microphones
Common wireless system mistakes that can lead to intermodulation products that cause RF interference…
Digital Video Broadcast-Terrestrial and Wireless Microphones
---
RF Tools
Sennheiser Wireless Systems Manager
International Frequency Advisor
Shure Online tools and downloadable aids for Shure wireless equipment and applications.
Audio Technica Using Wireless Systems
New Signal To Noise Podcast: Talking With James Stoffo About Key RF/Wireless Issues & Much More
---
Managing the Stage: Stage Plots, Input Lists, Stage Patch
How to Create a Stage Plot and Input List
---
SoundGirls Profiles on Monitor Engineers

https://soundgirls.org/maya-finlay-feet-in-two-worlds/
Daniela Seggewiss – Time Flies When You Are Doing What You Love