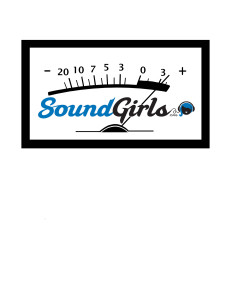 SoundGirls Social Media Campaign
SoundGirls will be collecting short video clips on Why I Love Being a Sound Engineer. These videos will help us promote our Live Sound Camps for Girls for Summer 2017 and our Fundraising Campaign.
Why I Love Being a Sound Engineer

Musicians welcome too – Why is important that there are more Women Sound Engineers.
We are asking members to record a short video of themselves at work
If you have a SoundGirls Shirt, Sticker, Lanyard please include it in the video
Be natural, don't make it something that seems fake or too rehearsed
What to talk about
Why do you love being a Sound Engineer?
Guess what I did today? What gig or project are you working on?
Why women don't even consider this as a career?
Example: "oh if only women knew about what life is like when my work is going to gigs and being sort of the boss since you are in control of the most important thing: the sound!"
Since you will most likely be filming this your phone – please consider the background and lighting. The image must be clear. Music in the background is great – but make sure your audio is clean and we can understand you.
Keep it short – one minute or less – (no more than two minutes)
Please email videos to soundgirls@soundgirls.org
Thanks for your help
Team SoundGirls