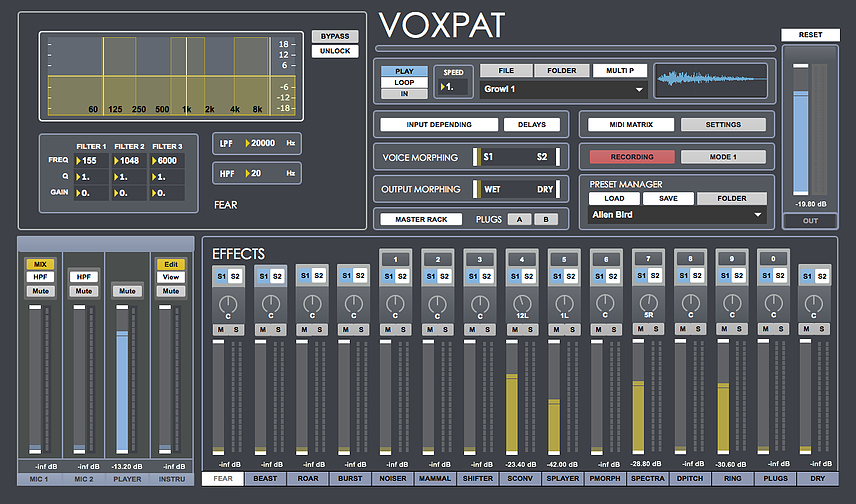 Creating Monster Vocals with Voxpat
People often ask us why we choose to work in such a niche market, sound for animation, and for us, the answer is simple.  Live-action sound design has its own challenges and rewards, but more often than not, you're recreating the sounds of the real world.  While working in the animated realm, week after week we get to work inside imagined worlds, create sounds for unknown creatures, and image futuristic technology conceived in the minds of the world's most fantastic artists.  These new worlds give us the opportunity to use ever-evolving sound design techniques to breathe life into them.
We found such a technique when the software developers from Digital Brain Instruments approached us with the opportunity to create new presets for their stand-alone application, Voxpat, which is a sound design tool for creating monsters, creatures, and robot vocals.
The Software
In the past we've used our usual suite of plugins as well as Dehumanizer for this task, so we were interested to try out a new creative avenue.  It turns out that Voxpat is a sound designer's dream if a slightly complex one.  It combines all of the different vocal processing plugins you might want to use into one massively powerful application: convolution, sample player, ring modulation, harmonizer, FM synthesis, spectral pitch shifting, delays.  And the list goes on, and on, and on.
This plethora of sound design tools all packed into one application means that you need to read the manual to use it to its full potential.  But, once you do, the sky is the limit in what this application can do.  What Voxpat lacks in intuitiveness (and it is somewhat lacking here), it certainly makes up for with power.
Recording the Samples
This month, we used our creative team meeting to have a mini masterclass on how to use Voxpat.  Then we opened up a mic to record raw new monster vocals to use for processing. The team had a blast coming up with interesting types of creatures so that we could play with the full harmonic spectrum in Voxpat.  We recorded ourselves as a screeching monster, a giant serpent, an ogre, and even a gargle monster (our intern almost choked, but we assured her it was worth it. Anything for a great sound!).
You can listen to their samples
Creating New Voxpat Presets
You can download a demo version of Voxpat here, and check out the Boom Box Post preset pack.