The event was hosted by the Orlando SoundGirls Chapter and Full Sail University.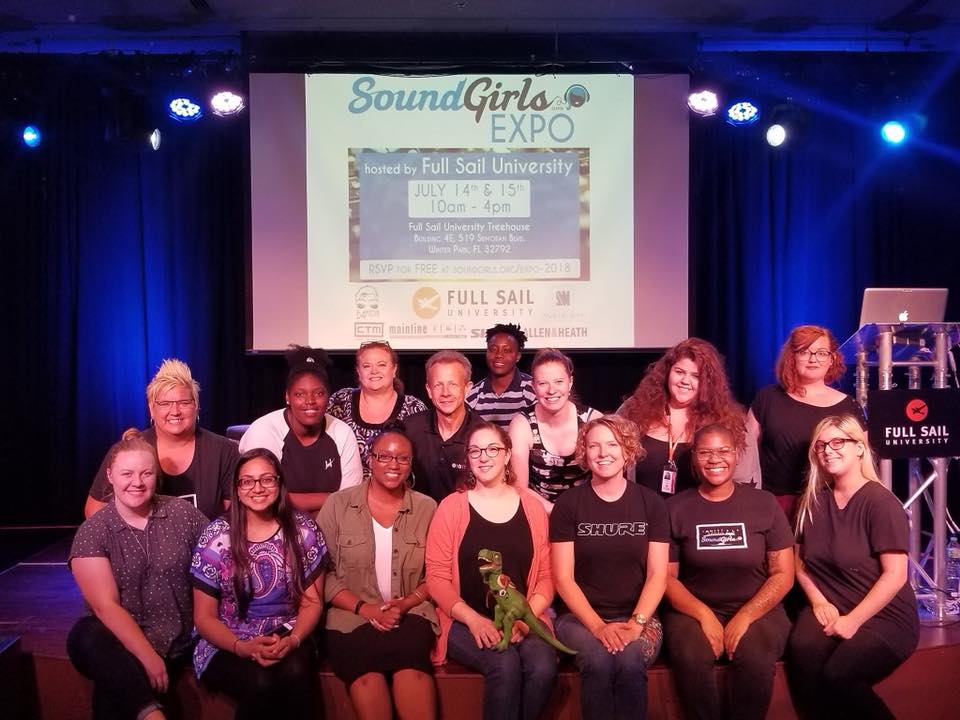 A while back a few of us were talking at one of our monthly meet-ups, and I asked everyone "what would you all like to see us do and what do you want  to learn" The responses were varied, but everyone agreed they wanted a day of training and networking with other women working the industry.
 "I want to know more about video switchers since I just ran into an analog way one at this hotel I worked at and had zero idea how to run it"
"I work for a church that has an Allen and Heath console and I've never been o one"
"I think it would be great if we could have a day of training and talking with other women in the industry."
From those conversations, I started dreaming about what we could do. I made a few calls and sent some emails. I asked Karrie Keyes for some advice, and she suggested I reach out to some of the local manufacturers that had shown interest in supporting SoundGirls, and I did just that. One of the emails I sent was to Full Sail University to see if we could do some training at the university. Mark Johnson head of the Show Production program at Full Sail University asked me to come in for a meeting with them, and from there, things just started coming together.
One of the teachers for the entertainment business program, Monika Mason, said she was a member of SoundGirls and wanted to help any way she could. Mark suggested having a two day Expo with manufacturers, and Monika suggested we also have panels and discussions surrounding women in audio. I'll be honest it was a big event to try to pull off and I wasn't even sure anyone would attend as we are still a growing chapter that hasn't been up and running for even a year yet. We had two more monthly meet-ups where we spread the word, and we all started talking about it on social media. Mark from Full Sail connected me with Chet Neal from Mainline Marketing who has a ton of reps under their belt. He asked me a lot of information and told me he wanted to see if he could get different manufacturers to come and have female reps and promote what we do. I thought that was a nice touch.
We started planning in January and landed on a date in July. July is a slower month for us in Orlando, so that worked well for others in the industry to be able to attend. We continued planning, talking, and dreaming. Manufacturers like Shure jumped on board and said they would send Laura Davidson, Analog Way jumped on board and said they would send Chrissy Spurlock, Allen and Heath jumped on board and said they would send Willa Snow (who happens to be the Chapter Head for SoundGirls in Austin, TX), and local SoundGirls supporters Clear Tune Monitors jumped on board and said they would send Sandra Cardona and Castor Milano. This was all coming together! I started to get excited!
One of the greatest things I saw while putting this all together was how everyone was so willing to say "yes" and "what can I do to help?" My company, B4 Media Production sponsored breakfast for the vendors and volunteers. Chet's company,  Mainline marketing sponsored lunch for the vendors and volunteers. Mark, Monika, and Full Sail got us crew, a space on Campus to have the event, and also marketed to the students.
I reached out to some other women who have been in sound for years to have a panel discussion, an audio engineer for a local theater who also teaches audio and video at Full Sail, Susan Williams, a sound engineer from NASA, Alexandria Perryman, and myself did the panel discussion and we just opened it up for any questions. That was my favorite part of the entire event. We had a real discussion about real topics for over an hour both days. Everything from "how did you get your foot in the door?" To "what is a good freelance rate to quote someone."  All the manufacturers joined in, and attendees all asked questions. We laughed, we were encouraged, and we learned so much from one another.
In addition to informative training sessions, and interactive gear displays, the event highlighted and supported the SoundGirls organizational mission, "to create a supportive community for women in audio and music production, providing the tools, knowledge, and support to further their careers."
One of the SoundGirls I talked to this last weekend told me "I got emotional seeing all the women in one place learning from other women on the consoles and the Shure system and the IEMs and so on. She said she had always been one of the only girls in the field and she was so encouraged to be surrounded by women running top-of-the-line gear in the real world." It was great hearing just how energized she was.
I still can't get over how much fun we had and how inspiring it was. As a veteran of this industry for 18 years, this is the first time I was ever a part of something that helped raise us up as women in this field without it being a requirement or a political statement to do so. Professional women just being professionals, helping and inspiring up and coming women and helping them get a leg up on a ladder that took a lot of us a long time to climb.
I spoke with two other women at the (who found us via the social media events pages) veterans of the industry while at the Expo, one who has been a broadcast engineer for 20 years and one who has been a FOH engineer for 42 years and both women encouraged us to keep going and said, "if you do another one we will come and bring our friends and contacts too." One of those ladies said to me "you know a lot of our generation is getting ready to retire, it's great to see the future of the industry is in such great hands and I wanna help you ladies out!" One of the women said, "I wished when I was coming up we had something like SoundGirls, this is such an encouragement to me as a veteran to see women working together not back stabbing one another for the one spot available to women. She shared how men have always helped her, and how great it is to see us come together and unite with one another and the men supporting us to help raise us up not tear us down." I said, "I to am encouraged by that!" She said, "are you doing another one next year?" I said, "I don't see why we wouldn't! This just proved to me that we need these kind of events as well as the monthly meet-up to be an encouragement to one another if nothing else " she agreed and then said, "I'm going to reach out to all my contacts and help you make this even bigger next year."
I would encourage all the SoundGirls chapters to try to have some sort of training or expo where you can invite new people and open discussions where you can share with one another. It was one of the most amazing productive things I have ever been a part of in our industry. We will definitely do this again next year! I am looking forward to what the future holds for us women in audio now.
---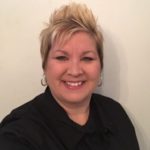 Beckie Campbell is the owner of B4MediaProduction, a growing production company, supplying anything from small corporate set-ups and medium to large concert system set-ups. Being versatile, Beckie also works as an independent contractor to several companies around the US. Beckie's experience  in the audio field is comprehensive, having the ability to work as Production Management, FoH/Monitors, and as a PA/System or monitor tech. Beckie is the chapter head of the SoundGirls Orlando Chapter. Read SoundGirls Profile on Beckie Campbell