We're launching the Soundgirls – Audio Equite –  Montréal Chapter!
March 5th,2021 at 16h30 EST/ 4:30 PM EST/ 1:30 PM PST
This event is in English" & "Cette activité est présentée en anglais
Join us for an exploration of what diversity is and how to foster it through our everyday practice.
We will be joined by Keynote Speaker Dawn Birr from Sennheiser and Ky Brooks will present work that has been done towards promoting a healthier industry. This will be an opportunity to get to know fellow colleagues, and get the ball rolling for interesting things happening during the year.  We hope that this Chapter will foster more diverse, inclusive and interesting collaboration in Sound, create new opportunities for our members, provide relevant information and programming, and become a space to visibilize all the great work our community creates.
Looking forward to meeting and connecting with you!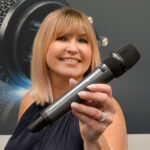 Keynote Speaker – Dawn Birr
Dawn Birr began her career in the audio industry in 2000, joining Sennheiser fresh out of college.  She started as a temporary receptionist and began to learn her way around and through the company.  Shortly afterward she moved into Customer Service and began learning how the customers and company worked.  Thanks to a nurturing company culture and strong role models who encouraged her to learn as much as possible, Dawn was promoted over the years to Neumann Product Manager, Professional RF Product Manager, VP of Sales for U.S. Installed Sound, Global Commercial Manager for Audio Recording, Channel Manager for the Americas for Pro Audio, and most recently to Global Customer and Markets Insights Manager, Pro Audio.  She completed her MBA in 2005 and is an advisory board member for The Women's International Music Network and a proud SoundGirl.
---
Dawn Birr a commencé sa carrière dans l'industrie audio en 2000, rejoignant Sennheiser à la sortie de l'université. Elle a commencé comme réceptionniste temporaire et a commencé à apprendre son chemin à travers et à travers l'entreprise. Peu de temps après, elle est passée au service client et a commencé à apprendre comment les clients et l'entreprise fonctionnaient. Grâce à une culture d'entreprise stimulante et à des modèles de rôle forts qui l'ont encouragée à apprendre autant que possible, Dawn a été promue au fil des ans au poste de chef de produit Neumann, chef de produit professionnel RF, vice-président des ventes pour le son installé aux États-Unis, directeur commercial mondial pour l'enregistrement audio , Channel Manager pour les Amériques pour Pro Audio, et plus récemment pour Global Customer and Markets Insights Manager, Pro Audio. Elle a terminé son MBA en 2005 et est membre du conseil consultatif du Women's International Music Network, et fière SoundGirl.
Rejoignez-nous pour une exploration de ce qu'est la diversité et comment la favoriser à travers notre pratique quotidienne.
Nous serons accompagnés de la conférencière principale Dawn Birr de Sennheiser et Ky Brooks présentera le travail qui a été fait pour promouvoir une industrie plus saine. Ce sera l'occasion de faire connaissance avec d'autres collègues et de lancer le bal pour des choses intéressantes qui se passent au cours de l'année. Nous espérons que ce chapitre favorisera une collaboration plus diversifiée, inclusive et intéressante dans Sound, créera de nouvelles opportunités pour nos membres, fournira des informations et des programmes pertinents, et deviendra un espace pour visualiser tout le travail formidable que notre communauté crée.
Au plaisir de vous rencontrer et de vous connecter!