What is a Mastering Engineer
Mastering audio is the final step in the creative process of recording and is the first step in the distribution side of music. People often wonder what exactly a Mastering Engineer does. There is a lot that goes into mastering audio including the use of digital and analog tools, applying and adjusting EQ, Compression, Limiting, Stereo Enhancement, and more. Mastering also allows for the chance for the project to have fresh ears. Mastering Engineers work closely with the artists, producers, and other engineers to reach the desired sound.
Here is your chance to ask the questions you have about Mastering.
Join us on January 9 at 11 am PST
Moderated by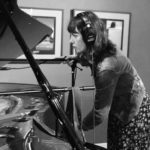 Ainjel Emme is a musician, songwriter, and producer. She has spent the past 20 years immersed in the study and practice of record production, shadowing world-class audio engineers, working in professional studios, and making records via her Los Angeles-based production house, Block of Joy.
---
Mastering Engineers
---
Jett Galindo – Mastering Engineer at The Bakery

Jett began her engineering career in the world-renowned Avatar Studios in New York as the recording engineer for producer Jerry Barnes. As Barnes' engineer, Jett engineered for veteran artists such as legendary singer-songwriter Roberta Flack, Nile Rodgers and Latin Grammy-winning Brazilian rock band Jota Quest.
In 2013, Jett joined The Mastering Lab family as the sole right-hand man to pioneer mastering engineer and Grammy Technical Achievement awardee Doug Sax. Under the steady mentorship of the late Sax, Jett burgeoned to become the newest mastering engineer in The Mastering Lab roster. In 2014, Jett's work with Brazilian rock band Jota Quest garnered the group a Latin GRAMMY nomination for Best Brazilian Contemporary Pop Album.
With engineering credits spanning different genres and legendary artists (Bette Midler, Randy Travis, Nile Rodgers, Roberta Flack, and Gustavo Santaolalla, to name a few), Jett Galindo carries on the legacy left behind by her late mentor, mastering legend Doug Sax (The Mastering Lab). She now works as a mastering engineer alongside Eric Boulanger at The Bakery, located at the Sony Pictures Lot in Culver City, Los Angeles.
---
Anna Frick Mastering Engineer at Airshow Mastering
Anna is a mastering engineer and the restoration center manager at Airshow Mastering in Boulder, Colorado. Her work encompasses studio albums, live recordings, reissues, and compilations across an array of formats, old and new, and a wide variety of genres and styles, from bluegrass and folk-influenced acts to rock and New Age projects. Legends like Ralph Stanley and Doc Watson, exciting contemporaries such as Billy Strings and GRAMMY-nominated Wood & Wire, and important blues and jazz archival recordings have all benefited from her uncanny ear and deft touch. She balances her strong instincts and intuition with her technical experience and each client's goals to finesse every project she tackles. "[A band has] been working on their album for quite a while by the time I hear it, and it's their vision – their baby – that they are putting out into the world. I don't want to impede that vision. Ultimately, I want the music to move you."
For Airshow's restoration center she oversees all archival digitization projects. She mastered Third Man Records' GRAMMY-winning box set, The Rise and Fall of Paramount Records, as well as having mastered thousands of hours' worth of historical recordings from university archives and collections across the country. Each project is unique, with a singular story and special considerations: "[It] involves everything from understanding the recording medium, the equipment, and the transfer process to having the tools and the knowledge to tackle all sorts of bizarre problems. Understanding digital audio files and how to maintain file integrity over time."
Anna holds a degree in Music Industry Studies from the University of Colorado at Denver. She is a graduate of the International Bluegrass Music Association's Leadership Bluegrass program, an AES member, board governor and Producers & Engineers Committee Co-Chair of the Recording Academy – San Francisco Chapter, and chapter head for Colorado's branch of SoundGirls.org.
---
Piper Payne – Mastering Engineer at Infrasonic
Piper is a mastering engineer based in Nashville and Oakland, CA. She recently merged her studio Neato Mastering with Infrasonic. Piper holds a BFA in Audio from The University of Michigan and continued her graduate education in audio at the University of Stavanger in Norway. She has apprenticed under some of the best-known Mastering and audio mentors in the world, including Bob Katz in Orlando and Micael Romanowski in San Francisco.
Piper is a Trustee of the Recording Academy and she serves on the P&E Wing Steering Committee and the Advisory Council. She is a Governor of the Audio Engineering Society and she is Co-Founder and Co-Chair of the AES's Diversity & Inclusion Committee as well as an active member of Women's Audio Mission and serves on the Board of SoundGirls.