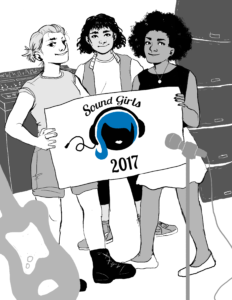 SoundGirls.Org Presents Mentoring Session at AES
Sponsored by DiGiCo
Join us for a Mentoring Session with Women Leaders in Professional Audio
Oct. 20,2017
6:00 – 10 pm
SIR Studios Studio 4
520 W 25th St, New York, NY 10001, USA
Please join us at the AES Diversity and Inclusion Social 6:00 pm, followed at 7 pm for SoundGirls Mentoring Session in studio 4.
AES Diversity and Inclusion Social: 6:00 pm to 7:00 pm
Mentoring Session: 7:00 to 9:00 pm
Networking and wrap up 9:00 to 10:00
You must be a member of SoundGirls.Org. (membership is free and open to all genders and non-binary people. You can sign up on our website). You must register for this event as space is limited.
This event is a casual mentoring session (not a panel) and you will be able to get advice and answers to your questions from industry leaders.
Industry Leaders Include (more tba)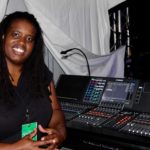 Fela Davis is a graduate of Full Sail University and has over 15 years of experience in audio engineering. Her experience includes working for industry powerhouses Clair Broadcast and House of Blues.  She's front of house for Christian McBride and co-owner of 23dB Productions.
---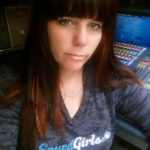 Gil Eva Craig is an Audio Engineer and Sound Designer from New Zealand, primarily working in live sound. She is part of Western Audio Engineering, a live sound company based in Wellington New Zealand. Gil started as a studio engineer and sound designer for theatre. She has recorded and mixed numerous albums, three of these winning Tui (NZ Music) awards. Gil has also received several Chapman Tripp theatre award nominations, winning best sound design in 2010.
---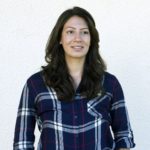 Caroline Sanchez is a freelance musician, audio technician, and technology specialist who regularly works for ABC, NBC, MTV, and Music Mix Mobile on production, music, and remote audio crews. Her experience includes working a number of positions in the broadcast field, ranging between stage A2, recording op, monitor mix, and RF tech on productions such as Good Morning America, iHeartRadio Music Festival, Rock & Roll Hall of Fame, and Late Night with Seth Meyers. Caroline is a local to the New York area and holds a Bachelor of Music in Sound Engineering Arts from William Paterson University.
---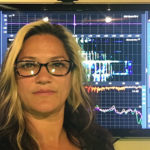 Karen Anderson Chief Operating Officer and Den Mother at Rational Acoustics. Karen Anderson is one of the founding partners of Rational Acoustics, the developers of the Smaart Acoustic Test & Measurement software platform.  Prior to founding Rational Acoustics in 2008, Karen held a variety of sales & marketing positions within the professional audio industry including Marketing Manager at Meyer Sound and Director of Marketing for Eastern Acoustics Works (EAW) and Loud Technologies.
During her tenure in the professional audio industry, Karen has done pretty much everything from answering phones and coiling cable to managing multi-million dollar advertising budgets and running worldwide training programs.  She's also managed to learn a fair bit about sound systems in the process. Karen holds a BFA in Theatrical Costume & Makeup design from U.C. Berkeley, which was hopeless for getting a job, but makes her a lot of fun to have around at Halloween.
---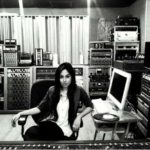 Michelle Desachy is a music producer, recording and mixing engineer and musician based in Mexico City. She works as an independent contractor at different record studios in Mexico and USA. Her Academic Training includes" Music composition, audio engineering and production" at Fermatta Music Academy (Mexico City). Management and business affairs" by Harvard University. Music Cognition" and "Music Business" by Berklee College of Music.
---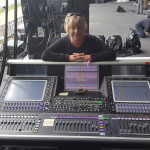 Karrie Keyes – Monitor Engineer for Pearl Jam and Eddie Vedder Executive Director of SoundGirls.Org. Karrie has spent the last 25 plus years as the monitor engineer for Pearl Jam. Karrie started out doing sound for punk bands in Los Angeles in 1986 under the tutelage of Dave Rat of Rat Sound, where she spent twenty years helping to establish the company. She was able to gain an immense amount of hands-on experience and technical knowledge at Rat, which eventually led to her becoming the monitor engineer for The Red Hot Chili Peppers from 1990-2000. She first met and started working with Pearl Jam who opened for RHCP on their 1991-1992 Blood Sugar Sex Magic Tour. She has worked with Sonic Youth, Fugazi, and Neil Young.
---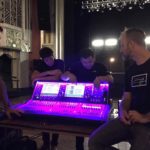 Mike Bangs is a veteran in the touring world with an all-encompassing sound engineering and production management experience from many national and international tours, such as Katy Perry, Eric Clapton, and Aerosmith. Mike is now in charge of growing the Allen & Heath business in the touring market and supporting high-profile events, artists, engineers and sound companies as the new Live Sound/Touring expert.
---
A Special thanks to DiGiCo for sponsoring our AES Mentoring Session