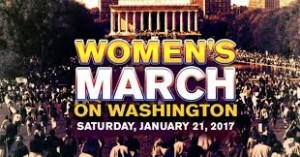 The Women's March on Washington will take place in D.C. on January 21st. Hundreds of thousands of women will arrive in D.C., all standing together in solidarity around the idea that Women's Rights are Human Rights. The Women's March on Washington stands for all issues that affect all marginalized people: immigrants of all statuses, Muslims and those of diverse religious faiths, people who identify as LGBTQIA, Native people, Black and Brown people, people with disabilities, and survivors of sexual assault. Please see the website for a more comprehensive explanation of the mission: 
The Women's March on Washington currently expects 300,000 to 500,000 people, with numbers rising every day.
Ginny Suss is heading up the production team for the event. Ginny was a tour manager for many years and was routinely the only woman on the crew or anywhere backstage. Ginny hopes one story we can build from this amazing march and movement is of a primarily women-led production crew. She is currently seeking two women to join the production crew, one to mix FOH sound and one for monitors.
Applicants ideally would be available for rehearsals in NYC  the week of the 16th and  then travel down to DC on the 20th for the rally on the 21st. The Women's March on Washington  can help with travel and accommodations. Your services would be pro-bono — as the entire effort from the national organizers to our legal team to our PR to tech and web development is entirely volunteer based.
If interested in taking part in this historical event please send cover letter and resume asap to soundgirls@soundgirls.org. Please only apply if you have experience mixing large-scale events.
Some recent press:
Protest like your basic rights depend on it – because power is taken, never given
Why Thousands of Women are Marching in Washington on Jan. 21st