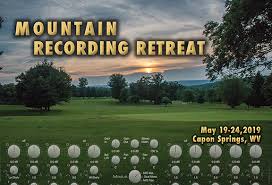 This May 17-22, 2020 join Catharine Wood for the 5th Annual Mountain Recording Retreat in Capon Springs, West Virginia. An immersive 5 day audio workshop retreat with world-class mentors in a relaxed setting – Registration includes all meals, hotel and workshops ongoing throughout the day…Interested in expanding your audio toolbox while on vacation? Catharine has 5 x $100 discount registrations for SoundGirls – use WOOD2020 at checkout http://recordingretreat.com/
There are only 5 Discounts available – so register soon!
The 5th Annual Mountain Recording Retreat
Workshops, Mentoring, Golf, and Pie!
May 17-22, 2020 Capon Springs, West Virginia
The Mountain Recording Retreat is intentionally not like anything else. It is far more than recording workshops. It is about community, music, and great sound. It is five days of learning, listening, and relaxing in a community made up of world-class mentors and fellow music makers.  Each year about 80-90% of the attendees sign up again for the following year.
We will have daily recording workshops, listening panels, easy access to mentors, DIY gear building workshops, and bingo where you can win prizes from the Capon shop.
Learn from World Class Mentors
Our mentors this year include Ronan Chris Murphy, John Rodd, Catharine Wood, Fett and Chris Kincaid. Check out our Mentors Page for more information on them.
Daily Schedule
Each day will feature workshops by various mentors and throughout the week there will be listening sessions where you can have your music evaluated by the mentors and other participants, but there is also time carved out to socialize, collaborate and enjoy the beautiful resort. Meals are served family style and all of our attendees and mentors share meals together.
Lectures and Listening Panels
We are still working on the schedule for 2020, but previous workshops have included: DIY Mastering, Mixing Workflow, Step by Step mixing workflow, Breathing Life into Virtual Instruments, Behind the Scenes of an Orchestral Session at Abbey Road, Intro to Synthesis, Vocal Production and more.
Several nights throughout the week, you'll have a chance to have your work listened to and critiqued by your mentors and fellow attendees.