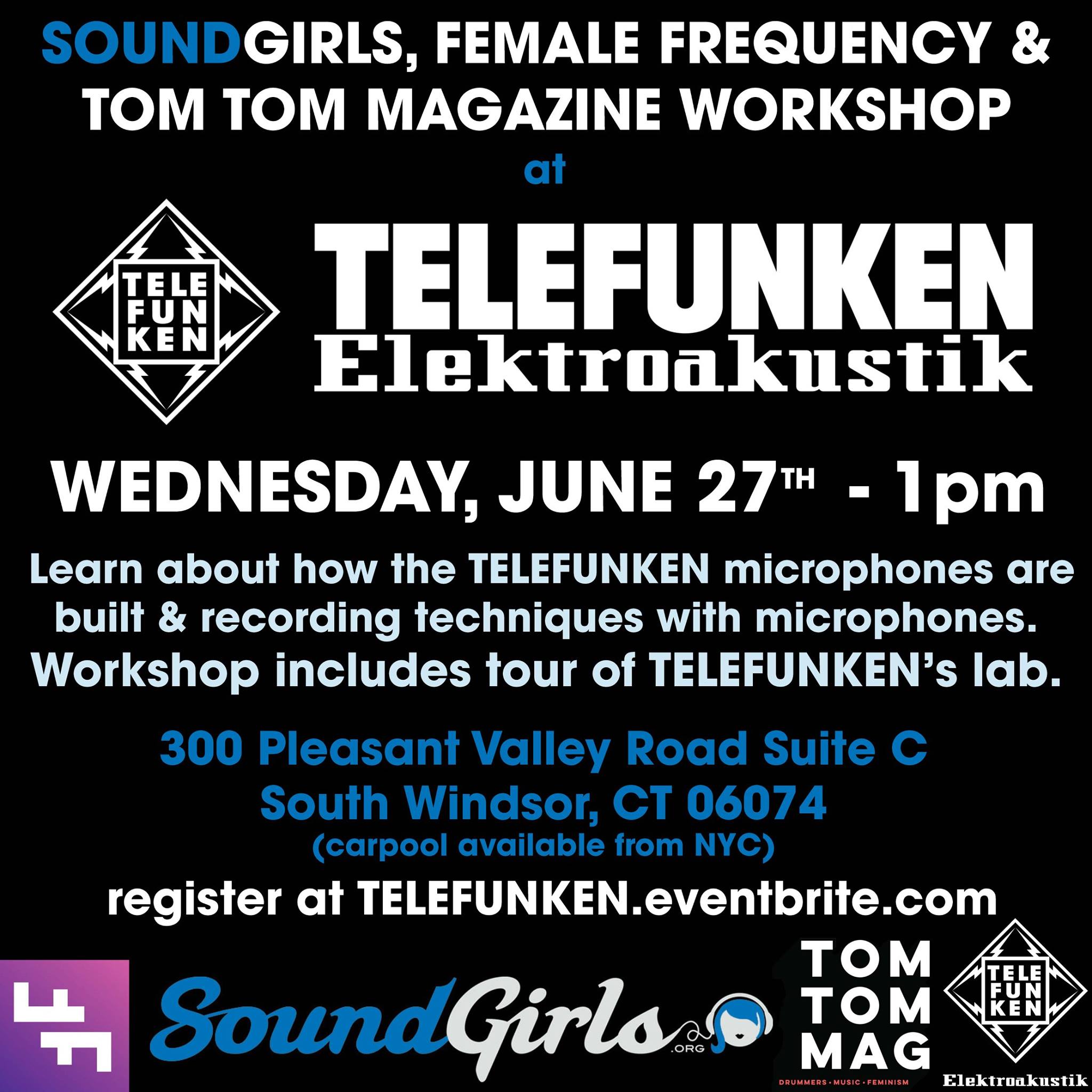 Event link: TELEFUNKEN.eventbrite.com
SoundGirls, Female Frequency & Tom Tom Magazine Workshop at TELEFUNKEN
When: Wednesday, June 27th – 1pm
About: Learn about how the TELEFUNKEN microphones are built & recording techniques with microphones. Workshop includes a tour of Telefunken's lab.
Address: 300 Pleasant Valley Road Suite C, South Windsor, CT 06074
https://telefunken-elektroakustik.com/
Telefunken
TELEFUNKEN Elektroakustik has been following the tradition of excellence and innovation set forth by the original TELEFUNKEN GmbH of Germany that began over 100 years ago. With one foot rooted in the rich history of the brand and the other in new microphone innovations for both stage and studio applications, TELEFUNKEN Elektroakustik is recognized as one of the industry leaders in top quality microphones.
SoundGirls
SoundGirls.Org empowers the next generation of women in audio by establishing networks of support, mentorships, internships, and job placement. SoundGirls.Org is committed to supporting women of all ages who are driven to succeed in the field of professional audio. SoundGirls.Org provides scholarships for young women wishing to pursue a career in professional audio for college and trade schools. SoundGirls.Org seeks to break down the barriers women face in the world of professional audio.
Female Frequency
Female Frequency is a community dedicated to empowering female, transgender & non-binary artists through the creation of music that is entirely female generated. Join us at femalefrequency.com
Tom Tom Magazine
Tom Tom's purpose is to raise awareness about girl and women drummers from all over the world and to inspire females of all ages to drum. Tom Tom's goal is to strengthen and build the community of otherwise fragmented female musicians and to create a network of musicians around the world. Tom Tom serves a unique purpose by catering exclusively to female drummers and providing them with important information and resources.
tomtommag.com