Ask the Experts – Teching for Live Sound Engineers
The role of FOH or Monitor Tech differs from the role of system and stage techs, system engineers and crew chiefs. They work alongside FOH and Monitor Engineers and responsible for setting up and maintaining the FOH/Mon equipment. (consoles and processing). The FOH Tech is responsible for running walk in and out music, announcements, media feeds. FOH techs often fill the role of the system engineer and are responsible for or assist in the EQ and time alignment of the system and setting the rigging points. FOH Techs can be called on to record the performance through digital technology such as Pro Tools. FOH Techs often mix the opening artists. FOH Techs should have solid experience with different consoles and outboard processing.
At the other end of the snake, Monitor Techs are often responsible for In-Ear Monitoring Systems (IEMs) and RF coordination. The Monitor Tech will most likely be responsible for mixing monitors for the opening artists. The Monitor Tech should have solid experience with different consoles and outboard processing, as well as different types of monitor and IEM systems.
Both of these positions are often filled by well-established engineers. FOH and Monitor Techs often work with Artist Engineers on a regular basis and are an important part of a touring production.
This is your opportunity to have your questions answered by Rachael Moser, Krysten Dean, Trevor Waite, and Ivan Ortiz.
Feb. 20, 2021, at 11 AM PST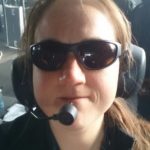 Beth is a freelance live sound engineer and tech-based in Sheffield, England. While studying for her degree in zoology, she got distracted working for her university's volunteer entertainment society and ended up in the music industry instead of wildlife conservation. Over the last ten years, she has done everything from pushing boxes in tiny clubs to touring arenas and spends a lot of her life in muddy fields working on most of the major festivals in the UK. She has a particular passion for flying PA, the black magic that is RF, travel, and good coffee. Read Beth's Blog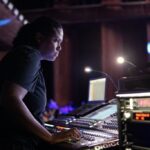 Krysten is a touring Sound System Engineer and Crew Chief working for Eighth Day Sound Systems, but if you said Krysten on the road, most people would not know who you were talking about because everyone calls her "KD." She has been working in professional audio for the last 17 years after quitting her corporate engineering job. She has toured with JayZ, Beyonce, Lady Gaga, Rihanna, Earth, Wind and Fire, Drake, and Madonna to name a few. She is also an entrepreneur working to introduce more women and people of color to the technical side of the touring industry, through what she likes to call S.T.E.M.M. – Science, Technology, Engineering, Math and Music.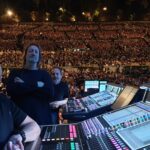 Trevor works for Group One Limited as a technical support engineer. The company is the US distributor for Digico, Calrec, Klang: technologies and Avolites, among other professional audio and lighting brands. Prior to this Trevor was an audio technician for Firehouse Productions and Eighth Day Sound. Trevor has worked as technician, engineer and crew chief for multiple tours, festivals, and one-offs. Over the years, as both an independent and staff engineer, he has mixed monitors for countless well-known artists, including Harry Belafonte, Roger Daltrey, Pete Townshend, Thirty Seconds to Mars, The Black Keys and many others.
Trevor worked for The Who  (from 2007 – 2019) as a monitor tech for their two monitor engineers Bob Pridden and Simon Higgs. Trevor would take over mixing for Pete Townshend when Bob retired.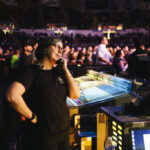 Rachael has worked for Clair Global in Nashville for over ten years as a PA Tech, Monitor Systems Tech, RF Tech, Monitor Mixer, and most recently System Engineer/Crew Chief. She has worked in audio for over 15 years and attended Belmont University, graduating from their Audio Engineering Technology program with a BS and minor in business
Ivan Ortiz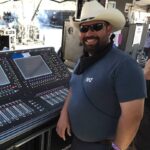 Ivan is an audio veteran, with over 18 years of experience in professional audio – gaining his education working for a small sound company that specialized in Latin acts while attending Full Sail. After he graduated he headed to the west coast – taking an internship at Rat Sound Systems and his "can-do attitude" led to weekend work with several Los Angeles-based sound companies. Ivan would go on to tour as a system tech for Blink 182, Jimmy Eat World, Pepe Aguilar and toured for several years as a monitor engineer for My Chemical Romance, Gavin DeGraw, and multiple fill-in gigs for other bands as FOH or MON Engineer.
Ivan would go on to work for LD Systems in Houston Texas working the Houston Rodeo as Monitors Engineer for the event for five consecutive years. While working for LD Systems Ivan also had the opportunity to work on nationally televised events as the A1 for NCAA Final Four, NCAA Sweet Sixteen, Houston's Thanksgiving Day Parade, before returning to Rat as shop manager and all-around Tech Master.  Ivan is now the Technical Resources and Account Manager at Rat Sound Systems.