SoundGirls.Org members submitted their sound related questions about Coachella. Rat Sound's Daniella Peters and SG member, Jon Monson Head of Touring, and Dave Rat took time from their busy schedules to answer them. A big thanks to Rat Sound.
Daniella will giving us a behind the scenes audio tour of Coachella in the coming weeks. Thanks Daniella…
How does Rat staff each stage?
Daniella Peters: Many of the engineers working the festival include some of the best in the industry. They have all toured internationally and can trouble shoot any eventuality. Rat hires people who we have longstanding relationships with and who have a desire to work hard and are generally personable. I think when the line up goes out, Jon Monson our head of touring gets many emails indicating availability. It's a fun but it's also a challenging gig.
Does Rat try and staff each stage with the same crew each year?
Daniella Peters: Generally yes, as a whole, the really cool thing about Coachella is that you see the same faces again and again every year. Not just audio techs, but production staff, stagehands, catering. It feels like one big Coachella family. It is great to have the same crew as they know the ropes and how the festival works. Obviously that is not always possible, but it's a goal for the audio dept.
Do the sound system specifications change from year to year?
Daniella Peters: As a whole, the requirements are generally the same. Obviously systems develop. We originally used L-Acoustics V-Dosc for the main stage, then it evolved to L-Acoustics K1. The Sahara dance tent seems to have doubled in size over the years. 
How does Rat decide which consoles to provide for each stage?
Jon Monson: We provide consoles based on rider requirements and what are popular touring consoles. We currently provide one or two Avid Profiles at FOH and Monitors on the large stages. The smaller stages each get a single Avid Profile at FOH and Monitors. Most of the bands (after the first few acts) tend to carry consoles on the main stage, as well as the later acts on nearly all the stages. We also supply a few Midas H3000 analog consoles for back up and engineers that do not care for digital. These consoles can be moved around the festival.
How is RF coordinated between the stages?
Dave Rat: It's not at this point. Each stage is self contained. The distances between the stages is sufficient enough to where we have not had issues from one stage to the next. Additionally, the site is remote enough to where there has not been a lot of interference. So far and a bit surprisingly there have not been any notable RF issue. That said, having a site wide coordinator is something that has been discussed.
With the stages being so close together, is it difficult to deal with the bleed from stage to stage?
Check out Dave Rat's blog about this.
How does Rat prepare for weather conditions.
Daniella Peters: The PA is lowered each evening in case of the desert high winds. As for optimizing the system (in our case K1) for the elements, there is an in detail case study on the sound design here which explains how we optimized coverage for the main stage, dealt with noise pollution and other interesting technical facts.
Inside the sound design for 2012 Coachella Music and Arts Festival

How many days are spent setting up?
Daniella Peters: I can only speak for audio, but on site, Audio, about 4 days before the show. Obviously we prep the gear at the shop however leading up.
Does the gear get torn down from weekend to weekend? No
Are there changes made to the rigs between Coachella and Stagecoach?
Jon Monson: We lose a couple of stages, the stages move, and we combine the delay towers that were formally used for the outdoor theatre with the delays for the main stage.
Daniella Peters: The main stage for Stagecoach moves over to where the outdoor theatre was. In the Sahara dance tent, half the gear is removed. The Sahara speaker system was set up to surround the tent for a more immersible, club-like experience. which for country is not necessary.
Do you find that system specifications change drastically from Coachella to Stagecoach?
Daniella Peters: Not really apart from the above.
Is there a stage that is more challenging to work or provide gear for?
Jon Monson:  All the stages offer challenges. They are far enough apart to have separate audiences yet close enough to have significant sound overlap. The goal is to have a sound landscape throughout the festival where each stage draws you to the next. The challenge is that inevitably there will be a loud band and soft band playing at the same time and the delicate balance will falter. 
Having massive low end in the Sahara tent and not overly affect the nearby Mojave tent was a tough sonic conundrum but by using effective endfire sub arrays and attention to positioning and array width, we have made great headway.
The Main stage and Outdoor Theater rely on multiple delay clusters that scale up and down the amount of coverage depending on the size of the audiences.  There is some middle ground area that gets captured by one stage or the other depending.
Coordinating the coverage is an especially challenging issue.  Walkie talkies are less than ideal as the communicated message does not linger as a notification.  Text messaging would work better if cell service was reliable and there was a good way of having a large flashing "you got a text" indicator. We used internet printers last year, each with an email address, then an email could be sent to each or any stage resulting in a printed notice.  This worked OK but still not perfect.
Is the snail there every year? How do you deal with moving art?
Daniella Peters: I never saw the snail over on the main stage. But seems like he visited every other stage! Last year was the first year of the snail, but I see now that the snail was so popular Helix Poticus even has it's own twitter account.
Best Coachella moments?
Daniella Peters: Working on the main stage audio team was definitely one of the highlights for me, probably right up there with highlights of my life. I feel so incredibly lucky to be part of Rat Sound, they are my second family and also provided the opportunity to work Coachella for over 13 years now.
Seeing friends, creating new memories. Being exposed to an incredible amount of new music. Paul Tollet is incredibly talented at picking bands to play Coachella that hit right at the right time. Every tent is full, even with the bands I've personally never heard of. And then you also get really memorable performances, such as the crowd been covered by huge balloons during the Arcade Fire set, which changed color in time to the music.
Oh and probably my heart melt moment – each morning, when the sniffer dogs come round to check the place is safe. There was one that got e-tape stuck to his paw and couldn't for the life of him get it off. The tape kept sticking from paw to paw. Not sure why that sticks out as a memory.
Read about Dave Rat's best Coachella Memory – Roger Waters
Worst Coachella moments?
Daniella Peters: Leaving the venue early to avoid traffic after watching the whole Dr Dre set up until the last few songs and finding out on twitter I was missing one of the most talked about Coachella performance maybe ever – The Tupac Hollogram. Also the second week, last night because everyone is exhausted and you have to load out – that has to be up there.
Must have desert survival gear?
Daniella Peters: Sunscreen and water. Comfortable shoes.
Is it difficult to deal with the diverse line up?
Jon Monson: Occasionally. The assortment of bands and artist requires Rat to be prepared for anything.  There could be 60 inputs or a DJ with 2 inputs, monitors, in-ears, our wedges, touring wedges. The set changes tend to be around 30 mins which is quick but enough time to do quite a bit.  Running on time is of the highest importance. We do all we can to run the stages like clockwork. 
How do you balance the needs of Coachella (who has hired you) with the acts?
Jon Monson: Very carefully. We try to take everyone's needs into account. Obviously though at the end of the day, Coachella wants their acts to be happy. I think the main challenge is the tight changeovers between set times. Bands must be able to "Throw it up and go!"
How long does it take to prep gear for Coachella?
Jon Monson: We start to prep the gear two weeks in advance. The planning for the prep and Coachella takes approximately two months.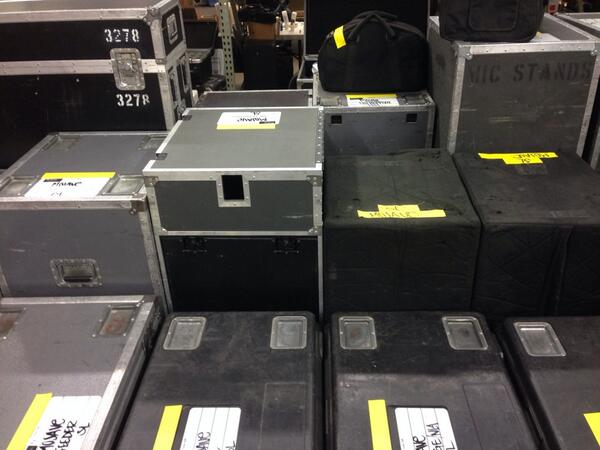 How do you plan for and handle equipment failures?
Jon Monson: We have spares of everything. Consoles, amps, drivers and so on. For example, if a stage needs 12 mixes of wedges, then they have 14 so if a mix goes down, there is a backup.
Is their a Digital Doctor on site – to help fix solve any digital console issues?
Dave Rat: Coordinating each band's console files with the festival patch and insuring the files are the correct version is a significant and critical task. We request that if an engineer is going to use one of the festival consoles, they submit the files ahead of time so we can check the integrity of the files. We do have one or more people that are very knowledgeable about digital consoles on site.
Dave Rat is on site if any sound issues arise.

Is Coachella recorded? How do you deal with the interface?
Jon Monson: It is recorded. We hand the recording crew an XLR split and they do the rest.
How many analog consoles show up each year?
Jon Monson: A couple. I believe Muse have an analog (to be verified).
I saw some bands that have their own console. I'm curious how that is worked out? Unplug all the input/output from house console and plug in to the bands console or just go through house console? 
Jon Monson: We run the consoles through a master matrix console at FOH. On stage they can plug into our wedges or iem systems.
How do you guys arrange for all the bands to do sound check? During the week, day? I just thought sound check must be a big deal for this kind of situation.
Jon Monson: Production totally handles this. It can be day before show or morning of show. Some bands sound check, usually the last 3 or 4 from each night. The rest just roll and go. It is really important for artists and their crews to come into Coachella well organized and if they are, things can run very smoothly.
How do I get hired for Coachella?
Jon Monson: We hire sound engineers from well known touring artists and pair them up with top notch techs and provide world class sound equipment so it all can work together to make the Coachella sound experience wonderful and memorable for everyone involved.