What is Production Sound?
The one factor that makes a movie or television show complete is audio. Bad sound can ruin a film, and the production sound department ensures that the film or TV series has great audio. It takes great eagerness and skill to create quality production sound for a set and requires an education in the on-set duties and skills in production sound.
What Does The Audio Department Do?
For starters, the audio department handles production sound and records, monitors and levels the audio. During production, this duty falls on the production sound mixer. This person is the head of the sound department on productions. Under the sound mixer, they have the support of a crew of assistants, which includes boom operators.
Together, the department records and maintains the soundtrack for their project and handles any challenges. It's a two-part process that requires a lot of planning.
Join SoundGirls for a webinar on Production Sound. This is your opportunity to ask questions about Film & TV Production Sound and get them answered with this expert panel. Moderated by Katie Pagacz and panelists include Jan McLaughlin, Patrushkha Mierzwa, Jennifer Winslow, Amanda Beggs, and Camille Kennedy.
June 19, 2021 -12  – 2 PM PDT / 3 PM – 5 PM EDT

Moderated By Katie Pagacz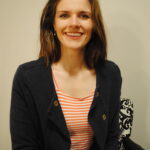 Katie is a sound student, recently getting into the realm of audio post-production for film and television at Sheridan College in Oakville, Ontario.  She's heading into her final year of the Honours Bachelor of Film and Television program.
While Katie has gone through dozens of phases and considered many career paths—singer/songwriter, tattoo artist, pastry chef, makeup artist, comedian, anesthesiologist, and so much more!—she is delighted to have been bitten by the audio bug and is determined to follow this whole thing through to the end, hoping to someday be a Supervising Sound Editor on feature films.
A few assignments during her third year of studies had led Katie to interview several women working professionally in audio.  These conversations were so valuable and inspiring to her and they just happened to coincide with the SoundGirls Podcast's search for new hosts.  Katie daydreamed about landing the gig for weeks and is convinced she manifested this reality.  Being able to continue the trend of speaking with folks working professionally in audio—and now getting to actually share the wealth in these conversations with people through the podcast—is such a worthwhile endeavor.  She feels really blessed and excited to be a part of the SoundGirls community!
Panelist Include
Jan McLaughlin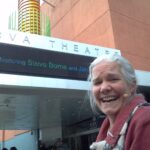 Jan  has worked as a production sound mixer for film and television since 1992; currently retired, two Emmy statues adorn her kitchen shelf. Her last film project–"The Many Saints of Newark"–hits theaters and HBO in September 2021. IDMb
Patrushkha Mierzwa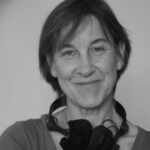 Patrushkha Mierzwa has worked on over 80 movies and television shows for major directors including Robert Rodriquez, Quentin Tarantino, James Gray, and Robert Altman. She has been a judge for the Emmys, IATSE Sound Local 695 director, and given workshops in Los Angeles, New York City, China,
Norway, England, Ireland, and Holland.
Her Sound Oscar-nominated shows are Ad Astra and Once Upon a Time…in Hollywood. Patrushkha is one of the first women boom operators in Hollywood and has just published the definitive book on being a Utility Sound Technician, Behind the Sound Cart: A Veteran's Guide to Sound on the Set.
Jennifer Winslow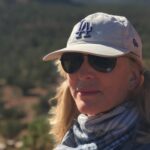 Jennifer received her Bachelor in Art from Umass Amherst, with a degree in English; she came to LA to follow her dream of becoming a working member of the Motion Picture Industry. She has been a card-carrying member of IATSE Local 695 since 1990. She works as a Boom Operator and Utility Sound Technician in Hollywood on TV and feature films.
Her career includes shows such as Problem Child, Chicago Hope, Be Cool, Dear White People, and Grace and Frankie. She has recently been day-playing on the shows NCIS, Grey's Anatomy, and SWAT, to name a few. "I was the daughter of a nuclear physicist and a technical writer/journalist, so of course I was drawn to the technical aspects of the sound department."
"I'm thankful for such a long and interesting career, spanning 30 years, and would especially like to thank the sound mixers (head of the sound department) who took a chance and hired a woman for their crew in the '90s, before it was common practice." She is a single mother of 19-year-old twins, both in college full time. She joined the Board of Directors and was named a Trustee of Local 695 in 2018.
Amanda Beggs CAS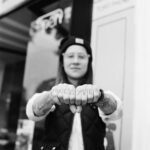 Even before graduating from college, Amanda began working as a Production Sound Mixer in Savannah, Georgia, and Costa Rica. She then relocated to Los Angeles where she has been mixing features and television for over a decade. She serves on the board of directors for the Cinema Audio Society and is a member of the Television Academy. She also serves on the Equity, Diversity & Outreach committee for Local 695.
Camille Kennedy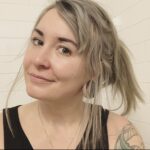 Camille is a mixer and an IATSE 873 boom operator who resides in Toronto, Canada.  She also works occasionally at UbiSoft as a boom operator in the MOCAP studios.
Before starting her career in television and film, she graduated from the renowned Music Industry Arts program at Fanshawe College she went on to complete her graduate diploma in Audio-Post Production, also at Fanshawe.  Now as alumni she is involved in a yearly lecture on the topic of production sound to the audio post students and also has participated as a panel member for the development of the music industry arts program along with other established alumni.
In 2011 Camille started working on television and film sets and soon after becoming a full member of the IATSE 873 sound department. Since then, she has had the opportunity to work on productions such as Star Trek: Discovery, Star Trek: Short Treks, IT Chapter 2, American Gods, Black Mirror, and most recently What We Do In The Shadows.
Camille also boom-operated on Below Her Mouth with mixer Erika Schengili-Roberts CAS, one of the first mostly all-female crewed and produced feature films.