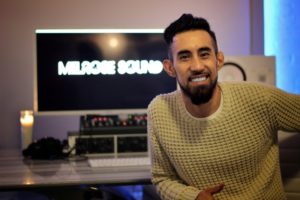 Join us for a moderated discussion and Q&A with "JP 'The Specialist' Negrete". Juan Pablo Negrete alias J.P. is the founder of Melrose Sound Studios in LA. He previously worked as head engineer at Atlantic Records and Warner Music Group. Persistence and dedication led to two Grammy nominations for his vocal production work for Flo Rida. J.P. Negrete has also worked with artists including Skrillex, Nelly, Jason Derulo, Cody Simpson, Pitbull, B.o.B, Kelly Rowland, David Guetta, Tyrese, and many more. J.P. will be breaking down his production process with a surprise mix.
Location: Emerson College
5960 Sunset Blvd, Los Angeles, CA 90028
Parking: Garage on the corner of Gordon St.
March 31, 2018
7pm – 10pm
Cost $25
Register and Pay Here
Space is limited and is open to members of SoundGirls and Students of Emerson College.