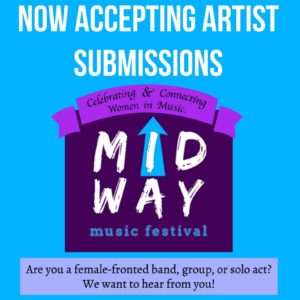 SoundGirls is proud to sponsor the MidWay Music Festival –
SoundGirls Members Can Volunteer to Intern. This is a great opportunity to earn work experience and be part of a great community.
MidWay Music Festival celebrates & connects female-identifying musicians and artists. Local and state-wide female-fronted acts come together in Bloomington, Indiana for one entire day to celebrate their achievements and inspire other female musicians to pursue their goals.
MidWay Music Festival
Bloomington, Indiana
September 9th, 2017
Festival Runtime:  12:00 – 8 PM outside, 8 PM – ~ 3 AM inside.
Sound Intern Shifts: 9:00 AM – 3:00 PM, 3:00 – 9:00 PM, 5:30 – 11:30 PM, 8:30 PM – 2:30 AM, 9:00 PM – 3:00 AM
If you are interested in volunteering email soundgirls@soundgirls.org the following information.
Name
Cover Letter and Resume
SoundGirls Member ID
Shifts you are interested in working.