Festivals, according to HuffPost, "Women make up half of the music attendees," but the demographics for the artist rosters do not reflect this. As an organizer of a women's music festival, I wanted to know how we can address this problem. When I was asked to moderate a panel at the GirlPower Conference with festival organizers, I was excited. I had the chance to ask the questions I think many of us would like to know, where are the female headliners at festivals?
On this panel was Kat Cook, Artists Management, Judy Tsang, Stern Grove music Festival and Mary Conde, Another Planet Entertainment. Kat had worked on Lilith Fair, Judy has run an 80-year-old festival for over ten years, and Mary works on OutsideLands. These women could speak with authority about gender representation at festivals.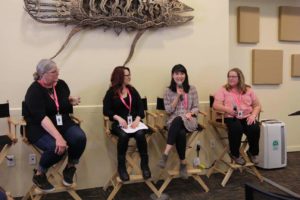 The panel focused on sharing some of the difficulties and successes of organizing festivals with consideration to the inclusion of women in production and performance. Also, the panel addressed how musicians can obtain bookings for festivals. How an artist should submit, what qualities make a good submission. All organizers agreed that soft skills that include basic work ethics and acceptance of opportunities to play if they were a musician or work if they were involved in production.
One of the questions I was excited to ask was "what have festival organizers done to level the playing field for women. When 50% of concert goers are female, what are you doing to change this?" The answer is not what you think. Mary told me that there is a list of artist on tour and after looking at their routes, the number of female headliners that would pull in the numbers that are needed for a festival, dwindles.  There are not enough female headliners to fill the slots. I think that is the bigger issue; there are not enough female fronted bands or female headliners to book as a headliner.
Knowing this and hearing this from an organizer of a large scale festival made me think about how important it is to support organizations like; Girls Rock Camps, Soundgirls.org, Camp Reel Stories, California Women's Music, Women's International Network, SheRocks and the many other organizations dedicated to advancing women in music and the fine arts. We need to help our youth to become talented not just academically but through exploration of music and the fine arts.
The fact that there is a short list of female headliners, once all factors have been considered, is proof that there is more work that needs to be done to equal the playing field for women in music. Now more than ever women should support organizations that encourage equity and solidarity for women.
---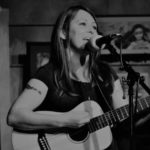 Victoria Boyington: Inspired by a documentary on Gloria Steinem, Victoria created the Northern California Women's Music Festival to cultivate a future for women in fine arts and business. Victoria blogs about Women In Music and occasionally Music Education.
About Victoria: Victoria holds a BA in Psychology from the University of California, Santa Cruz.  She is a singer-songwriter, musician, performing with several bands- one of which specializes in children's music and is targeted at pre-school age children.  Victoria is passionate about building up the community through Fine Arts and making the arts more accessible.