By Amy Truong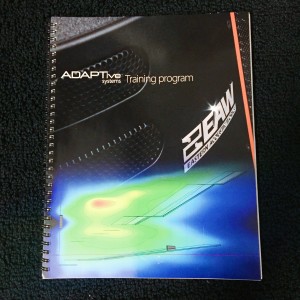 A few days ago, I attended the EAW ADAPTive™ Systems Level 1 Training Program held in Primm, NV. It was two consecutive days and lasted approximately 8 hours each day (with lunch provided). This was my first time attending a non-console based training class.
The first day was lectured-based and each attendee was given a comprehensive printed training manual. Through the manual, we were able to follow along with slide presentations led by Bernie Broderick, EAW's Technical Training Manager. It consisted of a quick review of the fundamentals of sound, the evolution of loudspeaker design/types (point source, point source arrays, line array, etc.), and the use of Dante™. *Sidenote: I am noticing Dante networking being implemented and mentioned more as technology advances. I recommend everyone take the time to familiarize themselves with Dante™ a.k.a. Digital Audio Network Through Ethernet (something I need to do), as it is the wave of the future. All of these concepts led to an introduction to EAW's ADAPTive™ systems: Anya, Anna, and Otto.
On the second day, Bernie guided us through the EAW Resolution™ 2 software. Through the software, we were able to design a faux venue space and hang arrays as if we were on site at a gig. The last portion of the training was held in Buffalo Bill's Star of the Desert Arena, where we learned how to rig and cable Anna and Otto modules, and were certified Technician level competency on EAW's ADAPTive™ Systems. I highly recommend this training to anyone who is any bit of curious of this new system or at least the demo days that follow.
Quick notes: ·
Anya and Anna hang vertically, not in a J/curved shape like other typical line arrays. · Typical line arrays require physical aiming to achieve a desired coverage (which is where the curved shape comes from), whereas the benefit of the ADAPTive™ systems is being able to digitally steer and control each transducer in the system separately (with the EAW Resolution™ 2 software), to fit the needs of any event. When connected through redundant Dante inputs, the switch between primary and secondary networks is seamless, with no drop in audio. ·
Anya – 285 lbs., horizontal coverage of 70°
Anna – 135 lbs., horizontal coverage of 100°
Both can be built as multi-column arrays for horizontal coverage up to 360° or mixed Anya/Anna.
Otto – 210 lbs., the subwoofer module of the ADAPTive™ systems. It can do omni, cardioid, and hyper-cardioid patterns and can be hung, stacked, and/or lined up next to each other to create unique directivity.
Lastly, you can charge your phone via the Control Panel's USB input on any of these modules (but don't forget your device when you decide to fly your rig, haha).
These are just some features; I will stop here so this doesn't become not long-winded. For more information, visit their website: http://eaw.com/products/adaptive/ (or ask me!)
---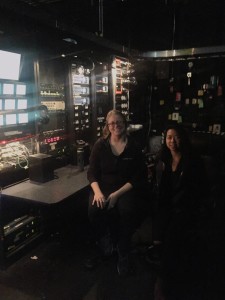 I met a fellow SoundGirl, Sara Even, on the 1st day of training. She offered to give me a tour of Jersey Boys at the Paris Las Vegas Hotel, where she is an A2 on the show. She showed me her work station, complete with everything an A2 would need: a workbox, camera views of the stage, monitor with Sennheiser's wireless system software, pouches to hang mic packs, gizmos and gadgets made by Masque Sound including a mic test box and widget for soloing specific mics, and more. A2-ing a musical is one of my most favorite positions in live sound, so I definitely enjoyed and appreciated seeing everything.
I would like to thank Bernie Broderick and Jeff Rocha for their involvement in the training program and Sara Even for taking the time to give me a backstage tour.