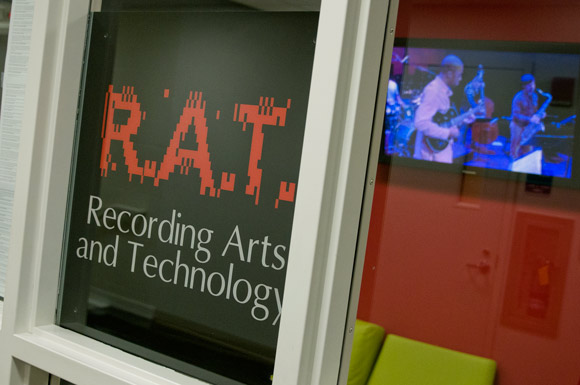 Cuyahoga Community College Recording Arts and Technology
Cuyahoga Community College based in Cleveland, Ohio offers a Recording Arts and Technology program. Students that complete the five-semester program receive an Associate Degree in Applied Science. The program prepares students for a diverse array of entry-level jobs in the audio industry. The program covers studio and on-location recording, live sound, music business, and audio electronics. Students are exposed to a broad range of music production and audio engineering techniques, skills, and styles through theory, practice, and hands-on/real-world training.
David Kennedy, a musician with 20 years of experience in marketing, event promotion, equipment sales and sound system design, manages the program at Cuyahoga Community College. He was kind enough to share the program with SoundGirls.Org.
How much of the program is classroom based vs. hands on?
Our coursework is about two-thirds lab/hands-on and one-third lecture/theory.  Often we will combine teaching styles and have a lecture blended with a lab in the studio
What kind of background or experience does one need before applying?
A passion for making music.
There are many things that will help a student:
A broad appreciation of different musical styles/genres
A broad appreciation for the arts
Playing an instrument
Reading music
Making beats/programming electronic music/scoring with a computer
Computer skills
Oral and written communication skills
Previous project based work experience
Electronics experience
Being in AV Club, theater, radio, etc.
Doing mash-ups, blogging, vlogging, podcasting, graphics, animation, etc.
Personal and professional networking
That being said, the student with the right attitude and effort can come in with a total lack of experience with the music making process and succeed.  Each of these things listed is available as part of the department and campus experience, via classwork, workshops, cultural and performing arts presentations, clubs, and other campus events and resources.
What is the average age of students?
We are a community college in a demographically and culturally diverse city.  We have no average student.  If you look at the numbers, the average Tri-C student is a 29.5-year-old single mother.  If you look at the recording department, we have more males than average, our day students skew younger than our night students.  Many of our students have attended or graduated from another college prior to enrolling at Tri-C. We have classrooms with post-secondary program high school students, retirees, parents, 18-22 "college-aged" students, and a lot in the middle, early 20s to early 30s.
Do you offer job placement assistance?
Although we have enough field experience positions available each semester for all graduating students arranged with area employers, students are encouraged to seek out their own job site.  We have co-ops, jobs, and internships available each semester on-site and with organizations and businesses such as House of Blues, Live Nation, RCS Corp., the Rock and Roll Hall of Fame and Museum, the Cleveland Museum of Art, Playhouse Square, and more.  Along with those great places, graduates have gone on to work at Eighth Day Sound, Vertical Sound, Lava Room Recording Studio, Dr. Z Amps, Audio Technica, Microphones, Earthquaker Devices, Blackbird Audio, Mercury Records, Welcome to 1979 Studios, Quad Studios, Omni Studios, Sweetwater Sound, Guitar Center, Aggressive Audio, Woodsy's Sound, the Beachland Ballroom, the Grog Shop, the Cleveland Agora, WENZ, WWWE, WKYC, WOIO, Village Television, WKNR, WCLV, Oberlin College Conservatory, Baldwin-Wallace College Conservatory, Telarc, Cleveland Recording, and many more.
What does the program cost and is financial aid available?
Up to date tuition information:
The degree is 73 credits to complete.
73 credits x $104.54 (in-county) = $7,631.42 in-county tuition
73 credits x $131.77 (in-state, out-of-county) = $9,619.21 in-state, out-of-county tuition
73 credits x $248.92 (out-of-state) = $18,171 out-of-state tuition
A student should plan on around $400 to $1000 for books per semester. We accept financial aid, and there are scholarships available for beginning and continuing students. We also offer work-study jobs in the Recording Department (and other departments) for eligible students.
---
Course Snapshots – Concert Tour Management, RAT 1450.
Meet Mark O'Shea Course Instructor
What is the objective of the class?
Instruction of tour and road management for the music industry. Emphasizes the many components of traveling and working in the concert markets in North America, Europe, Australia and Japan.
What topics are covered?
Upon the completion of concert tour management the student should be able to:
Create, balance and reconcile concert tour budgets.
Administer the control of all tour accounting
Establish a comprehension of a performance contract
Develop a tour itinerary for all tour personnel and related support staff
Effectively screen, hire, evaluate, and pay all road personnel
Learn the terminology of the touring industry via "the hands on" approach & discussion
Who should apply?
Any person who is looking to get into the business side of concert touring. Creative Arts Division
What should students expect to get out of the program?
Professionally contend with all variables created by the touring industry. Accurately interface with music industry professionals linked to the touring industry.
How long does the course take to complete?
It is currently an eight-week intensive hybrid class.
How much is classroom vs. hands-on?
This is more of a business centered class. Therefore it is all classroom based.
What kind of background or experience does one need before applying?
Students must possess basic knowledge of computers, math, and telephone 'skills.' You must have a desire to show up for class and on time.
---
Course Snapshot Sound Recording & Design – RA 1100
Meet Megan Poletti Course Instructor
What is the objective of the program?
The objective is to teach non-audio majors how to capture sound at a high quality audio, and to teach all of the students in the class how to edit and mix sound in an appropriate way for various forms of media.
What topics are covered?
The objective is to teach the students how to capture high-quality audio in situations such as working on a film site or recording studio.  Additionally, the class covers audio editing and mixing techniques, both as a standalone skill (audio only) and as a means of mixing audio for video. Introduction to the theory of sound and recording process for media production. Topics include principles of sound and hearing, audio terminology, recording equipment operation, storage mediums and recording techniques for location and studio applications.
What should students expect to get out of the program?
Students start by learning the basic audio terminology. They then move to operating microphones and recording on-location. After they are able to capture some audio, I teach them how to do basic splicing editing techniques in ProTools. Once they master the basic skills, we move on to more complicated editing techniques. The students will create stories and tell them through audio, including dialog, sound effects, and music. Eventually, the students take pre-existing video clips and completely remove and recreate the audio. We work on sound effects creation or Foley work. The skills learned are that of basic audio recording, editing, mixing, and production with a focus in media applications.
How long does the course take to complete?
The course is one full semester – sixteen weeks.
How much is classroom based vs. hands-on?
The first few weeks is mainly lecture, and eventually the class moves to a 15 – 20 minute lecture and roughly two hours of hands-on work time each class.
What kind of background or experience should students have before applying?
Students can have no background in audio and successfully take this course. However, computer skills are required as the course moves rather quickly, and a student must be comfortable using software programs.
---
Course Snapshot-Concert Technical Production (RAT 1600) and Studio Lab Band or SLAB Band (RAT 1814)
Meet Marky Ray Course Instructor.
Concert Technical Production is a Hands-on Production Class that is held at The 500 capacity Beachland Ballroom and Tavern in Cleveland, OH. Students learn Front Of House, Monitors, Light Board Operations, Tour, Production, and Stage Management from Club to Stadium levels, Interfacing with Industry Professionals, Load-in/ Load out procedures, Club operations, Booking, Travel and Lectures on all technical aspects of touring, etc.
Recording Studio Lab Band or SLAB Band (RAT 1814) is a Student recording band that is historically based class that follows the paths of 20th century recording artists, studio musicians, producers, engineers and colorful characters. Students audition for the group and when finally assembled, I pick a number of different musical genres (Punk, Metal, Rap, Gospel, Rock, Bluegrass), songs, songwriters (Leiber and Stoller, Doc Pomus, Carol King), producer set-ups (Phil Spector, George Martin, Lee Hazelwood) and production scenarios to copy (Wall of Sound, Les Paul's 8-track, EMI-Abby Road 4 Track, emulate or recreate in the studio (use of lots and lots of vintage gear: including guitars, effects, stomp boxes, amps, mics etc etc). Students learn the art of making recordings quickly, (we record from 9AM to 3PM on Fridays set-up, rehearse, learn, record and finish a song in that time) efficiently, on budget and on time. But they also get a sense of musicological history and where these many divergent influences came from. Also that they are many great lessons to be learned from the past and that sometimes less is more. We record in our "A" studio which is an SSL.
Who should apply?
Anyone who is even remotely interested in the music industry as a possible career choice, as the school is a very well-rounded program that caters to many different employment paths and vocational opportunities.
What should students expect to get out of the program?
Students should expect to get a great education with passionate instructors who do this for the love of the art. Many of us are part-time, (as in Adjunct Faculty)- we don't make the big bucks. We do this because we love it, and we know the material, the gigs and what these jobs entail, and we love to see our students succeed, thrive and go on to great jobs/gigs that take them around the world as we once did. All of our instructors have spent decades working in the industry. We are all industry vets, musicians, producers, artists, educators.
How much is classroom based vs. hands-on?
As in numbers I'd say 70%/30%- Now that we have our new building the CCA or The Tommy Lipuma Center of the Creative Arts- Pretty much all of our classrooms are wired for hands-on. All of our lecture rooms are Audio-Visual-Computer based- All of our studios are Pro-tools 11 (and other Digital Audio recording software and hardware) based. We have many full blown pre–post-video-audio-and mastering studios. Other classes that are off site are at facilities that are real world, hands-on facilities such as the Beachland Ballroom or the Nautica Concert Facility where our live sound class works in the summertime.
What kind of background or experience does one need before applying?
None really. Though, having some music business/industry knowledge would be helpful. Any students applying for school at TRI-C will have to pass basic remedial college English, math and reading, before being accepted.
What is the average age of students?
That's a bit of a tough question as we are an inner city community college. But I would say most of the students are in their mid to late 20's but we have students from their late teens to the late 50's and 60's, people from all walks of life. This year we have the largest class of female students.  
More information on the Cuyahoga Community College Recording Arts and Technology
SLAB Band is the (S)tudent (LA)b (B)and at Tri-C or Cuyahoga Community College in Cleveland, Ohio as part of their Recording Arts and Technology or RAT Program. This video was made by SLAB band vocalist Matt Storer and shot by the Tri-C Concert Technical Production class at the Beachland.