Chance to Win Mix with the Masters with Sylvia Massy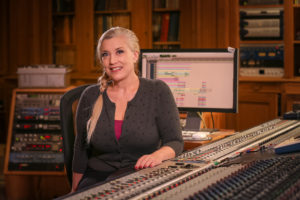 SoundGirls this a chance to win a spot at Mix with the Masters with Sylvia Massy. This is a week-long seminar valued approximately at $4,500 and includes lectures and workshops, accommodation within the mansion, catering (breakfast, lunch, dinner) the fitness room, swimming pool and shuttles from Avignon to the studio.
You must have an advanced understanding of audio and work as producer/mixer/engineers to attend Mix with the Masters.
You are responsible for Travel to France.
The upcoming session will take place Feb. 27 – March 5, 2018
You can purchase a raffle ticket for $10 (you can purchase more than one to increase your chances)
We will draw a winner on Jan. 20th
We are also holding a second raffle that is free to enter for a chance to win a 35% discount of Mix with Masters with Sylvia Massy. You can enter here.
You are responsible for Airfare to France
---
Sylvia Massy is an American entrepreneur, music producer, mixer and engineer, writer and artist in the United States. Massy is perhaps best recognized for her work on 1993's Undertow, the full-length double platinum-selling debut for Los Angeles rock band Tool and her work with System of a Down, Johnny Cash and Red Hot Chili Peppers.
Massy started out in San Francisco circa 1985 as a producer, engineer, and mixer for Rat Music. This led to her producing the punk band Verbal Abuse for Boner Records, engineering two projects for metal band Exodus and co-producing the Sea Hags independent album with a young guitarist Kirk Hammett, who had just finished the « Master Of Puppets » album with thrash metal group Metallica.
Towards the end of the 1980s, Massy moved from San Francisco to Los Angeles and took a job at Tower Records on Sunset Blvd. At Tower, she met the members of a Buffalo, New York band named Green Jello (later known as Green Jelly) and helped them record their debut independent album. After finally getting on staff at Larrabee Sound in West Hollywood, she was hired by Zoo Records/BMG to produce Green Jello's major label debut, which featured members of a new Los Angeles group called Tool. On Green Jello's « Cereal Killer » album, the voice of Tool singer Maynard James Keenan is heard on the song  » Three Little Pigs,» as well as Tool drummer Danny Carey playing on the album. This began a relationship Massy would have with the band Tool that would span two records: Opiate and Undertow.
During her time in Los Angeles, Massy was also an engineer, producer or mixer on recordings from a diverse group of internationally-known artists, including Aerosmith, Babyface, Big Daddy Kane, Bobby Brown, Prince, Julio Iglesias, Seal, Skunk Anansie, Paula Abdul, Ryuichi Sakamoto and many more. She worked with manager Gary Kurfirst on Irish rock band Cyclefly for Kurfirst's Radioactive Records.
At Larrabee Sound, Sylvia connected with producer Rick Rubin and would work with him on several projects spanning seven years.
From 1994 until 2001, Massy's vintage Neve 8038 console and other specialized recording equipment occupied Studio B at Sound City Studios in Van Nuys, California. Besides Massy's own work at Sound City, several other successful projects were recorded on Massy's equipment during these years, including albums by Sheryl Crow, Queens Of The Stone Age, Black Rebel Motorcycle Club, Smashing Pumpkins, The Black Crowes and Lenny Kravitz. Massy's equipment is visible in many scenes of Dave Grohl's « Sound City Movie ».
Massy engineered and mixed several projects for veteran producer Rick Rubin, including Johnny Cash's album Unchained, which won a Grammy award for Best Country Album in 1997. With Rubin, she also recorded Tom Petty and the Heartbreakers, Slayer, Donovan, Geto Boys, The Black Crowes, Danzig, and System of a Down's debut album. In the '90s, Massy also produced many popular artists, including the Red Hot Chili Peppers, Sevendust, and Powerman 5000, which featured guest appearances from Rob Zombie and actor Malachi Throne from Star Trek fame. In 1997, Massy co-produced engineered and mixed Foo Fighters, Björk, Patti Smith, Sonic Youth and others for the Beastie Boys' « Tibetan Freedom Concert » in New York with Adam Yauch and producer Pat McCarthy. Massy produced an album in the mid-nineties for young rising star Pauley Perrette who went on to play the part of Abby Sciuto in the NCIS television series.
Sylvia Massy will be conducting her second MWTM seminar from February 27 to March 5, 2018.
---
The process of greatness fostering greatness has long been recognized and is the reason why master classes are organized. The Mix With The Master's seminars are part of this tradition, offering an exchange of in-depth first-hand studio experience and knowledge that is unparalleled and not available anywhere else. Each seminar is conducted by one of the world's top music mixers and producers, ready to share his professional secrets with a select group of a maximum of 14 carefully-screened, professional-level participants, who come from all over the world.
One factor that contributes to the enormous success of the seminars is that all tutors support the general MWTM ethos, which is about the love of music, music technology and wanting to help others. Participants also are in part selected on displaying similar, positive attitudes. The fact that the seminars last a full week is another major contributory factor because it offers tutors the time and space to go into real depth, and the participants the opportunity to spend a prolonged time watching a master at his peak, and to ask any question they can think of.
The tutors share exclusive, insider-information on any subject: detailed technical knowledge, how to run sessions, how to handle artists, how to manage a career, the right attitude, how to remain successful, and more. The tutors also assess the work of the participants, by listening to their mixes and mixing recording sessions that they bring, and providing extensive feedback to each participant on where they are at, and how they can get to where they want to be. This is invaluable and offers participants wanting to become world-class professionals in their own right a unique advantage.
Another primary factor in making the MWTM seminars exceptional is that they take place at La Fabrique, a large, comfortable, high-end recording studio located in a picturesque historic building, surrounded by huge, lush grounds, and set in the south-east for France in one of the world's most beautiful environments. The secluded and idyllic location offers the participants and tutors a lot of space to relax and recharge, far away from the hustle and bustle of daily life and the all-demanding intensity of their regular professional environments.
Because the courses are residential, the participants and tutor work, eat, socialize, and sleep in the same environment. While tutors, and participants, will at times opt to retire to their private quarters, there is ample opportunity for social interaction outside of the studio environment. Participants interact extensively with each other and the tutor, making it easier to assimilate the intangible qualities necessary to be successful at the highest level—presence, focus, social skills, intelligence, creativity, right attitude, and so on.
In short, for seven days participants are able to experience mixing with a master in both senses of the phrase, mixing and interacting with him.