Monitor Mixing Workshop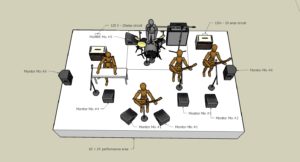 Although monitor engineering is often thought of as subordinate to handling the FOH sound, in reality, it's as important if not more. In this short class, we will learn the basics of monitor mixing and focus on eqing different types of monitors with different types of microphones. This workshop is designed to gain insight and techniques for mixing monitors. Beginners welcome – but the workshop is geared to an intermediate level. We will be focusing hands-on on ringing out monitors.

Taught by Ivan Ortiz
Dec. 9, 2017
10 am to 4 pm
Rat Sound Systems
486 Constitution Ave, Camarillo, CA 93012
$50
Inquire about Financial Aid soundgirls@soundgirls.org
Topics to be covered.
Hands on – How to ring out monitors
Testing monitors and EQ with Pink Noise
Should I use a parametric or graphic eq?
Why you need to walk the stage during Soundcheck
Why a Flat Response is Overrated
How to Maximize Gain Before Feedback
How and when to use compression and limiters
Beware of Gates
Why the High Pass Filter is your Friend
The Pick-Up Pattern
When Less is more
Don't point your drum fill towards the center of the stage
Cut, Copy and Paste? — Not! Just because the wedges and microphone position looks identical – they are not.  No two performers, wedges, or microphones are 100% identical. While cut, copy and paste is a good starting point.  Make sure you listen to each position.
How to get fast
The Monitors were great at soundcheck – Why not during the show?
How Temperature and Weather affect the sound
Not all problems are the same – Sound Differences Vary in Venue sizes
Clubs
Theaters
Arenas
Stadiums
Hands-on Gear (Possible wedge, side, and drum fill configurations will be (dependent on what Rat has in inventory)
EAW Microwedge 12 & 15
d&b M2 and M4
L'acoustic Arcs
Microphones SM58, Sennheiser e835, Audix OM7, Beta 58 and more


---
About Ivan Ortiz
Ivan Ortiz is a veteran, with over 18 years of experience in professional audio – gaining his education working for a small sound company that specialized in Latin acts while attending Full Sail. After he graduated he headed to the west coast – taking an internship at Rat Sound Systems and his "can do attitude" led to weekend work with several Los Angeles based sound companies. Ivan would go on to tour as a system tech for Blink 182, Jimmy Eat World, Pepe Aguilar and toured for several years as a monitor engineer for My Chemical Romance, Gavin DeGraw, and multiple fill in gigs for other bands as FOH or MON Engineer.
Ivan would go on to work for LD Systems in Houston Texas working the Houston Rodeo as Monitors Engineer for the event for five consecutive years. While working for LD Systems Ivan also had the opportunity to work on national televised events as the A1 for NCAA Final Four, NCAA Sweet Sixteen, Houston's Thanksgiving Day Parade, before returning to Rat as shop manager and all around Tech Master.  Ivan is now the Technical Resources Manager at Rat Sound Systems.