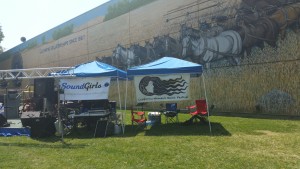 Previously held in the heart of downtown Modesto, XFest moved to its new location at the San Joaquin County Fairgrounds in Stockton.  XFest 2016 had more than 20 stages and 150 bands. The grassy areas and cooler weather made the festival pleasent and enjoyable. California Women's Music ran a stage located at the entrance of the festival.
This year our stage featured seven bands with music ranging from rock to experimental. Erin Odessa, Super Mega Everything, CallBox, Hoity Toity, The Echoing and Boy on Guitar lit up the stage from 6pm – 12am.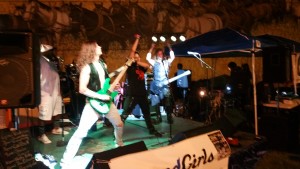 Our stage utilized the following equipment: Mackie 16 channel 1604- VLZ Pro, Yamaha EMX 512sc – Monitor with built in preamp, 2-19 inch powered sub with 15 inch main with horn, 4- 15 inch not powered monitors. We used a vocal processor due to the fact that the mackie mixer did not have on board effects, assigned to aux 3 and sent the vocal effects to all channels. This system was not necessarily my preference, but what we had available. We made this work, but I definitely needed a compressor maybe two to have more control over clipping. If anyone has suggestions on how this set up can be optimized, it would be much appreciated.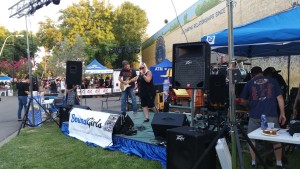 The main thing that made this festival work was the assistance of an awesome crew. We had SoundGirls Zionya Nolan, Adema Marom and myself running the boards for the day. Gary Williams also provided equipment and assistance. We were able to easily mix for the first two acts. As the the night wore on we learned that the lighting had been plugged into the same line as the equipment and experienced static. This was unfortunate, but in the future we know that we have to keep lighting on a separate energy line. All things you learn in the moment.
Adema Marom said about the CWM Stage " I think overall it was a cool experience. All the performers were really good. Nothing went completely wrong and a great experience spending 12 hours working at a festival, I would definitely do it again."
I talked with Zionya Nolan about the event. I asked her how was this year different than last year? " This year it was more comfortable. The layout was cool, I liked it a lot. The stage could have been a little better. I think that a bigger stage a few feet off the ground would have been optimal."
Zionya and I discussed the pro's and con's " One thing that was good was that we were more prepared this year and the bands were amazing. One area that we need to improve on is that we need to give a little more to the bands, we need to invest in more subs. We also need to invest in compressors.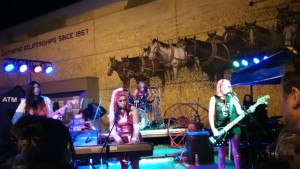 Overall, the acts on our stage were amazing. The musicians were top notch, the crew was supportive and organized. Zionya came prepared with a playlist including all tech riders and schedule. This proved invaluable during the event. Definitely, next year's stage will be even better, we will invest in more equipment and an updated board. We will pack quite a punch at next year's X Fest learning from everything we experienced this year. If you would like to help us with equipment please contact us at cwmusicfest@gmail.com.
---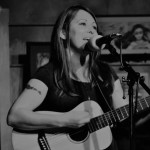 Victoria Boyington: Inspired by a documentary on Gloria Steinem, Victoria created the Northern California Women's Music Festival to cultivate a future for women in fine arts and business. Victoria will be blogging about Women In Music and occasionally Music Education.
About Victoria: Victoria holds a BA in Psychology from the University of California, Santa Cruz.  She is a singer-songwriter, musician, performing with several bands- one of which specializes in children's music and is targeted at pre-school age children.  Victoria is passionate about building up the community through Fine Arts and making the arts more accessible.