The month of July is a busy month for festivals, gigs, and fairs. California Women's Music  (CWM) has three great shows lined up for the month of July and August. SoundGirls members can volunteer and intern for these shows. email soundgirls@soundgirls.org if interested.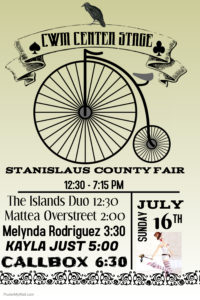 First, Sunday, July 16th, 2017, California Women's Music is hosting music on The Center Stage at The Stanislaus County Fair. This day is free until 3 pm and will feature Megan Avila, Mattea Overstreet, Melynda Rodriguez, Kayla Just, and Callbox. Music starts at 12:30 pm and ends at 7:15 pm.
In August, CWM will host two shows; one, on August 5th, at Ace of Spades in Sacramento featuring Missing Persons and Butterscotch. The second will be on August 25th, at Sweetwater Music Hall featuring Shannon and the Clams. The August 5th and 25th shows are in conjunction with Girls Rock Sacramento and Bay Area Girls Rock Camp.
On August 5th, the day begins with the Girls Rock Showcase with featured performances from Xochitl and Beaty is Betrayal. The evening show will feature Missing Persons, Butterscotch, Trophii, Drop Dead Red and Write or Die.  Thirty percent of the proceeds will benefit Girls Rock Sacramento.
The August 25th show will feature headliners Shannon and the Clams, Shirlee Temper, The Killer Queens, Brandy Robinson, Dirty Cello, and CallBox. Thirty percent of the proceeds will benefit Girls Rock Oakland.
Get your tickets for both shows at CWM
I hope to see you all out there supporting women in music and creating spaces for women to discuss and plan for the future.
As I have been preparing for and running shows this summer, I have found that marking my equipment saves me the headache of disappearing gear at larger shows. I know this is going to seem like common sense, but it is worth talking about. Here are some tips for all those running sound for summer gigs:
Label everything with a brightly colored tape or buy chords that are brightly colored. I tag each one of my XLR chords, instrument cables, RCA outs, speaker cables, etc. These are the number one things that can get lost. Sometimes people are in a hurry to leave after their show, and they are not paying attention. If your cables are brightly colored, no one will mistake them for theirs. If they have your name on it, even better. I label each of my speakers, and my mixer so that no one loads the wrong equipment by mistake. I label all stands including mic stands, music stands, lighting stands, and tables.
Being organized with stage plots and input lists is essential. You can find some tools on creating stage plots and input lists here.
---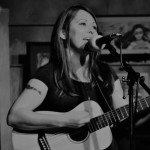 Victoria Boyington: Inspired by a documentary on Gloria Steinem, Victoria created the California Women's Music Festival to cultivate a future for women in fine arts and business. Victoria  blogs about Women In Music and occasionally Music Education.
About Victoria: Victoria holds a BA in Psychology from the University of California, Santa Cruz.  She is a singer-songwriter, musician, performing with several bands- one of which specializes in children's music and is targeted at pre-school age children.  Victoria is passionate about building up the community through Fine Arts and making the arts more accessible.