When:
June 20, 2016 @ 9:00 am – June 24, 2016 @ 3:00 pm
2016-06-20T09:00:00-07:00
2016-06-24T15:00:00-07:00
Where:
Rock & Roll Warehouse
501 Bitritto Ct
Modesto, CA 95356
USA


Live Sound Camp for Girls Modesto, CA
Live Sound Camp for Girls Modesto, CA – June 20 -24, 2016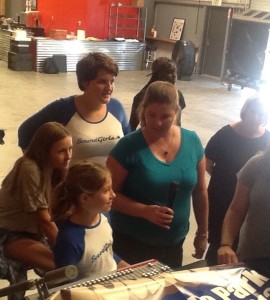 SoundGirls.Org Live Sound for Girls is a one-week camp for girls 12 – 18 of age, who want to learn about live music production.  The camp curriculum was designed by industry veterans and teaches the skills and technology to run live sound.  Working in small, collaborative and hands-on groups, the girls learn:
Live Event Safety
Stage and Audio Terminology
Signal Flow, Setup and Wire PA Systems
Input Lists, Stage Plots
Microphone Techniques, Wiring Stages
Line Check, Sound Check, Mixing
Running and Working a Real Show
The week ends with the girls producing and running a live show at a local venue. Each afternoon the girls will set up and mix local bands.The girls will also receive a SoundGirls.Org t-shirt, a tool kit, and a copy of the Girls Guide to Doing Sound. Lunch will be provided each day. Financial assistance is available – Please do not hesitate to contact us at soundgirls@soundgirls.org. All genders and non-conforming genders welcome.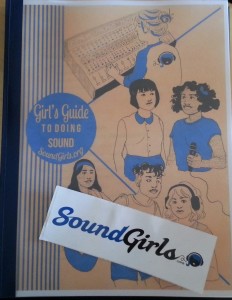 Camp Dates and Time:
June 20 -24, 2016
9 am to 3 pm daily
Rock & Roll Warehouse
501 Bitritto Way
Modesto, California 95356
Cost $200 – Financial Assistance Available
Early Bird Registration – $175 until April 30th
Testimonials 
I was glad to feel so welcomed to learning live audio at this summer's SoundGirls.Org camp. With two instructors who are active in different aspects of the business, I trusted that I was getting accurate instruction, real life situations, and practical experience for a new skill to add to my toolbox. (I even impressed myself with how much progress I made in only a week!)
The week-long class allowed me to learn the basics of stage plots, setting/striking gear, navigating analog/digital consoles, and working with a live band before ultimately sharingthe responsibility of mixing with a professional at an annual music festival in the area. And now through SoundGirls.Org's website and social media platforms, I have a new network of professionals for future learning opportunities and job possibilities. Thank you,SoundGirls.Org!
This was so much fun, I got to make a stage plot and learn how to mic the drums. This is so exciting, I can't believe that this is happening here.
I have learned more than I ever did taking classes in college, it was very hands on. Through workshops like these I think we can change the current trends. Someday soon long gone will be the days of the lone SoundGirl.
I absolutely loved the Live Sound camp for girls. I was able to learn a lot in a environment where I felt comfortable. The instructors were very helpful and I gained the confidence I needed to pursue a career in Live Sound.
Young girls this past summer in the central valley had opportunities to learn hands on how to run sound, how to create stage plots and input lists and many more skills that can enable them to run their own shows. My girls, who are musicians, now have the knowledge to set up their own PA and manage their own sound. This knowledge is invaluable and will follow them throughout their music life.