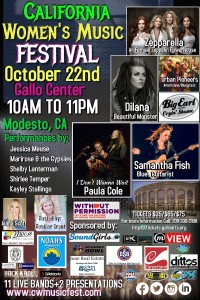 California Women's Music Festival is a non-profit women's music festival dedicated to the advancement of women in business, education, music and the fine arts. This will mark our 3rd year.
Last year's festival featured Tracy Bonham, Lita Ford, The Dolly Rots, Go Betty Go, Megan Slankard, and Barbara Dane.  It also featured two days of women in music, poetry and comedy with comedienne Cameron Esposito, Gloria Magana and Rhea Butcher.
This year California Women's Music Festival moves to the Gallo Center for the Arts in Modesto, CA on October 22, 2016. This one-day All-Ages Show is jam packed with speakers and music. This year California Women's music Festival proceeds will go to Without Permission, a local anti-human trafficking organization. Without Permission's Debbie Johnson will be sharing information about their organization and the current issues in our area regarding human-trafficking.
Our show this year is divided into a daytime concert with regional and traveling performers from all over California and throughout the United States.  
Joining us on the daytime stage will be:
Jessica Meuse, 4th Place Winner on the 13th season of American Idol
Sweet Taunts Music, Stockton CA
Shelby Lanterman, Napa Singer-Songwriter
Marirose and the Gypsies, Modesto, Award Winning Singer-Songwriter
Hoity-Toity, Los Angeles Punk Band
Shirlee Temper, Oakland Rock n Flow Singer
---
The Night Time Headliners include:
Paula Cole, Grammy Award Winning Recording Artist
Samantha Fish, Blues Guitarist and Songwriter, Kansas City, MO
Dilana, known for her time on Rockstar Supernova, Los Angeles, CA
Zepparella, and all-female Led Zepplin Tribute Band, Oakland, CA
Urban Pioneers, Bluegrass traveling band, TN
Big Earl and the Crying Shame, Modesto Blues Band

This year we are able to offer some slots to our SoundGirls to assist during the event. Last year was very hands on, but this year you will assist the Gallo Center sound crew.  We will also have the Central Valley High School photography and video crew on hand. In addition, UOP music majors can earn credit for volunteering this year. We also have slots for volunteers for booth, silent auction, etc. Please let us know if you'd like to volunteer at cwmusicfest@gmail.com
Hope you all will come from all over California to participate is this festival. It's about women in California coming together to support and celebrate each other.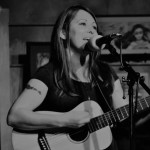 Victoria Boyington: Inspired by a documentary on Gloria Steinem, Victoria created the Northern California Women's Music Festival to cultivate a future for women in fine arts and business. Victoria will be blogging about Women In Music and occasionally Music Education.
About Victoria: Victoria holds a BA in Psychology from the University of California, Santa Cruz.  She is a singer-songwriter, musician, performing with several bands- one of which specializes in children's music and is targeted at pre-school age children.  Victoria is passionate about building up the community through Fine Arts and making the arts more accessible.