To inspire and empower the next generation of women in audio.
Our mission is to create a supportive community for women in audio and music production,
providing the tools, knowledge, and support to further their careers.
SoundGirls supports women working in professional audio and music production by highlighting their success and providing a place for them to connect, network, and share advice and experiences.
SoundGirls provides support, career development, and tools to help those working in the field advance in their career.
SoundGirls works to inspire and empower young women and girls to enter the world of professional audio and music production.
SoundGirls seeks to expand opportunities for girls and women in these fields and to share resources and knowledge through cooperation, collaboration, and diversity.
ABOUT US
SoundGirls.Org was formed in 2013 by veteran live sound engineers Karrie Keyes and Michelle Sabolchick Pettinato and operates under the Fiscal Sponsorship of The California Women's Music Festival, a 501(c)3 non-profit organization.
In 2012, Karrie Keyes and Michelle Sabolchick Pettinato participated in the "Women of Professional Concert Sound" panel at the AES Conference in San Francisco. This experience was how incredibly powerful the panelists. We had all been in the business for 20 years or more, yet most of us had never met before that day and within minutes we bonded like long-lost sisters. We were struck by how similar our experiences, work ethics, and passions were and wondered why our paths had never crossed and how our careers would have been different had we been there to support each other through the years. We were empowered. Each of us had been asked hundreds of times in our careers: Are there other women doing sound? How did you get into sound? How would a young woman go about getting into sound? SoundGirls was established to provide women working in professional audio a community to come to for support and advice, and for empowerment and inspiration.
Since that time SoundGirls has grown into an international organization with over 4,000 members worldwide. With chapters worldwide we offer scholarships, mentorships, job placement,business development and workshops. We strongly believe in "You Can't Be What You Can't See" and feature a monthly profile on Women in Audio as well as monthly bloggers that share their experiences and expertise.
Each year SoundGirls launches an initiative that addresses lack of diversity in the audio industry,starting The Directory of  Women in Professional Audio and Production, which is a useful tool when people say "they want to hire women but can't find any." We encourage our members to enter their information and share the directory with their peers and colleagues. Last year we launched SoundGirls Productions which provides employment and mentorships for women.We encourage members to share this resource within their networks and call us for your rental and crew needs in Los Angeles. For 2018, we want to move the conversation about lack of diversity in audio to proactive steps we can take to change this.
Karrie Keyes – Executive Director and Co-Founder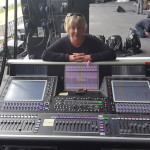 Hailing from Los Angeles, Karrie has spent the last 25 plus years as the monitor engineer for Pearl Jam and Eddie Vedder. Karrie started out doing sound for punk bands in Los Angeles in 1986 under the tutelage of Dave Rat of Rat Sound, where she spent twenty years helping to establish the company. She was able to gain an immense amount of hands-on experience and technical knowledge at Rat, which eventually led to her becoming the monitor engineer for The Red Hot Chili Peppers from 1990-2000. She first met and started working with Pearl Jam who opened for RHCP on their 1991-1992 Blood Sugar Sex Magic Tour. She has worked with Sonic Youth, Fugazi, and Neil Young.
Tiffany Hendren – Co-Director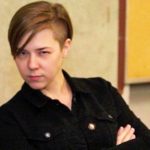 Tiffany is currently the head Sound Engineer at Delmar Hall in St. Louis and tours with the band "A Silent Film" doing FOH. She has been involved in sound professionally for around seven years, full-time about five. Tiffany became the co-director of SoundGirls.Org in August 2015. She also co-produces an annual invitational motorcycle showcase in St. Louis, MO – Cycle Showcase STL. When she gets some time – her other hobbies include crocheting scarves that never get finished, cross-stitching bad words onto things, learning to actually ride her motorcycle, and finally taking guitar lessons.
Tiffany experienced a lack of women working in live sound and until she discovered SoundGirls she could count the number of female sound techs she'd met in the previous five years on less than two hands. In addition she had never seen a woman behind the board at any show she had attended. She believes that if she'd had a group of like-minded women as mentors, she would have been so much more comfortable asking questions, experimenting more, and generally taking more chances.
Read more about Tiffany Hendren
Kirsty Gillmore – European Co-Director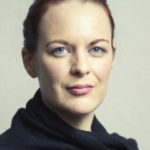 Kirsty Gillmore is a sound designer, engineer and voice artist. Originally from New Zealand, Kirsty has been based in London, UK since 2002. Her 15 year career has seen her work in music production, post production, live sound and broadcasting, including eight years training with and working for the British Broadcasting Corporation. She established her own sound design & voice production business, Sounds Wilde, in 2010 and now works as a freelance sound designer for theatre and film, as a voice reel producer and voice artist. Read Kirsty's Blog
Heather Rafter – Legal Counsel and Fundraising Chair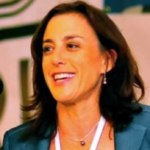 Heather Dembert Rafter has been providing legal and business development services to the audio, music technology and digital media industry for over twenty-five years. As the principal counsel at RafterMarsh US, she leads the RM team in providing a wide variety of services to small and medium-sized companies. For fourteen years, she was the lead counsel for Digidesign, the audio division of Avid Technology.
Heather and RafterMarsh US supports pro bono a number of causes, including work for the American Bar Association, where Heather served as chair of the Section of Science and Technology Law and is serving, as an ABA presidential appointee, the Fund for Justice and Education. They also support entities focused on advancing women in music and sound, including Soundgirls.org, and by sponsoring the annual women's luncheon at SF MusicTech Summit.
Read more about Heather Rafter
---
Gabriella Sa – Marketing and Press
Gabriella grew up Rio de Janeiro, Brazil.  After she graduated from high school she moved to London to pursue a degree in Business and Management. She currently is attending UCLA where she studies marketing. Gabriella joined the SoundGirls team in February of 2017.
"Music is everything, and I feel very grateful to be a part of SoundGirls.Org, it means a great deal to be able to contribute to the music industry and empower women at the same time. In addition every single member I have met are not only incredibly nice and welcoming they are also beyond inspiring and drive me to be and do better."
---
Michelle Sabolchick Pettinato – Co-Founder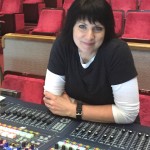 With a career in professional concert sound that spans more than 20 years, Michelle has toured with and mixed a diverse roster of musical artists. Beginning with her initial break into touring, landing a gig as FOH engineer for Spin Doctors in the early 90s.  For the past ten years she has been FOH engineer for some of the biggest pop tours such as; Gwen Stefani, Jewel, Ke$ha, and many more. She is currently the FOH Engineer for Styx.
In August of 2015 Michelle resigned from an active role in the operations of SoundGirls.Org, but she remains an avid supporter and will continue to be a contributor when time permits